Rooftop Solar Technical Potential for Low-to-Moderate Income Households in the United States
A detailed analysis of U.S. housing stock reveals that pairing solar photovoltaics (PV) with rooftops of low and moderate-income housing could provide up to 42 percent of all rooftop technical potential in the residential sector and improve energy affordability in low-income communities.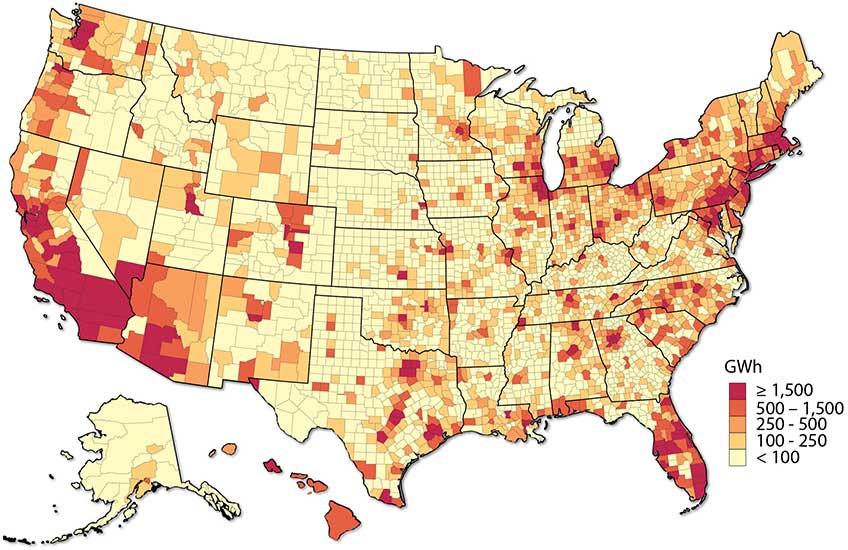 While existing rooftop solar adoption in the U.S. has primarily been concentrated in middle- and upper-income households, falling technology costs and market expansion are enabling access by previously underserved market segments. To further enable this access, some states have adopted innovative incentive and financing programs targeted to LMI residents. While Census data has provided an understanding of the share of LMI households in the U.S. (approximately 43 percent), this analysis reveals two other important attributes of these households: the proportion living in buildings suitable for rooftop solar, and the share of their total electricity need that could be met through rooftop solar.
The report, Rooftop Solar Technical Potential for Low-to-Moderate Income Households in the United States, presents a new data set, integrating the estimated rooftop solar technical potential of residential buildings with data analysis of U.S. Census Tract statistics by income, building type, and tenure. Using data from Light Detection and Ranging (LiDAR) scans—lasers that work like echolocation to emit pulses of light and measure return time—the NREL team mapped rooftops of LMI and non-LMI buildings in 128 sample cities to determine each building roof's unshaded area suitable for solar panels. NREL's PVWatts tool then simulated the energy generated based on each roof's unique characteristics, like azimuth and tilt, as well as other factors that affect solar electricity production. These simulation results were merged with socioeconomic and building stock data from the U.S. Census to gain a better understanding of solar technical potential across building types. Lastly, the team developed a statistical model to estimate rooftop potential for the rest of the country.
Key Findings
Based on this analysis, the report estimates that rooftop solar technical potential for the entire residential sector is about 1,000 Terawatt hours of generation, or about 75 percent of current residential electricity consumption. The report also finds that LMI rooftop solar can significantly contribute to the achievement of long-term solar adoption targets, such as those set by states and city governments, though to do so requires deployment on multi-family and renter-occupied buildings. However, traditional deployment business models have not sufficiently enabled access to rooftop solar for LMI income groups and building types. The report analyzes alternative solutions to increasing solar access, such as oversizing PV systems on buildings owned by non-profits—such as schools and houses of worship—to share energy generation with nearby households.
Learn More
This research is supported by the U.S. Department of Energy Solar Energy Technologies Office.