NREL Co-Authors Landmark National Blueprint for Transportation Decarbonization
---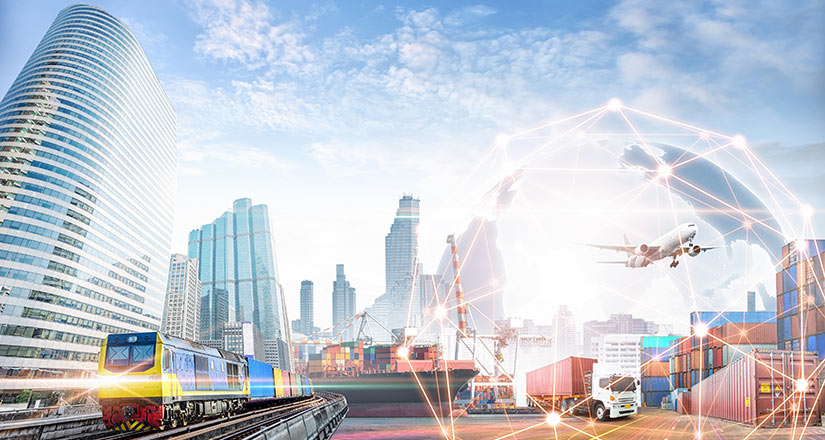 In 2022, the Biden-Harris administration set an audacious goal: to achieve net-zero greenhouse gas emissions by 2050 and, in doing so, decarbonize the entire U.S. economy. That ambition has been backed by the largest investment in emissions reduction in U.S. history, with more than $500 billion in funding from the Inflation Reduction Act, the CHIPS and Science Act, and the Bipartisan Infrastructure Law.
But in the race to decarbonize a nation, where does one begin?
One answer came on Jan. 10, 2023, in the form of a landmark strategy: the U.S. National Blueprint for Transportation Decarbonization (Blueprint). Developed jointly by the U.S. departments of Energy (DOE), Transportation (DOT), and Housing and Urban Development, and the Environmental Protection Agency, the Blueprint is the federal government's first coordinated strategy to eliminate nearly all greenhouse gas emissions from the domestic transportation sector. The commitment to zero emissions would span vehicles and fuels for cars, trains, buses, commercial trucks, ships, pipelines, planes, and more.
Matteo Muratori, group manager for the Transportation Energy Transition Analysis group at the National Renewable Energy Laboratory (NREL) in Golden, Colorado, spent more than two years on detail assignment as the chief analyst for sustainable transportation at DOE and ultimately served as the lead DOE author for the Blueprint.
"In collaborating with hundreds of people across all four agencies and beyond, we had a guiding, strategic question: How do we transition from where we are today to where we want to be in 2050?" Muratori said. "We wanted to translate a vision into a strategy that is holistic and has a system-level perspective, but is also detailed enough to be actionable."
Indeed, while it lists both immediate priorities and long-term strategic plans, the Blueprint will be followed by more detailed decarbonization action plans. To implement them, partners from every level of government—state, local, and tribal—in addition to private firms, philanthropic organizations, and global entities, will collaborate in the first "whole-of-government" approach to decarbonization.
But why focus on the transportation sector?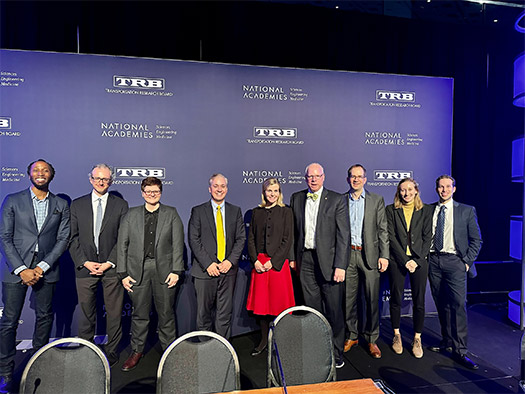 Transportation forms the backbone of the U.S. economy, and it is the single largest source of greenhouse gas emissions in the United States, responsible for one-third of the nation's emissions. It tops most Americans' budget sheets as their second-largest household expense, and it compounds existing inequities for the poorest and most marginalized Americans, including a lack of convenient, affordable access to basic services.
The transportation sector, then, presents a wide target for decarbonization efforts, said U.S. Secretary of Energy Jennifer Granholm in the Blueprint's joint announcement.
"The domestic transportation sector presents an enormous opportunity to drastically reduce emissions that accelerate climate change and reduce harmful pollution," Granholm said. "DOE is prepared to implement this Blueprint alongside our partners within the Biden-Harris administration to ensure all Americans feel the benefits of the clean transportation transition: good-paying manufacturing jobs, better air quality, and lower transportation costs."
Not only could more efficient vehicles and transportation options help mitigate the climate crisis and lead to better air quality and health, wrote the Blueprint's authors, but these actions could also drastically improve Americans' quality of life across the board with affordable, convenient transportation systems and more equitable access to services.
"Every decision about transportation is also an opportunity to build a cleaner, healthier, more prosperous future," U.S. Secretary of Transportation Pete Buttigieg said.
As the only national laboratory 100% focused on energy efficiency and renewable energy, NREL's transportation researchers leverage decades of clean energy research to lead deep-decarbonization initiatives throughout the sector. NREL's transportation decarbonization research spans vehicle electrification, grid integration, hydrogen and other low-carbon fuels, supply chain analysis, and energy systems integration, along with system-level improvements in mobility for on-road, off-road, and non-road vehicles. NREL is also focused on developing effective strategies for deploying clean, equitable transportation solutions.
As a result, the laboratory is well positioned to contribute to the Blueprint's action plans, said NREL's Vehicle Technologies Laboratory Program Manager John Farrell.
"Decarbonizing the U.S. transportation sector will call for us to fundamentally rethink and reshape the way we approach mobility. Fortunately, that's the kind of work NREL does best," Farrell said. "The technical expertise we have provided to the Blueprint so far has helped to set a direction for deep decarbonization—from increasing the convenience and affordability of sustainable transportation to deploying zero-emission fuels and vehicles. But our job moving forward will be helping to turn these goals into reality."
The laboratory's cutting-edge research into off-road and non-road vehicles, fuels, and technologies will be especially significant as the nation seeks to develop low- and zero-carbon-emission planes, ferries, trains, and off-road vehicles, said Johney Green, NREL's associate laboratory director for mechanical and thermal engineering sciences.
"Deep decarbonization of our transportation systems—including in 'difficult-to-decarbonize' sectors, like aviation and off-road vehicles—will require creativity, coordination, and outstanding research and analysis. We can't decarbonize transportation in isolation; we need to simultaneously address our energy grid, buildings, and renewable fuel generation. To that end, we are proud that NREL will bring its decades of expertise in transportation research, technology, and systems-level planning and deployment to the Blueprint's future action plans," Green said.
The Blueprint's executive summary ends with the line, "The time to act is now." For Muratori, its most important message is that the time for hesitation is over—and, indeed, that the plans to support this sentiment are already in motion.
"There is an urgency to this work, and the Blueprint shows that this is no longer just a dream. It's starting to become a reality that we are all working toward," Muratori said. "The strongest message here is that we can do it. The Blueprint articulates a path to achieve our goals. Now, let's keep working together to make it a reality."
Learn more about NREL's sustainable transportation and mobility research. And sign up for NREL's quarterly transportation and mobility research newsletter, Sustainable Mobility Matters, to get the latest news.