Nine Teams Swim Toward the Fish Protection Grand Prize at the American Fisheries Society Virtual Annual Meeting
Nine teams of fish protection afficionados are hopeful their bait will reel in the big one.
On their hooks? Winning proposals for protecting fish at water diversions and intakes.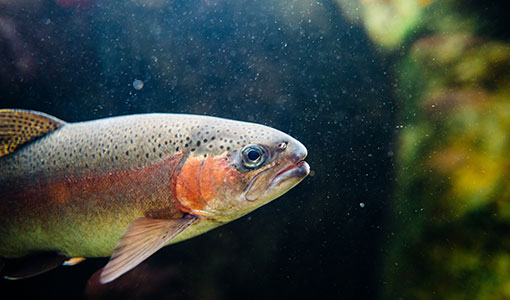 The Fish Protection Prize, a joint venture of the Bureau of Reclamation and the U.S. Department of Energy (DOE) Water Power Technologies Office (WPTO), is administered by the National Renewable Energy Laboratory (NREL) in collaboration with the Pacific Northwest National Laboratory (PNNL).
The $700,000 prize cast a wide net, bringing together industry, academia, entrepreneurs, and everyone in between to catalyze new solutions, designs, and strategies to protect fish from water infrastructure, such as water diversions, pipes, and intakes at hydropower dams.
In June, WPTO announced nine winners of the CONCEPT Stage, the first stage of the three-stage prize. These CONCEPT Stage winners will present their ideas at a virtual pitch contest hosted by the American Fisheries Society (AFS) at their Virtual Annual Meeting Sept. 14–25.
Let's peer into the possibilities for tomorrow's hydropower systems and learn a bit more about these teams and their winning proposals.
CONCEPT Stage Champs
CONCEPT competitors submitted their approaches either for developing new, cost-effective fish exclusion methods at water diversions and intakes or making improvements to existing technologies.
Out of 21 teams, 9 winners were selected to continue on to the INCUBATION Stage of the prize, where they were paired with staff from PNNL. The teams received 50 hours of support from PNNL experts to refine their creative concepts in advance of the PITCH CONTEST Stage of the prize.
At the September AFS meeting, these teams of trailblazers will share their brainstorms for keeping fish safe in the form of a 10-minute pitch and a 10-minute question-and-answer period. Their presentations will introduce the concept, its technical and market feasibility, as well as the overall research and development plan.
Putting Their Best PITCH Forward
Bounty on the Brain
In September, these nine teams will swim toward the finish line.
During the PITCH CONTEST Stage, competitors will present their concepts to a panel of expert reviewers, as well as members of the public. They will showcase their concepts with the overarching goal of convincing the expert panel of the technical underpinnings, business case, and feasibility of deployment of their proposals.
Up to three winners will swim away with the top prize, receiving cash and in-kind support to further evolve and develop their concepts. Follow along as they transform their concepts from theory into the tangible through fall 2021.
Learn more about the NREL's Water Research and the Fish Protection Prize.