Validation Begins at the NWTC for Powerfield's Easy-to-Install Solar Racking
March 5, 2018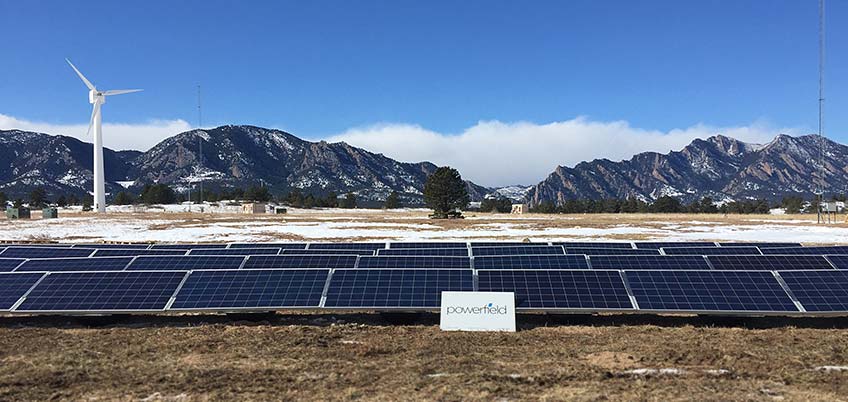 Solar may be one of the fastest-growing sources of renewable energy, but installing a power plant's worth of photovoltaic panels can be a costly, time-consuming endeavor. Powerfield aims to simplify installation through its lightweight solar frames, which are currently being validated at the National Renewable Energy Laboratory's (NREL's) National Wind Technology Center (NWTC). These frames can be rapidly installed—even by inexperienced crews.
Drew Bond, the president and CEO of Powerfield, describes traditional steel frames for solar panels as a "big erector set of steel framework" designed to keep the solar panel in place during heavy wind and bad weather. These are typically either pile-driven into the ground or installed in concrete-filled holes. But Powerfield's ground-mounted frames require no digging, concrete, steel, or "any of the elaborate erector set materials that come with solar panel installation," says Bond. Installing the company's U-shaped solar container—made of a lightweight, heavy-duty plastic—only requires a few hundred pounds of a heavy, natural material like sand, dirt, or rocks. Once the container is sufficiently weighted, the solar panel clips into place using a proprietary technique that promises to keep the panel still during strong winds of 120 miles per hour or more.
"What you see is what you get," Bond says. "No nuts and bolts and no tools."
Powerfield's invention harkens back to the early days of Silicon Valley. David Flory, one of the company's co-founders, previously financed large-scale solar farms through AES Solar. After a project fell through because of a complex installation process, he found himself frustrated.
"He just said, 'There's got to be an easier way,'" says Bond.
Flory hunkered down in his garage with Paul Burdick, a former colleague, and they began work on what would eventually become Powerfield's inventive new frameworks.
"He was being very secretive about it, but I finally got him to show me what he had," says Bond. "I said, 'David, this is the greatest thing since sliced bread. It's so simple.'"
In fact, the concept seemed so basic that the Powerfield team worried that someone already must have developed it. But after discussions with investors and industry, they realized their idea was truly revolutionary. That was a year ago. Now—about 20 prototypes, "trial and failure, engineering and analysis, and every engineering word you can pull out of the book" later—they've finalized their design.
"It's as easy as advertised," Bond says.
The Powerfield team's innovation allows for rapid solar deployment. At the NWTC, an inexperienced six-person crew installed 56 panels in less than five hours. "And I'm confident we can cut that time in half," says Bond. One of his advisers, for example, once spent two days installing four solar panels with a large, skilled crew.
While the frames are sturdy enough to survive intense winds, they're also portable. Empty, the containers weigh just 17 pounds and are designed to stack and nest for easy transportation. They can also be emptied and moved to another location. This provides unique benefits for specific markets, such as in Puerto Rico or for environmental cleanup or military applications.
The simplicity also eases the permitting process. Because teams won't be digging holes or pouring concrete, it makes the process "simpler, smoother, and more versatile," says Bond.
It also makes the process cheaper. Bond is confident Powerfield can cut the cost of installing solar by 20% or more—a boon for price-sensitive emerging markets.
Powerfield's solar setup is expected to remain at the NWTC for six months, with the possibility of extending the validation after the initial timeframe has passed. During this time, researchers will evaluate the optimal weight needed in the Powerfield container to secure the panels during high winds. Engineering analyses indicate that containers should withstand winds of 120 miles per hour or more, which Bond hopes the NWTC assessment will confirm.
To validate the Powerfield containers, the solar field is arranged with the high side of the container facing the wind—the top slope of the panel—the "worst possible scenario," says Bond.
Once phase one of the project is complete, Powerfield will plug the system into NREL's controllable grid interface to analyze the efficiency of the solar panels installed in conjunction with the containers. That phase will also include a small installation of four solar panels at NREL's Energy Systems Integration Facility.
"I couldn't think of a better place than NREL for us to test this innovative product," says Bond.
To date, Powerfield has raised more than $325,000, and is currently in the process of scaling manufacturing. The company's current project pipeline includes everything from small, 20-kilowatt fields to large-scale installations with commercial partners.