2014 Science Bowl Adds New Rivals, New Friends
---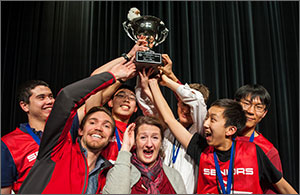 Enlarge image
Winter paid a visit to this year's Colorado Science Bowl. As competitors battled snowy roads to get to the yearly contest, a new force came down from the north—12 northern Colorado high schools. The northern Colorado teams were formidable as they battled through the morning sessions, answering rapid-fire questions covering topics from physics to math to earth and space science. Six northern Colorado teams made it to the final 16. In the end, the Denver metro area teams held fast, with students from Boulder's Fairview High School beating out 47 other teams to claim victory.
This was the 24th Colorado Science Bowl hosted by the Energy Department's Golden Service Center and National Renewable Energy Laboratory (NREL). Second place went to Douglas County High School, and northern Colorado's Poudre High School rounded out the top finishers to take home the third-place trophy.
This competition marked the first year that northern Colorado teams from cities such as Fort Collins, Greeley, and Loveland competed against teams from Denver and southern Colorado. In the past, the Energy Department's Western Area Power Administration (WAPA) hosted a competition for the northern Colorado schools; this year, the Energy Department decided to organize one statewide competition.
"The Energy Department's goal is to try to get a regional science bowl competition in every state. With that goal in mind, Colorado consolidated to one high school science bowl, and WAPA added a statewide middle school science bowl," said NREL's Education Program Manager Linda Lung. "NREL is very excited about the middle school competition; it will be a nice addition and pipeline program for the high school event."
It's Off to D.C.
Fairview High School will represent Colorado at the Energy Department's National Science Bowl on April 24-28 in Washington, D.C., where the team will compete against more than 400 students from 70 high schools for the national title.
"We practiced two days a week, but the real secret to winning is Frappuccinos," shared Michael Chen, team captain for Fairview. Chen said the team will continue its regular practice schedule in preparation for D.C., where he said they expect harder questions, so they will hit the books—and, of course, drink more frappes.
DOE began the Science Bowl in 1991 as a way to encourage high school students to explore math and science. Each year, approximately 15,000 students from across the country compete for a chance to go to Washington, D.C., for the national finals.
"Fairview High School will be facing stiff competition at the National Science Bowl," Lung said. "Some of the competing teams eat, drink, and sleep Science Bowl, and are in it to win. But I don't have any concerns about our team. The National Science Bowl provides a great venue and recognition to students who excel in science and math. These students are amazing."
Despite facing what is sure to be tough competition, Fairview Team Member Logan Garbarini keeps it all in perspective: "We just enjoy learning. Last year we had a lunch table and talked scientific stuff. You just have to have fun with it and not focus too much on the competition, but more on learning."
Adults Love to Volunteer, Too
Learning is precisely what keeps parent Sylvia Artz involved with the Smoky Hill High School team, even after her own sons have graduated from college. "I love math and science, but I became a volunteer because I love these kids."
Artz hosts training sessions at her home, where she helps read test questions. She focuses on mentoring girls.
"The first year I was here, I looked around the whole auditorium and there were maybe five girls, and I thought, 'There is something wrong with this picture.' That's when I decided to start mentoring girls and tell them it's okay to be smart in math and science," Artz said.
In addition to helping girls become engaged in math and science, competing in Science Bowl also has a classroom benefit, according to Smoky Hill High School coach Mary Bartholomew.
"It inspires the kid to take on that extra challenge," Bartholomew said. "Our youngest team member is an engineering and computing kind of guy, but he's also in AP Biology right now, and he said to me, 'There's been a lot of biology questions; I didn't think that would pay off. Maybe I'll like biology a little bit better.' Science Bowl helps them understand that a breadth of knowledge is a good thing, too."
It's that kind of pull toward math and science that the Energy Department and national labs such as NREL hope to see pay off with more students pursuing the sciences through college and into their careers.
"Globally, innovation will drive the world's economy, and this takes more scientists and engineers. The demand is high and growing," NREL Deputy Director for Science and Technology Dana Christensen said. "Events such as the Science Bowl provide opportunities for students to discover just how fun science, math, and engineering can be—and will hopefully lead them into careers, such as those at NREL, where they might be asked to judge a future Science Bowl."
Shawn Ong, team captain for second-place finishers Douglas County High School, agrees. "It is really important to be studying sciences and new technology areas. By having these events and competing in the math and science fields, it helps prepare the next generation for the future."
In addition to the winning teams mentioned above, the teams that survived the morning competitions and advanced to the afternoon double-elimination contests were:
Arapahoe High School (Centennial)
Cherry Creek High School (Greenwood Village), Team 1
Fort Collins High School (Fort Collins), Team 1
Fossil Ridge High School (Fort Collins)
Highlands Ranch High School (Highlands Ranch)
Jefferson Academy (Broomfield)
Rampart High School (Colorado Springs)
Rangeview High School (Aurora), Team 1
Ridgeview Classical Schools (Fort Collins), Team 1
Rocky Mountain High School (Fort Collins), Teams 1 and 2
Smoky Hill High School (Aurora), Teams 1 and 2
— Heather Lammers