Postdoctoral Fellows Bring Fresh Insights
---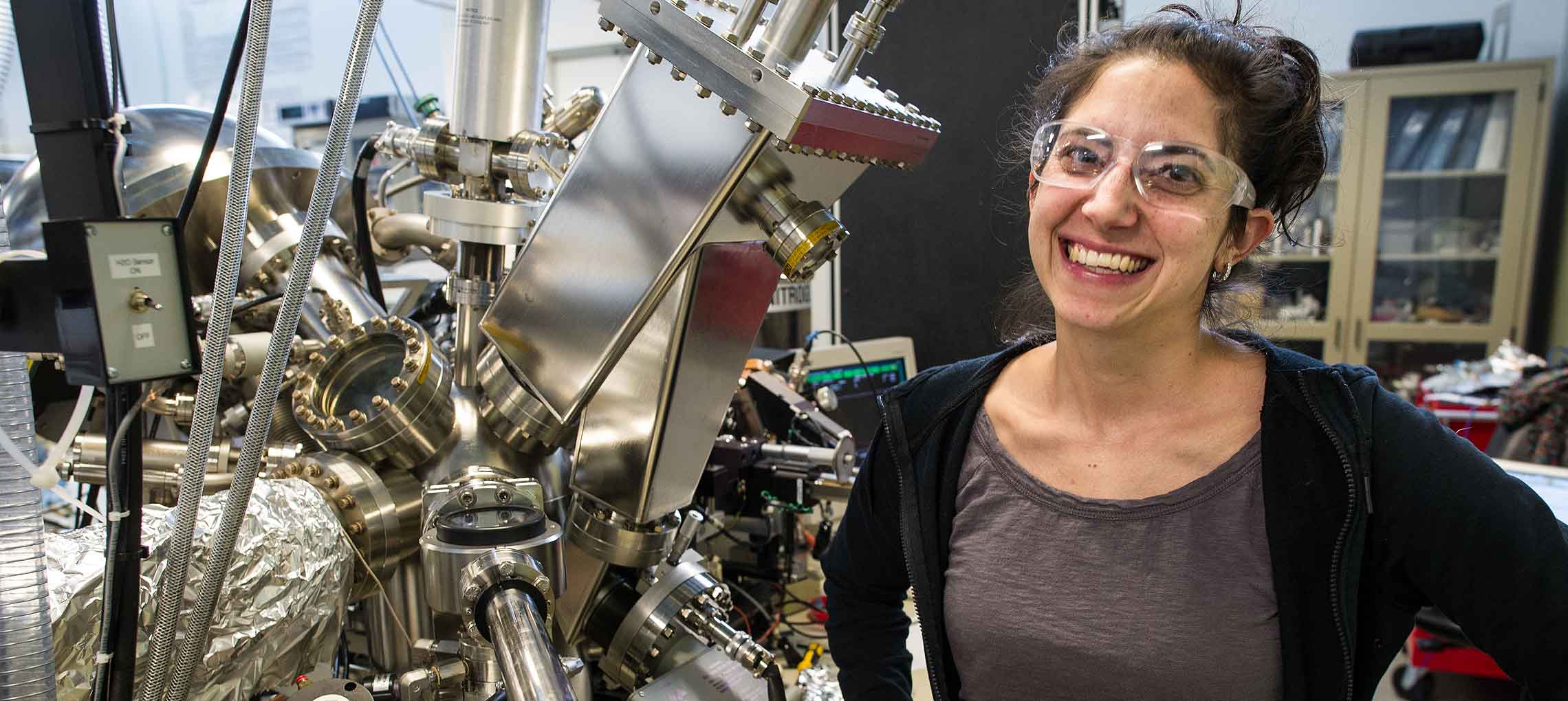 A fresh pair of eyes can see things differently, which is one reason the Director's Postdoctoral Fellowships at the Energy Department's National Renewable Energy Laboratory (NREL) are already making an impact at the laboratory. Ph.D. graduates from across the country have come to NREL for mentorship and learning—and have enriched the lab in doing so.
Elisa Miller, who began as an NREL Director's Postdoctoral Fellow in February 2013, brought her gas-phase photoelectron spectroscopy skills to condensed-phase spectroscopy experiments already in progress at the lab. Because of her basic research training, she asks different questions about how experiments impact solar cells, helping to refine the procedures and move the project forward. "So far, I've been lucky enough to contribute to two projects," Miller said.
Such moments are expected to multiply as the other NREL Director's Postdoctoral Fellowship awardees Brandon Knott, Xerxes Steirer, and Wei Xiong—along with the most recent honorees Eric Jankowski, Luis Reyes, and Giulia Gallo—continue to make contributions alongside Miller. Each year, NREL plans to award two new Director's Fellowships, supported by Laboratory Directed Research & Development (LDRD) program funding.
The NREL Director's Fellowships, one of NREL's Research Participant Programs (RPPs), are two-year awards—with a possible third year—designed to attract the next generation of exceptionally qualified scientists and engineers with outstanding talent and credentials in renewable energy research and related disciplines. Candidates must be recent Ph.D. graduates and demonstrate a promising career of leadership and research. "The program was created three years ago to compete with other national lab postdoctoral fellowships," Beverly Maestas of NREL's Human Resources Office said. The number of applicants continues to rise each year.
Brandon Knott was the pioneer of the program, joining in October 2012, shortly after earning his doctoral degree in chemical engineering from the University of California (UC) Santa Barbara. "NREL was on my radar," Knott said. His UC advisor was familiar with research at NREL's National Bioenergy Center, so Knott applied and was selected as the first NREL Director's Fellow. "I got in the door before the bar was raised," Knott joked. But in truth, his interest in biomass research was a natural fit, and he immediately jumped in to help expand research, coordinating with both his mentor, Gregg Beckham, and NREL researcher Michael Crowley. "My background allowed me to bring a new perspective on a number of projects."
Much of Knott's work involves molecular simulations, and he's tapped NREL's supercomputing capabilities in the Energy Systems Integration Facility (ESIF) to further his explorations. "We utilize advanced molecular simulation techniques to reveal the detailed molecular mechanism of cellulose breakdown by the enzyme," he said, explaining that the enzyme constitutes the cornerstone of modern industrial enzyme cocktails for biofuels processes.
And he's accomplishing what he set out to do as an NREL Director's Fellow. In December 2013, Knott, Beckham, Crowley, and other researchers published "The Mechanism of Cellulose Hydrolysis by a Two-Step, Retaining Cellobiohydrolase Elucidated by Structural and Transition Path Sampling Studies" in the Journal of the American Chemical Society. He's also given a presentation to the biomass staff, earning praise from his peers.
The bar, it seems, is already high.
Connecting through the Director's Fellowship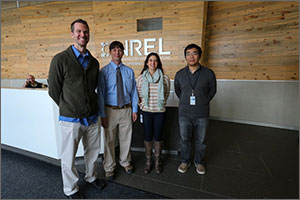 Enlarge image
Xerxes Steirer first connected with the lab by collaborating with NREL while earning his Ph.D. in applied physics at Colorado School of Mines. Later, when he was a postdoc at the University of Arizona, he made a call to NREL's Craig Perkins, asking if Perkins would mentor him in his bid for an NREL Director's Fellowship—a key step in the process. Perkins agreed, and together, they found a winning path for his talent.
As Steirer can attest, the selection process was competitive. Successful applicants in the Director's Fellowship program must create proposals that spark interest in the NREL scientists who would work with the postdocs. Steirer's idea for working on junctions for earth-abundant materials in solar cells proved enticing enough for him to land one of the coveted fellowships.
Bringing to the lab his skills in spectroscopy, Steirer has expanded NREL's capabilities, according to Perkins, by "enhancing the measurement capabilities by addition of lock-in electronics that allow direct measurements of differential current." Perkins noted that Steirer obtained the first conduction band measurement of a cadmium-doped copper zinc tin selenide surface as part of semiconductor research, and that this result and others have allowed Steirer to be coauthor on two manuscripts in preparation. For his part, Steirer is pleased to be at the lab. "There's a great support group," he said. "Scientists' doors are open, and you can talk to anyone. I can contact a dozen scientists within 20 feet."
"Working in the surface analysis group at NREL has been amazing—the tools and the expertise of the people have brought my game up," said Steirer, whose goal is to someday manage his own research group. "I feel much more empowered, much more rounded. I have a much broader understanding of solar cells." Of the lab, he said: "There is a genuine curiosity here to solve scientific problems. They'll ask me, 'What are you trying to test? How can you define the problem you're trying to solve in one sentence?' Those kinds of interactions have really helped me get at the answers."
The Newest Director's Fellowship Awardees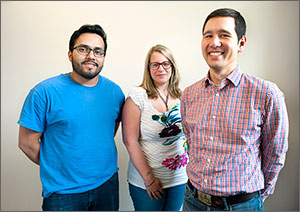 Enlarge image
The latest Director's Fellowship awardees arrived on campus this spring. Jankowski earned a Ph.D. in chemical engineering from the University of Michigan and then worked as a postdoc at the University of Colorado Boulder, where he applied some of his theoretical research into the self-assembly of polymers in organic solar cells. "I had a lot of overlap with people at NREL while I was there," he said, and when he heard about the Director's Fellowship, applying made sense. In his first round of outreach emails, however, Jankowski found all those he queried were already guiding candidates. "The good thing was being able to talk to people and see the projects they worked on." Eventually, he found his mentor, Dana Olson, in the Chemical and Materials Science Center.
"It is a really natural area for me to collaborate in because the work I'm doing allows me to look at the large-scale structure of molecules and ask questions about the experiments," His research fits in exactly with ongoing experiments and simulations in progress at NREL. Jankowski's only disappointment so far: losing out to super-cyclist Stuart Black in a competition for the longest commute to the lab. "I heard he altered his route to go longer," he said, laughing.
Gallo, who grew up in Genoa, Italy, was working in her native country when confirmation came that she was accepted to work in the Power Systems Engineering Center under mentors Bri-Mathias Hodge and Michael Milligan. "It was overwhelming," she said. "I had to leave my job and go outside." She called her family with the good news—her dream of returning to the United States was a reality. A year ago, she was working at Argonne National Laboratory for three months as a Ph.D. student. "My friends there were all thrilled."
She arrived in April to begin computational work on the future of electricity markets with growing renewable energy penetration. Her research aims at providing NREL with a software framework able to model new wholesale electricity markets, show what to expect in these market platforms, and provide policy guidelines for future integrated energy systems.
"Sometimes I cannot believe it," Gallo said—but she's adjusting. All she needs now is a good Neapolitan-style pizza in Denver, she joked.
For Reyes, the idea of leaving his hometown of Bucaramanga, Colombia, for the United States was never a thought growing up. After all, why leave a place known as the "most beautiful city in Colombia?" But after arriving at Texas A&M University seven years ago in an exchange program with universities in Colombia, his thoughts changed. After he earned his Ph.D. in chemical engineering, his advisor alerted him to NREL's Director's Fellowship program.
His proposal—to expose microorganisms to "survival of the fittest" for biomass utilization and biofuels production—found a supporter in Katherine Chou of the lab's Biosciences Center. "It's pretty amazing to be accepted here," Reyes said of his time since at NREL arriving in March. "The research projects are top-notch, the people are nice—and my mentor has lots of patience."
Mentors Share the Enthusiasm
If so, Reyes's mentor is impressed as well. "The Director's Fellowship is a great channel to recruit talents to NREL from around the world, and it has been a joy for me to exchange, merge, and create ideas with Luis for scientific advancements," Chou said.
As with other RPP programs at NREL, the experienced scientists play key roles, helping to guide the postdocs' visions. The results can be impressive. Jianping Yu said of his mentee, Wei Xiong, that "Wei is among the most productive researchers I have worked with. He brought to NREL expertise in the measurement of carbon and energy flow in living organisms." He added that Xiong, who earned his Ph.D. in biology in 2010 from Tsing-Hua University in Beijing, "enables us to see the bigger picture of metabolism happening in our biofuel-producing microbes, analogous to real-time traffic reports we see on TV."
Yu explained that within half a year, Xiong developed NREL's capability to quantitatively analyze carbon metabolism by simultaneous measurement of dozens of metabolities. According to Yu, this accomplishment places NREL at the forefront of metabolic engineering of photosynthetic organisms, and the team is on track to publish high-impact papers during Xiong's fellowship.
Reaching Out as a Community
The gathering of postdocs across the lab is creating its own momentum. For example, the Director's Postdoctoral Fellowship awardees, who meet regularly with the support of NREL's Human Resources Office, decided to reach out to the general postdoc community at NREL. "We want to build a sense of community based on what postdocs go through," said Steirer. "It also involves helping each other." To that end, they've organized a number of gatherings, ranging from a presentation by a senior staffer about his postdoc experiences to an after-hours gathering with some of the 60 or so lab postdocs. Steirer sees all the postdocs at NREL reaching new levels of bonding, with a number of them already actively participating in group networking to expand their connections.
The future looks bright for Director's Fellowship recipients as the next generation of scientific superstars shines at NREL, helping expand the laboratory's reach. Even as the newest awardees are getting established, they are looking ahead. And for those who have been on campus for a while, their goals are becoming clearer.
Miller plans to write papers on her own research, probably later this year. "I am going to contribute to the field," she said, and hopes that her work in basic energy science will lead to improvements in renewable energy technologies. Knott, too, is looking forward to achievement at the lab. "There's years of work ahead I could be part of," he said. "This [fellowship award] has been a huge blessing to me. Gregg and Mike have set me up for success."
Across the lab, the Director's Fellowship Program is repeating that successful result over and over, helping launch the next generation of science superstars.
—Written by Ernie Tucker