Architects and Building Engineers Flock to NREL
---
Eight busloads of architects and mechanical engineers toured one of the world's largest net-zero-energy office building this summer at the Energy Department's National Renewable Energy Laboratory (NREL) and came away inspired with new ideas for how to design and build beautiful, eco-friendly structures on a budget.
Tickets for the tours sold out almost as fast as a Paul McCartney concert, the busloads another reminder of how professionals are embracing high-performance, energy-efficient buildings.
The premier professional organizations for architects and building engineers — the American Institute of Architects (AIA) and the American Society of Heating, Refrigerating and Air-Conditioning Engineers (ASHRAE) — both held their national conferences in Denver this summer, within a few days of each other.
Denver is just 14 miles from Golden, the site of NREL's main campus and its Research Support Facility (RSF), a 360,000-square-foot office building that Construction Digital Magazine last year named the top net-zero-energy building in the world. A group of NREL engineers including Sheila Hayter, Rachel Romero, and Shanti Pless organized the trips to NREL's campus — and led tours with help from the architects at RNL and SmithGroup JJR and the contractors from JE Dunn and Haselden, who worked with NREL to design and build the RSF and the new Energy Systems Integration Facility (ESIF).
"People were lining up at will call to get tickets to the tour," said Angela Innes, marketing manager for JE Dunn Construction, the main contractor on the ESIF project. "We saw huge interest and got a lot of feedback from architects from all over the world."
The AIA architects and ASHRAE engineers marveled at the energy efficiency and the aesthetics of the RSF, and some dropped their jaws when they learned it was built in 2010 and 2011 for no more than the average square-foot cost — $259 — of other office buildings in the Denver area. In addition, the engineers saw that using biomass to heat buildings is a viable option for saving greenhouse gases and viewed one of the most energy-efficient data centers in the world.
NREL Shows High Performance is Economical
"Designers of commercial buildings are serious about creating energy-efficient buildings," said NREL's Hayter, who chairs ASHRAE's Planning Committee, is a past ASHRAE vice president, and previously served on the steering committee that developed the original charter for ASHRAE's Advanced Energy Design Guideline (AEDG) series that shows the way toward achieving 30% or 50% greater efficiency or net-zero energy.
"The architects visiting NREL were pretty amazed at the design of the RSF. They are anxious to learn how to make energy-efficient decisions with a very limited budget — without sacrificing aesthetics," Pless said. A full-day pre-convention workshop at the AIA conference gave architects the chance to do exactly that: make design decisions with an eye for energy efficiency. The workshop taught them how to use OpenStudio, an Energy Department tool developed at NREL, to evaluate the energy impact of early design decisions such as orientation, massing, fenestration, construction assemblies, and internal building activity. They created baseline energy models and then made what-if alternatives using energy conservation measures pulled from the online Building Component Library, another Energy Department tool developed at NREL.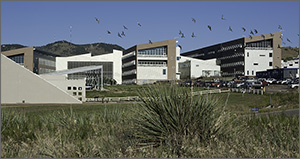 Enlarge image
"We sent 200 of our people to NREL. It was all sold out," said Nicolle Thompson, director of programs and sponsorship for AIA Colorado. "It was extremely popular. There are so many great projects at NREL, and many of our members participated in building that campus. The RSF and ESIF are getting such national recognition. It's not easy to build a net-zero building of that size economically. We wanted to show it off."
Tom Watson, past president of the 55,000-member organization, said ASHRAE depends heavily on NREL and other federal labs for support and collaboration. Watson said NREL employees played a key part in developing the energy-efficiency standards that have been distributed around the world. "It's had a global impact."
"We've built K-12 schools, retail establishments, grocery stores at 30% or 50% better energy efficiency than national standards," Watson added, referring to the AEDGs, of which 500,000 copies have been distributed. "We couldn't have done it without NREL's support. NREL people have been heavily involved in the standards and technical committees leading to future advanced energy designs."
In fact, NREL's Pless has chaired four of the eight ASHRAE committees working to develop the AEDGs. In addition to NREL's leadership with the AEDGs, NREL's Otto Van Geet is a member of the committee to create an energy standard for computer data centers, which by themselves use up 2% of the energy the American economy consumes each year. ESIF has an extremely efficient data center to support its petascale-level supercomputer. At this year's ASHRAE conference in Denver, Van Geet led a session on evaporative cooling, talking about how a building can provide comfort for a fraction of the energy cost of traditional air conditioning. Pless and Van Geet were keynote speakers at the conference, while NREL's Jesse Dean, Ian Metzger, Paul Torcellini, and Michael Deru played leadership roles.
Pressing the Case on a 100-Degree Day
Pless then led many of the NREL visits, walking the engineers and architects out of a 100-degree day into a building that was cool and comfortable without typical air conditioning — employing smart windows, radiant cooling, and a concrete labyrinth in the basement. Radiant cooling in the RSF can keep a space cool even on hot days. On those hot days, the solar panels on the roof generate twice as much energy as the building uses, Pless said. It's only on the coldest days of the winter that more energy is used than is produced.
"Showing off the RSF when it's 100 degrees out, and seeing people functioning and comfortable — and feeling the comfort yourself — that's a big deal," Pless said. "To feel what it's like to be in naturally ventilated buildings with the windows open is something they'll bring back with them. And we also offer a good example of how to be green and how to do it at a low square-foot cost."
When a new large building is being planned, it's usually the architects who decide what the building is going to look like — the orientation, the glass-to-wall ratio, and other first steps, Hayter said. Then, the engineers and contractors have to figure out how to fit the ventilation systems, cooling systems, and windows into that design.
A better approach that is starting to be embraced is to have the owner, architects, and engineers work together from the outset — ideally with an expert on green buildings as a consultant. That way, engineers can suggest better orientations, profiles, and window sizes, while architects can suggest how to achieve all that without sacrifices to the building's aesthetics.
Making the Case for Comfort, Beauty, and Economy
Enlarge image
"Architects are artists," Hayter said. "For them to take the tour and see that zero energy can be done in a way that excites them artistically, and to see that it doesn't have to be a boring box, was important to them. They can still build with a sense of motion and beauty and a sense of place. We were able to talk to different audiences — to the architects on beauty and the shell, and to the engineers on pragmatism."
The third crucial stakeholder is the owner — whether it be a private landowner contemplating construction, or municipal or state officials deciding on a new government building. By a happy coincidence, municipal and state officials in charge of building design are visiting NREL's RSF this month. "Owners are a big part of it," Pless said. "It's important to get them in on the planning so they can decide if this is something that they would let their architects and engineers do."
NREL gave a special presentation to those visitors interested in energy-efficient data centers. The audience included officials from major banks in several states. They learned that evaporative cooling can be used in data centers in climates that usually would preclude such technology. One visitor from South Carolina realized that for the eight driest months of the year, evaporative cooling, with its much lower energy load, could condition his company's data center. "They learned about conservation strategies that they would have normally just written off," Hayter said.
The battle has already been won to get architects, engineers, and building owners to strongly consider designing and operating buildings that perform 30% or 50% better than minimum energy-efficiency standards. Now, there is growing interest in finding ways to build net-zero-energy buildings at a competitive cost.
In several states, professional societies are putting pressure on lawmakers to mandate higher efficiency standards. As architects and engineers look for ways to meet these standards, they need look no further than NREL for a living example of how it can be done, Hayter noted.
Watson said a new push among building engineers is to promote energy efficiency, indoor air quality, and safety, with a focus on educating state and local lawmakers. "We're showing how energy-efficient buildings like the ones at NREL can mean a utility doesn't have to build more power plants financed by ratepayers. The total cost to the populace would actually be higher if they roll back the standards."
Pless echoed that thought: "The investments in energy efficiency can mean lower energy costs for all of a utility's customers."
A Lasting Impact
Mark Kurtz, design director for science and technology projects for Phoenix-based SmithGroupJJR, the architects for the ESIF, said: "The folks at NREL are really pushing things. At conventions we go to nationally and internationally, I can't think of another project or topic that folks are more interested in. How to build like NREL has done — with design excellence and efficiency excellence — at a price around $270 a square foot."
Brad Gildea of SmithGroupJJR, architecture project manager for the ESIF, led 12 tours of NREL attended by architects from around the country and the world. He said the difference in cost between just meeting the standards and building a truly energy-efficient or net-zero building has narrowed considerably the past 15 years. "There's always the argument between upfront costs and payback," he said. "But people are getting savvier. They're saying, if we rent a space, we don't want to pay a huge electric bill. The next frontier is the super-efficient net-zero building. We show them the bang for the buck they can get by investing in energy efficiency on the front end."
Gildea noted that buildings use 30% of the fossil fuels in this country each year. "NREL is leading the push in the building industry to significantly reduce energy usage by 2030."
Learn more about NREL's Commercial Buildings Research.
— Bill Scanlon