Science Bowl is Fun with a Future
February 6, 2009
Quick – you have just a few seconds to come up with an answer to the following question, "Which of the following terms best describes the albedo of a planet: A) electromagnetic energy B) density C) reflectivity D) absorption". The answer is… we'll tell you at the end of this story. High school students from across the country are currently spending hours quizzing each other on questions like this in preparation for the 2009 National Science Bowl.
Don't jump to conclusions about what you'll find at the science bowl — it isn't just honor roll students strutting their stuff through quick Q & A. From tie-dyed lab coats, to duct-tape gladiator costumes, students also creatively express their enthusiasm and excitement for the sciences. "We truly enjoy science," said Arapahoe High School student Jon Karr, "with science there are so many places you can go in life."
And there's an air of sportsmanship both on and off the "field."
"Our team hasn't competed in a science bowl before, so some of our team members went and practiced with a team from another high school," said Peter Eliot, of The Crucibles Science Club.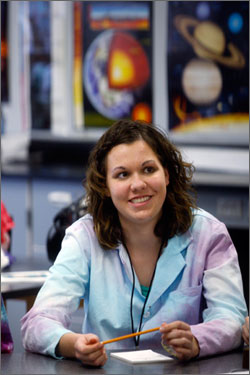 More than Competition at Stake
The U.S. Department of Energy began the science bowl tradition nearly 20 years ago as a way to encourage high school students to explore math and science. In fact, these future scientists, engineers and mathematicians came up with split second answers to questions in physics, math, biology, astronomy, chemistry, computers, and general sciences at the recent NREL sponsored Colorado Science Bowl.
But, for those watching the friendly competition, there is more at stake.
"The Colorado Science Bowl provides a venue for Colorado's highly achieving academic students to test their science and math knowledge in a fun and exciting competition," said Education Programs Coordinator NREL's Linda Lung. "We are hoping that once these students start college, they will consider internships and eventually employment at the Department of Energy laboratories. These students are the workforce of the future."
They've Got Goals
The students seem to share the Department of Energy's goal to see them in science careers. Across the board – from computer science to materials engineering – students at this year's Colorado Science Bowl are happy to tell you what math, computer or sciences field they hope to pursue after graduation.
"I want to help find environmentally friendly and new ways to find energy," said Arapahoe High School team captain Alyse White. She participated as a senior in this year's Science Bowl on a predominately girls team, which that made it in to the final rounds of completion. She plans to enter the University of Wyoming to study courses in renewable energy and petroleum engineering as part of the university's Energy Resource Science Undergraduate program. She's also setting her sights on a future at NREL, "I'm hoping to be an intern at NREL and help look for new ways to find energy."
Team Spirit and a Love of Science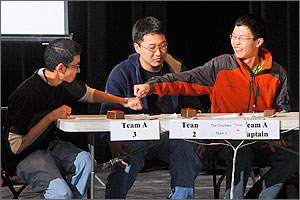 White's team from Arapahoe High School did well in the final rounds of the competition, but in the end it was The Crucibles who took home the first-place trophy. The Crucibles entered two teams made up of students whose love of science led them form their own science club in order to participate in this year's Science Bowl.
"The Crucibles Science team exemplifies the Department of Energy's goal in forming this competition." said NREL Education Programs Manager, Cynthia Howell. "Their team spirit and love of science bodes well for the future of science, technology, engineering and mathematics in our country."
The Crucibles and other future scientists will converge on Washington, D.C. on April 30 where more than 450 students will compete for the National Science Bowl title. If you are interested in an internship or career at NREL, visit our internship Web site or read our recent story on hiring titled, "Wanted: Energy Innovators".
The answer to the question at the top of this story is – C) reflectivity.
— Heather Lammers