Governor Honors Alternative Energy Advocate
February 13, 2009
When you have the opportunity to spend 30 years working in a field you love, some might be worried about losing their zeal, but NREL's Chuck Kutscher is a shining example of someone who continues to find new passions along the way.
His passion for identifying climate change solutions using renewable energy recently caught the attention of Colorado's Gov. Bill Ritter. He presented Kutscher with the 2nd Annual Governor's Excellence in Renewable Energy, Individual Award. "I was very surprised," Kutscher said. "I had no idea I had been nominated."
The governor's award honors outstanding contributions to protect Colorado's environment and provide clean power through renewable energy.
Kutscher has done all of this and more; from creating NREL's first solar cooling test lab to leading research on the basic theory of the solar wall, he has researched concentrating solar power, solar heating and cooling and geothermal electricity. He is currently a principal engineer and group manager of the Thermal Systems Group in NREL's Center for Electricity, Resources and Systems Integration, where once again he is taking the lead on concentrating solar power research using NREL's Large Payload Solar Tracker.
It's what Kutscher has been doing outside of the office — educating people on the urgency of climate change and how it can be addressed— that's also earned the attention of the Governor as well as the University of Colorado at Boulder and the National Oceanic and Atmospheric Administration's (NOAA) Earth Systems Research Lab in Boulder, Colo.
In fact, it was a colleague at NOAA's research lab who nominated Kutscher for the award. According to physical scientist and Intergovernmental Panel of Climate Change member Melinda Marquis of NOAA, "Chuck has tirelessly continued to educate experts and lay people about how renewable energy can support climate-change mitigation."
It was through his membership in the American Solar Energy Society (ASES) that Kutscher brought the issue of climate change to the forefront. "I developed a passion for the climate change issue while serving as ASES chair back in 2000 and 2001," said Kutscher. "The more I studied the science, the more I became convinced that it is a much more serious problem than most Americans realize." When he chaired the 2006 National Solar Energy Conference in Denver, he seized the opportunity to focus the event on how renewable energy can address climate change.
In preparation for that conference, he brought together a cross-section of energy experts — many of them NREL colleagues who volunteered their time. This resulted in the publication of a 200-page 2007 ASES report, "Tackling Climate Change in the U.S. — Potential Carbon Emissions Reductions from Energy Efficiency and Renewable Energy by 2030." The study shows that energy efficiency measures can halt the rise in U.S. carbon emissions and renewable technologies can provide the large cuts that will be needed.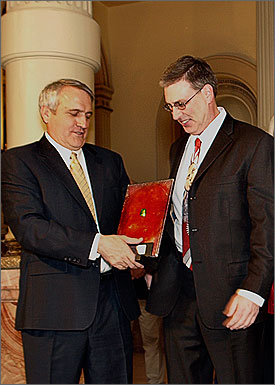 "Energy efficiency and renewable energy technologies have tremendous capacity to reduce the U.S. carbon footprint," Kutscher said. "Many of those technologies are ready now, including wind, concentrating solar power, photovoltaics, biomass power and geothermal. While continued R&D will improve performance and lower costs, we can't afford to wait to deploy them."
The ASES report generated a great deal of interest and a number of invitations for Kutscher to speak on the potential for renewable energy at conferences around the country. The Governor's Energy Office is using a spreadsheet on how efficiency and renewable energy can be implemented in Colorado that he developed with a small volunteer task force. Kutscher delivered the keynote address at the first Colorado's New Energy Economy Conference in October 2007.
"In Colorado, we have all the ingredients we need to address climate change. We have the foremost renewable energy lab in the nation, collaboration between universities, and many of the nation's top climate change experts at NOAA and NCAR. We also have a very supportive state government, and we are the first state in the nation where the voters themselves initiated a renewable energy portfolio standard. Pull all of these people together and we can be national leaders in this effort," Kutscher said.
It is not just the renewable energy world that benefits from his passion for clean energy. Kutscher also is an adjunct professor at the University of Colorado at Boulder where he teaches a course titled "Climate Change Solutions." He also has supported Melinda Marquis's initiative at NOAA to look at the tie between climate science and the integration of renewable energy solutions. They have worked together on a monthly seminar series designed to enhance communication between scientists at NREL and NOAA, as well as with community members working to deploy renewable energy.
His travels around Colorado have given him a newfound appreciation for the breadth of activities taking place. "I'm always amazed to see all the things people are doing throughout the state at the grass roots level. They are really working hard to deploy all forms of renewable energy. They've been implementing Colorado's "New Energy Economy" since before we started using that term. Colorado is an exciting place to be right now."
Energized by what the future holds, Kutscher has plenty of opportunities to be an advocate for tackling climate change. He has been invited to speak at the upcoming Aspen Environment Forum and the Santa Fe Institute's Global Sustainability Summer School as well as the State of World Forum in Washington, D.C. But, his work is foremost on his mind, "I will continue to work on applications for concentrating solar power and will continue to look for ways that energy efficiency and renewable energy can address the problem of climate change."
— Heather Lammers
Governor Honors Alternative Energy Advocate