Partnerships Boost Research, Improve Technology
March 6, 2009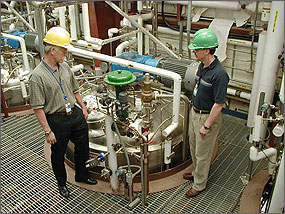 Steve Jobs & Steve Wozniak. Marie & Pierre Curie. NREL & DuPont. Sometimes the most efficient path to success is to find a partner to work with along the way. That's the basic premise for how NREL collaborates with businesses to help boost the lab's research and transfer technology into the marketplace. NREL and businesses form CRADAs (Cooperative Research and Development Agreements) to help the best minds in business and government team up to find solutions for alternative energy and fuels.
More than five years ago, NREL and the DuPont Corporation entered into this type of scientific partnership. The goal was to find ways to convert the non-food parts of corn plants (also known as stover) into biofuels. Corn stover is abundant and accessible in the U.S., so it made sense for researchers to see if the non-grain parts of the entire plant could be used to make biofuels such as ethanol. But making fuel from a corn kernel easily converted to sugar is one thing. Making fuel from sugars Mother Nature has locked away to protect the plant is another. That's where NREL and DuPont decided to put their heads together.
"What made this CRADA attractive for everyone was that NREL already has the intellectual property in several areas relating to biomass and DuPont is very good at science," said National Bioenergy Center Team Leader for Partnership Development John Ashworth. "So, we knew we could do great research together."
NREL Leverages Turnkey Research
In addition to NREL's extensive intellectual property, another reason companies such as DuPont choose to partner with NREL is our in-house expertise in taking ideas from bench scale tests all the way to full-blown pilot programs. "Companies don't have to piece out the research to company X, Y, or Z throughout the process," said Biochemical Process R&D Supervisor Richard Elander. "We can also look at one idea and eliminate right off the bat the stuff that doesn't work, and that's another of our strengths as a partner."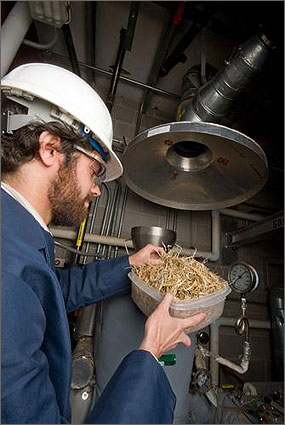 For the first few years, teams for NREL and DuPont worked closely coming up with new biomass-to-ethanol processes and equipment designs. About a year and a half ago, the NREL-DuPont project scaled up from the lab and was successfully tested at NREL's Alternative Fuels User Facility (AFUF) pilot plant. Bringing the project to this size and scale often required 24/7 collaboration with both teams working side-by-side.
There were a number of factors at play in the NREL-DuPont partnership that made things work so well, Ashworth said. "CRADAs like this work best when they are true collaborations that push and explore the boundaries of science. When companies enter into a CRADA they need first know where they want to end up and, the work needs to be central to their business plan."
Competition Sparks Creativity and Drives Success
As with most partnerships, a little friendly rivalry between researchers doesn't hurt either. "DuPont had a wealth of scientific and engineering knowledge they brought to the table, which brought about competition and some healthy tension," Elander noted. "It doesn't hurt the creative process, it helped moved the project forward, and was much better for things overall."
Now that the CRADA has ended, the shining success for both NREL and DuPont is that the research is making its way from the lab to the commercial world. DuPont is taking what was learned during the CRADA and is looking to commercialize the technology. Through a recently formed joint venture (Dupont Danisco Cellulosic Ethanol, LLC) with enzyme technology provider Genencor, DuPont and its industrial partner are building a dedicated pilot-scale bio-refinery in Tennessee that is utilizing technology and processes initially developed within the NREL-DuPont CRADA.
Learn more about biomass research and CRADAs at NREL.
— Heather Lammers