NREL Tests Energy-Saving Office of the Future
March 13, 2009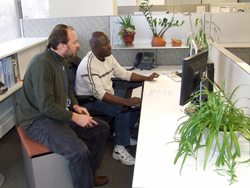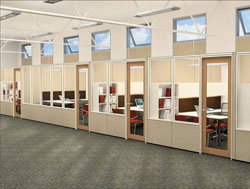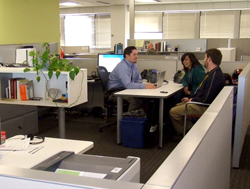 Making sure that the new Research Support Facilities (RSF) will achieve Platinum level certification from the U.S. Green Buildings Council Leadership in Energy and Environmental Design (LEED®) takes not only planning — but practice.
NREL planners have set their sights on achieving a LEED Platinum rating for the RSF, which means the building will:
Meet the needs of the workforce — both current and future
Maximize the efficiency of the employee workspaces
Make the best use of the space while using the lowest attainable amount of energy per square foot.
Reaching these goals will not be easy in a building as large as the RSF, which is planned to be a 218,000 square foot facility supporting nearly 740 staff, along with an energy efficient information technology data center. As a result, tearing down walls is an important concept in the RSF, both literally and figuratively.
The most dramatic change from a traditional office to NREL's office of the future can be seen in employee work areas. Frontline staff and supervisors will work in open air cubicles. Workstation panels are only 42 inches high and bookshelves between workstations top out at 54 inches. Management level cubicles do have privacy walls that are 6-feet tall with doors, however, most of the ceilings at the RSF will be 13-feet high.
Taking the Space for a Test Drive
Staff from NREL's Information Services (IS) office volunteered to prototype the new office designs, furniture and technology, and moved in last November.
"People see these work stations and, initially, are concerned about the noise factor," said Client Services Group Manager Henri Hubenka. "But, what we've found is that the new workspaces are very conducive to collaboration between teammates."
The low cubicle walls are vital energy savers allowing for circulation of both air and light. Background office chatter is mitigated through white noise, which is incorporated into the building to help mute conversations. Employees who need privacy can use "huddle rooms," small conference rooms set aside for teams who want to have conversations in a quiet space. Other design and technology features the RSF will incorporate include:
Daylighting along with overhead lights that automatically turn on or off.
Globally regulated temperatures throughout the building.
A reduction in stand-alone machines such as printers, faxes, copiers and refrigerators; in the prototyped office being tested by IS, 68 staffers on one floor reduced their use of standalones from 50 machines to 10.
Computers Go Back to the Future
NREL is also looking to phase out standalone CPUs at each workstation and utilize either laptops or "thin client" machines, which are basically a monitor, keyboard and mouse. All software programs needed by thin client users are housed on a central mainframe — like the terminal days of the '80s. The energy savings of a laptop over a standard PC is 85% and using thin client machines brings the energy savings up to 92% — per workstation.
While it's cool to move into a new office with sleek furnishings and the latest technology, one thing that will make or break the transition to an office of the future is communication.
"Start early," advises Hubenka. "Let employees know how things will work and what the differences are between a regular office and a super-efficient office."
Upon hearing about the drastic workstation changes, Hubenka estimates that up to 80% of the IS staff had some trepidation. But constant communication, a Web site dedicated to the new office, and constant requests for feedback have lowered that estimate to less than 10%.
IS Group Manager Mary Donahue agrees with Hubenka, "I like it, it's a great space and it is very comfortable to work in."
The RSF is slated to open the summer of 2010. When some of NREL's workforce moves into the new building, the employees at the prototyped "office of the future" will be able to acquaint their colleagues with the energy efficient workspaces and technologies that will be in place.
"All of these updates to how we work are going to get NREL where we need to be now and in the future," said Hubenka.
Learn more about Sustainable NREL.
— Heather Lammers