Lab Preserves Nature, History
March 20, 2009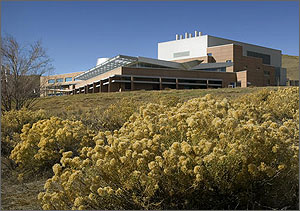 NREL's South Table Mountain campus teems with wildlife. Its dry landscape is home to more than 200 plant species. The site includes cultural gems that speak to the region's past. And, NREL is growing. But growth for the future won't mean changing the nature of the place or ignoring its history. NREL staff is keeping a watchful eye to ensure that construction has minimal impact on the environment.
The U.S. Department of Energy and NREL are constructing new 218,000 square foot Research Support Facilities (RSF) slated to open in the summer of 2010. Other new buildings are planned as NREL scientists and engineers work to develop and refine renewable energy and energy efficiency technologies. Staff always have kept a vigilant eye on the natural resources on and around NREL's campus, and now with the growth – even more so. NREL is putting into action its Environmental Management System along with the National Environmental Policy Act (NEPA) program to ensure that construction proceeds with the lowest possible impact on the environment.
"Protecting the environment is at the heart of NREL's mission and all of our employees' daily activities." Environmental Specialist Denise Rayborn said. "We diligently work to protect areas near facilities to help preserve Colorado's natural beauty and native ecosystems."
Preservation for Generations
NREL's main campus sits on a small portion of land owned by the Department of Energy near Golden, Colo. Because the site is largely undeveloped, NREL and DOE have seized the opportunity to safeguard numerous species of plants and animals, and even a few pieces of history.
"Our policy continues to be to protect the natural ecosystems in the undeveloped areas of our campus," Senior Environmental Scientist Maureen Jordan noted. "Employees here have a passion for environmental stewardship and sustainability – incorporating those concepts at NREL in everything we do."
In 1999, DOE ensured the preservation of its piece of South Table Mountain along with its inhabitants by placing 177 acres under a conservation easement. This means that the land will not be developed and that habitat and visual panoramas on the mesa top will be kept as natural open space. The easement also allows public access, with hiking trails managed by the Jefferson County Open Space program. The RSF and other future buildings will be integrated into the current campus at the base of South Table Mountain and will not encroach on the conservation easement. View a slideshow on NREL's Campus of the Future for more details.
"Since I started my hikes in the mid '90s, Jefferson County Open Space has made significant improvements to the mesa trails, adding greatly to the quality of the trail system," NREL Senior Engineer and photography enthusiast Steve Wilcox said. "It's rewarding to see more and more people enjoying the mesa."
Plants and Animals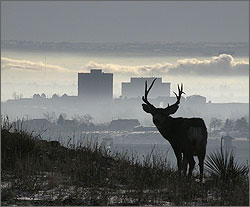 The wide-open space outside NREL's "back door" provides a visual feast for employees on their breaks and is home to a wide variety of animals and plants.
"It's a dry, dusty environment, in sharp contrast with the lush foothills just a couple miles to the west. But I love the desert-like landscape and never tire of my daily hikes across the mesa surrounded by brush, grasses, cactus and wildlife," Wilcox said. "I always take my camera with me. It's always a challenge to find something new and interesting to photograph after so many years, but nature provides an infinite variation of light, colors, contrasts and subjects."
One of those subjects might be a herd of mule deer, frequently seen grazing outside of NREL's research buildings. Employees also have the pleasure of seeing coyotes, foxes, raccoons and rabbits. Mountain lions occasionally roam the open spaces and hikers are always on the look-out for native reptiles including rattlesnakes.
South Table Mountain also provides a temporary home to a variety of migratory birds throughout the year. Wildlife surveys since 1987 have identified more than 50 species including raptors such as American Kestrels and nesting pairs of red-tailed hawks. Preserving open space along South Table Mountain for migratory birds is important because many of the birds stopping by are just taking a breather during a trip than can cover thousands of miles each year.
The plants on the STM site provide habitat for winged visitors and homes for numerous smaller mammals like deer mice and prairie voles. The plant life is consistent with what you would expect to see in grassland areas. But don't think it's "only" grass – there are nearly 200 species of plants ranging from cactus to wild roses to a wide variety of wildflowers (and of course, grasses).
Echoes from Another Tough Economic Time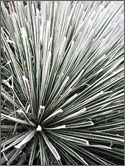 In the 1930s, when the economy was at an all-time low and the country was mired in the Great Depression, President Franklin Roosevelt launched the largest jobs initiative in U.S. history – the Works Progress Administration (WPA). The NREL campus is home to three relics of the WPA, including an amphitheatre nestled in the hillside. While no longer open to the public, the amphitheatre was once a meeting place for nearby residents.
"At one time people gathered at the amphitheatre on South Table Mountain to socialize and watch movies, "Rayborn said. "Although our gatherings on the STM site are now business rather than social, it's really neat to see a piece of history and know the evolution of our site."
NREL is serious about caring for these significant cultural resources and submitted paperwork to add these sites to the National Register of Historic Places in the 1990s. The Lab also is interested in protecting artifacts that could be discovered in the future.
Power Lunch on the Environment
Learn more about how NREL is being a good neighbor using its Environmental Management System. NREL is hosting a Power Lunch at noon on Thursday, March 26, in the Visitors Center where Environmental Specialist Denise Rayborn will speak on, "Being a Good Neighbor: NREL's Environmental Performance & Beyond." Rayborn will detail how protecting the environment is at the heart of NREL's mission and how NREL workers practice environmental protection and stewardship daily.
More information about NREL's Environmental Management System also can be found in a regularly published report – Environmental Performance Report, — available on the Lab's Web site along with information about NREL's ongoing environmental and sustainability efforts. In addition, visit us online for more information on NREL's growth and our Campus of the Future.
— Heather Lammers