NREL Helps Sort Green Transportation Options
April 10, 2009
Using a company vehicle used to be a simple (but not so green) routine. An employee filled up the car with gasoline at the fleet pump, turned the key and was on his way. Efforts to reduce the environmental impact of driving mean more choices, though. Fleet managers now can pick from green options such as E-85, biodiesel, propane and an assortment of hybrids. That can be a little confusing, but NREL and U.S. Department of Energy (DOE) are helping companies decide which transportation choices best fit their sustainability goals by providing a variety of online tools.
The Alternative Fuels and Advanced Vehicles Data Center (AFDC) is managed by NREL for DOE and has more than 3,000 sources of data that can serve as resources for fleet managers and consumers. "The AFDC Web site takes technical information and translates the information into user-friendly tools," said Margo Melendez, Senior Project Leader, Clean Cities. "These tools help fleet managers make educated transportation choices and are geared toward helping consumers and fleets reduce petroleum consumption."
Fleets regularly use the information offered on the AFDC Web site to help meet efficiency goals and the Web site also champions their success stories to encourage others. Here are just a few examples of organizations that have navigated to greener fleets.
New Belgium Chooses Hybrids for Sales Team
New Belgium Brewing, maker of Fat Tire Amber Ale and other Belgian inspired beers, has always looked for ways to be energy efficient and socially responsible. Since its beginning, the company has participated in developing technologies.
"We think success lies not only in healthy profits, but in healthy people and planet," Sustainability Specialist Katie Wallace said. "Our business decisions reflect these beliefs. We're not profitable in spite of our progressive practices but because of them."
New Belgium's fleet is 99 percent light-duty vehicles, which are used by sales representatives in 18 states. In its fleet of 95 vehicles, there are 31 Prius hybrids, three Ford Escape hybrids, and one Nissan Altima hybrid. In addition, New Belgium has experimented with a B100 (100 percent biodiesel) made from yellow grease. The company currently is exploring options outside of first-generation biofuels.
"We've definitely taken advantage of the tools on the AFDC Web site to help with fleet decisions," noted Wallace. "We've used the online data to compare the efficiencies of vehicles we might be considering."
Wallace also thinks that the issues surrounding fleets at New Belgium still are evolving. "We are always looking for the next step in sustainable fuel. Electric hybrids are a good transition, but not the final solution."
Another solution employees have embraced is old school, but very healthy — the bicycle. The emblem for one of New Belgium's beers, the bicycle is a staple of the company's culture. Bikes are available to employees to run errands during the day and encouraged for use in local sales calls and trips around Fort Collins, Colo., where the company is headquartered. The company gives employees bikes on their one year anniversaries with the brewery.
Zion National Park Clears the Air with Propane
Zion National Park in Utah prides itself as a green parks leader and has earned a designation as a Climate Friendly Park by completing a Greenhouse Gas Emission Inventory and Action Plan to reduce greenhouse gases. The national park is committed to energy efficiency, and recycling, and supplies bicycles for employees to use on duty. Zion operates 30 propane-powered shuttle buses for visitors.
Handling the transportation pieces of their efforts is Parks Transportation, Inc. The program statistics are staggering. The park has more than 2.7 million visitors a year and has logged 14,951,190 shuttle passenger miles since the inception of the program in 2000. With an average of 1,076 Btu of energy used per passenger mile, the shuttle buses are about three times more fuel efficient than passenger cars. This helps account for a reduction in carbon dioxide emissions inside the park estimated at 6,263,250 pounds.
"The park is committed to continuing and expanding the use of energy efficient and green vehicles," said Ron Terry, Chief of Interpretation and Visitor Services for Zion National Park. "The program has been well received and has been studied by other national parks considering a similar system."
Guests in Zion National Park also have taken notice of the shuttle system, which stops at nine different locations throughout the park and at six locations in the neighboring town of Springdale. "Visitors especially notice how quiet the shuttles are." Terry said. "The use of these vehicles fits perfectly with the purposes and mission of the national parks and is the right thing to do."
Vehicles are only one aspect of Zion National Park's sustainability efforts. NREL has worked with Zion officials to build an energy efficient Visitor's Center which uses solar power, passive downdraft cooling and Trombe walls to store the heat for release into the building later in the day. Learn more about the Zion Visitor's Center on the Department of Energy Web site.
"We have energy efficient buildings and are continuing to add to our efforts with an expansion of solar technology," Terry said "We are also heavily into recycling and purchasing 'green products,' all of these efforts are in support of our designation as a Climate Friendly Park."
L.L. Bean Embraces B20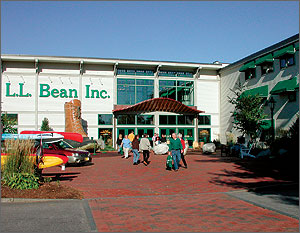 In 2003, L.L. Bean was the first major Maine-based company to test market biodiesel in its distribution fleet and converted its heavy-duty truck fleet to B20 biodiesel fuel (20 percent non-petroleum based diesel mixed with 80 percent conventional petroleum based diesel).
Currently, L.L. Bean has 13 B20-fueled tractor rigs that move trailers between its warehouse locations. Seventeen of the company's Maine Outdoor Discovery School shuttles, which transfer customers from retail stores to off-site locations for classes, are configured to run on biodiesel as well.
The company's history of environmental efforts has been noticed. "Our customers are very concerned about the environment and want assurances that we are taking the steps to protect and preserve our natural spaces," Senior Public Relations Representative Laurie Brooks said. "Customers routinely visit the Environmental section of our Web site, which details our efforts and progress on environmental issues."
L.L. Bean continues to look at options when it comes to its fleet opportunities. In 2008, the company added a hybrid vehicle to the corporate vehicle fleet and is encouraging its employees to carpool to work through ECOBean (Employee Commuting Options). The program provides prime parking spaces for employees who carpool.
"We continue to monitor advances in commercial vehicles in regards to alternative fuels," Brooks said. "The AFDC Web site serves as an excellent reference source for us when making these decisions."
To learn more about the tools and information available to fleet managers and consumers, visit the AFDC Web site.
— Heather Lammers