NREL and Ford Team Up to Develop 'Cool' Cars
April 24, 2009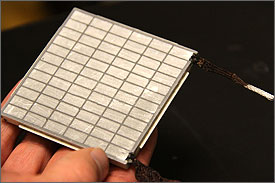 "Summer in the city" means settling into a hot car, cranking the air conditioning and hoping the sun will duck behind a cloud while you wait to cool off. What you may not know, is how much energy and gasoline it takes to cool a sun-soaked automobile on a hot summer day.
A 2002 NREL analysis discovered that the United States uses 7 billion gallons of fuel per year for light-duty vehicle air conditioning. It takes roughly 9.5 percent of U.S. imported crude to produce this much gasoline.
"When operating the air conditioning system to cool down your car, it is the largest auxiliary energy drain on cars today," says Senior Engineer John Rugh. "If we can lessen the amount of fuel used to power A/C, we can realize significant reductions in our oil and fuel usage."
In December 2008, a project to study and develop high-efficiency thermoelectric heating and cooling systems for cars was announced by the U. S. Department of Energy (DOE). As partners in the project, NREL will team up with Ford to research efficient ways of cooling vehicles based on the science of thermoelectrics. This public-private collaboration is possible thanks to a cooperative research and development agreement or CRADA.
NREL is a key partner in the Ford CRADA because NREL has been working for years to understand how cooling techniques affect fuel use as well as thermal comfort. NREL has key knowledge and tools that will be instrumental in the thermoelectric cooling system research.
NREL's Vehicle Climate Control Laboratory is… Hot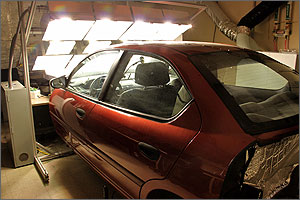 Imagine sitting your car under a row of intense lights typically used to illuminate sports stadiums — just to see how hot your car can get. That's essentially what happens to a passenger car in NREL's Vehicle Climate Control Laboratory (VCCL).
The VCCL was developed to simulate the heating that takes place as the passenger cabin is exposed to sunlight, changing temperatures and humidity — all while the cabin interior is cooled using an air conditioning system monitored by sensors linked to a computer.
"The reason the VCCL is such a great lab is that we can consistently create the effects of the sun warming a car, study the climate that is created and repeat as needed," Rugh said.
But having a warm car is only half the equation, it doesn't matter how hot it gets as long as no one needs to be in the car.
Meet ADAM, the VCCL's most sophisticated test subject. ADAM, is the ADvanced Automotive Manikin, which means he is basically a human sized sensor that measures heat at 120 independently controlled zones. As ADAM "sweats" or "shivers," corresponding data goes into a computer model that simulates human responses.
"ADAM is an ideal test subject because we don't have the safety issues of exposing a living person to the heat of a car and because he's very consistent. We can repeat tests all day long without him getting tired," Rugh said.
The physiological model that controls ADAM is linked to another NREL computer model that predicts human comfort in various temperature settings. Working with researchers at University of California, Berkeley, NREL developed a way to translate data into corresponding human comfort levels allowing researchers to surmise how cool a car will need to be in order for passengers to reach a base level of comfort. (Learn more about the ADAM the thermal manikin and related modeling and Manikin on a Mission.)
NREL Looks at How to Take a Load Off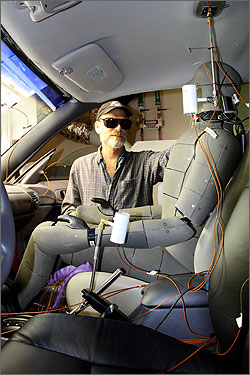 NREL's Vehicle Ancillary Load Reduction team has previously evaluated technologies that reduce the amount of fuel used for automobile air-conditioning. NREL looks to improve vehicle efficiency and fuel economy by controlling the climate in a vehicle while keeping passengers comfortable. The theory behind thermoelectric heating and cooling dates back to the 1800s but has only recently been eyed as a solution for cooling cars.
With no moving parts except for the air blower, thermoelectric heating or cooling is achieved by providing an electric current to a thermoelectric unit. Heat can be generated or removed from the passenger compartment depending on the direction of the current. The conditioned air is directed where needed. Researchers believe this type of system has the potential to augment the traditional air conditioning unit and reduce vehicle fuel use.
One critical benefit of reducing thermal loads is that occupants experience lower temperatures when entering a heated vehicle and feel more comfortable. NREL's research has shown that certain technologies, such as solar-reflective glass and parked-car ventilation, can significantly reduce thermal loads and fuel use. Cooling occupants through ventilated, cooled, or low-mass seats also shows potential for energy savings.
This is why Rugh says that, "all of these pieces — from our past research in load reduction, to the VCCL and ADAM — make NREL a strong partner in this CRADA and we are excited to helping move this research forward and hopefully someday change the way we cool our cars."
What Will Be Explored
The FORD-NREL CRADA won't kick into high gear until this summer, but according to Rugh, some of the areas the research teams will be looking at are:
analyzing and reducing overall thermal loads when it come to vehicle cooling
look how the number of thermal electric devices in a car can be reduced and to help reduce costs
how to cool the people in the car rather than the car itself possibly through strategic vent placement.
The research agreement is set up so that work is done in phases and key milestone will have to be met before the project can continue to the next level, which means ADAM may have a little waiting to do.
"At first we'll be working with Visteon and Ford to determine the best thermal comfort tools each partner has and then we'll select the best ones for the project," Rugh said. "We won't get to use ADAM to test those ideas until the later phases of the project."
See Vehicle Ancillary Loads Reduction to learn more.
— Heather Lammers