NREL Scientist Finds Time to Do it All
May 15, 2009
Imagine that you walk in to your office on a "normal" work day and these are just a few of the items on your to-do list (side note — you are doing all of this while preparing for the arrival of a new baby boy).
Spearhead a project across five different time zones to come up with industry testing standards for photoelectrochemistry (PEC) research
Serve as a project lead for polymer electrolyte membrane fuel cell catalyst research
Work as a co-project lead for fuel cell manufacturing research and development
Write and send proposals to the U.S. Department of Energy to bring millions of dollars to NREL to expand its fuel cell research program
Mentor college students working on fuel cell projects.
That's a day in the life of Huyen Dinh, Ph.D., and a senior scientist in NREL's Hydrogen Technologies & Systems Center.
As insiders at NREL know, the staff at the Lab is changing. The saying goes, you've been here 20 years or two. Dinh is one of the fresh faces at NREL. She joined the staff in 2007 after working in private industry on fuel cell research and development. But, she found corporate life less than stable and began thinking about a move to Colorado when she heard about NREL. "I thought, wow! This is the place I want to work," Dinh said. So, she contacted NREL Research Fellow John Turner who was also looking to expand the hydrogen fuel cell program at NREL.
Growing Fuel Cells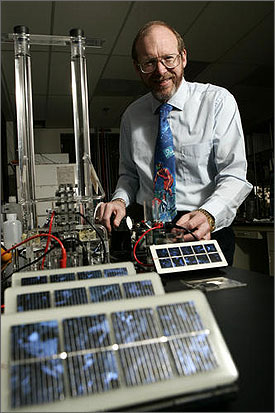 "I convinced management that Huyen would be a strategic hire and that she would be beneficial to my PEC research," Turner said. "But more important, her background would enable her to bring in funding and help grow a program in fuel cells here at NREL — and that's exactly what has occurred."
To say that Dinh quickly began making an impact at NREL is an understatement. Last summer, Dinh and her colleagues submitted seven proposals to the U.S. Department of Energy (DOE) for fuel cell related funding.
On May 11, DOE announced that NREL has been awarded three fuel cell projects. Dinh is the principal investigator for two of the three. The $2.4 million direct methanol fuel cell project will focus on improving catalysts performance and lower the cost of fuel cells, which will help accelerate micro fuel cell commercialization. In addition to the catalysts research, Dinh and NREL's Bryan Pivovar also won another DOE project, which will focus on the effects that system contaminants have on fuel cell performance and durability. The DOE award for this project is $6 million.
"We had really high expectations and hoped to win two or three new projects. We're very excited because this means millions of dollars to fund fuel cell research at NREL," Dinh said.
Making Sense Out of Photoelectrochemistry
Dinh also is showcasing her talents as a project leader. One of the things she realized when she first started working on photoelectrochemistry water splitting at NREL, was that standardized PEC protocols for hydrogen production did not currently exist for researchers. "Standardized testing protocols and efficiency reporting are necessary to screen materials and guide research towards the most promising PEC materials," said Dinh. "I saw a need, so being new and naïve, I volunteered."
PEC is the direct conversion of the sun's energy into electrical energy, which is used to split water into hydrogen and oxygen. A PEC system combines the harvesting of solar energy and the electrolysis of water into a single device. For the process to work, the semiconductor must meet several key criteria simultaneously. "PEC water-splitting is a promising approach to solar-to-hydrogen production," Dinh said. "But standardized testing and screening is essential to have successful research and development."
Dinh's working group is taking collaborative leadership to a whole new level. In May 2008, she began working with colleagues from five different time zones scattered across the globe including: Stanford University, the Hawaii Natural Energy Institute, University of California Santa Barbara, University of Louisville, University of Tokyo, the Department of Energy and the Australian Nuclear Science & Technology Organization. Since July 2008, the team has met weekly via Webcast and teleconference. Each member of the group agreed to write a series of documents for a final paper to be submitted to a peer reviewed journal for publication.
So far, the group has produced 18 different documents and has identified the top 10 experiments for characterizing and screening PEC materials relatively quickly to make informed decisions about a PEC material. They also have drafted the first PEC characterization flow chart to show the recommended sequence of experiments and decisions points.
With a deadline looming for submitting their final paper, Dinh said the group is taking it all in stride, "The team works very well together and everyone is eager and very committed to the project. We know we have an international audience waiting and wanting to know when it will be ready."
Dinh already is being recognized for her efforts in the PEC standardization. She has received letters of appreciation from DOE and she has earned a President's Award from the Alliance for Sustainable Energy.
Past Challenges Keep Her Motivated
While the PEC project alone would keep many of us working late nights, for Dinh, it's just one of a variety of projects she's excited about. The obvious question is, how does she stay so inspired? "I've been very motivated to do well in school and in life because my mom had to work so hard to support us," Dinh said. Her mom, in fact, had to battle extraordinary circumstances to see that her children had the opportunities that many of us take for granted.
Dinh was born in Vietnam and her family fled the country in 1979 among the millions of Vietnamese boat people seeking refuge from the communist government. Dinh's journey took her, along with her mother and sisters, onto a small boat crowded with several hundered people. Crossing the open ocean, their boat at one point was chased by pirates. Sick and exhausted, they eventually made their way to Malaysia where authorities tried to keep them from landing, but their mother pulled Dinh and her siblings from the boat and made it to shore. They lived on the beach for a number of weeks before moving to a refugee camp. It was months later before they were able to secure passage to Canada and reunite with their father.
The events from her past motivated her to excel at school, work and beyond. Dinh attended college and did her graduate work at the University of Calgary in Canada. She finished her post doctoral work at Los Alamos National Laboratory in 2000. But it's Colorado where she now sees her future. "I love the people, it's an active place, it's a good place to raise a family—this is where I want to settle."
NREL also has on the drawing board a new research building - the Energy Systems Integration Facility (ESIF). When completed, the ESIF will house a variety of research programs and plans call for three new fuel cell labs to be included. Part of the reason Dinh works so hard and is passionate about her chosen field is the future she believes it brings, "Hydrogen fuel cell technology is not only good for the environment, but it will help our country progress as well."
And, Dinh hopes that all of these programs will bring an opportunity for her to work with students pursuing their graduate education or doing their post doctoral research, like she did at Los Alamos National Laboratory. "I love working with students, one of the reasons I came to NREL is because it's a nice cross between academia and industry."
"I think about our children, and their future, and that's very motivating for me. At NREL, it's great to be able to work with people who have the same motivation and want to do their part toward a great mission."
Editor's note: Congratulations to Huyen and her husband Kenny Wong. They welcomed baby Aidan to the world on April 26, just days after we had interviewed Huyen for this story!
Learn more about hydrogen research at NREL.
— Heather Lammers