Solar, Hydrogen Model Cars Race Toward New Energy Future
May 22, 2009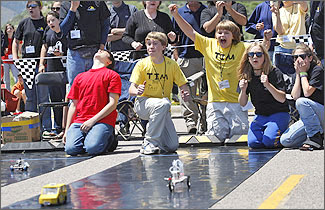 After four weeks of tinkering, seven hours of racing and more than a few cans of soda, it all came down to this:
Two model solar-powered race cars deadlocked at 5:23 seconds.
"There's a tie for first place and we need to break it!'" thundered announcer James Bosch. "It's time for a throw-down!'
NREL has hosted the statewide Junior Solar Sprint and Hydrogen Fuel Car Competition for 19 years, and nobody could remember a tighter finish than this year's event. More than 300 people attended the student races at Dakota Ridge High School, just a few miles south of Bandimere Speedway where conventional drag-racers reach 230 mph.
Students from Bell Middle School in Golden and Drake Middle School in Arvada crouched one more time at the top of the 20-meter rubberized black track, tired and tense.
Race conditions were perfect. The morning's fog had burned off. The midday skies were clear and the sun was glaring.
Ladies and Gentlemen, lift your cardboard!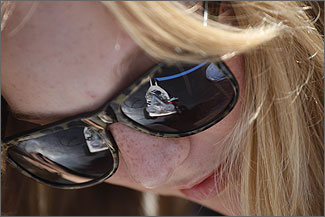 At the horn, the students raised the cardboard covers from their models' solar panels and the cars were off …Well, sort of.
Bell's car #4 lived up to its nickname "Destroyer" as it zipped straight down the strip in 5.12 seconds – its best time of the day.
The Drake car #18 sputtered down the first 10 feet of track before finding its wheels again. It came in a distant second with a time of 10.17 seconds, or nearly twice its normal pace.
Bell's Josh Van Laar, 13, shielded the delicate car with his oversized hooded sweatshirt as spectators rushed in celebration. His first words reflected how edgy the competition had become.
"We won this time, right?" he wondered. Only when he saw his teammates A.J. Nadolsky and Nate Medina did he smile.
Nadolsky described their winning car "a plank with a solar panel on it." They started with a basic car kit and then experimented with different axles, gear ratios and solar panel angles. They added rubber bands to the wheels for traction.
"This time we ran from a dead start with the panel flat," Nadolsky said. "We had not done that before."
Hydrogen Cars Faster by 25%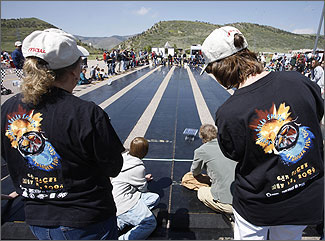 Competition in the hydrogen fuel cell races was nearly as tight, with 0.64 seconds separating the top three teams.
Manning Middle School car #41, nicknamed "Splatta," won first place with a time of 5:02 seconds on a 10-meter track – half the length of the solar race.
The winning Manning team was one of several that the Golden middle school fielded. Their renewable energy model car club has 28 students. Students experimented with at least seven designs since January and repeatedly raced against each other to refine their design.
Unlike the solar cars, the winning time in the hydrogen car final was nearly two seconds slower than the best time of the day for a hydrogen car at 3.48 seconds. That mark was set at 10 a.m. under cloudy, cool skies. In contrast, last year's winning time for a hydrogen car was 4.63 seconds.
"As the day hot grew hotter, the density of the hydrogen decreased and it was escaping our tanks," explained Manning science teacher Susan Coveyduck. "And, the track got hot and sticky."
For a complete list of winners, see the news release.
NREL's Education Commitment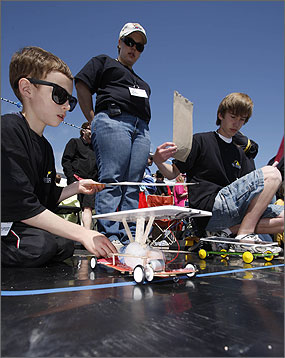 The Colorado competition is organized by NREL's education program, which supports similar competitions in 29 states nationwide. It is designed to generate enthusiasm for science, technology, engineering and math (STEM) skills, as well as extend students' experiences with renewable energy technologies.
Linda Lung, NREL's program coordinator for the car competition, said teams often compete for three consecutive years, beginning with a simple design in 6th grade. By the time they reach 8th grade, they have learned how to build a clean-energy racer.
Along the way, their teachers work renewable energy into the science curriculum, too.
"This is a wonderful engineering challenge for middle school students to tackle," Lung said. "In order to meet the challenges of this new energy future, we want to get solar and hydrogen technologies into the hands of the next generation of scientists and energy decision makers."
NREL's Junior Solar Sprint and Hydrogen Fuel Cell car competitions are sponsored by the U.S. Department of Energy, Xcel Energy Foundation, General Motors, Jefferson County Public Schools, The Alliance for Sustainable Energy, LLC and NREL.
Learn more about NREL's education programs.