Vets and 'Gray Fields' Go Green with NREL
June 5, 2009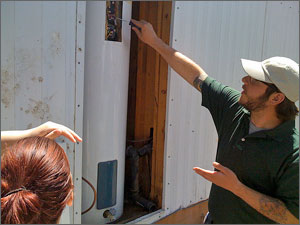 NREL recently had the honor of hosting a special and very green graduation ceremony. The Colorado based Veterans Green Jobs (VGJ) Academy saw its first class of graduates eagerly take their diplomas as a first step on the road to renewed livelihoods in the green energy economy. The smiles and cheers for the 15 grads who successfully completed a tough eight-week training program were accompanied by speeches vividly lauding the new careers that these veterans had chosen.
"Veterans Green Jobs empowers military veterans to become leaders in the new green economy to embody a new era of shaping swords into plowshares," VGJ Executive Director Brett KenCairn said. "Transitioning from humvees to PVs, from infrared rifle scopes to infrared energy cameras, from Striker Brigades to weatherization teams, these 15 men came from all over the U.S. and from many different personal circumstances because they believed in this new mission and pledged themselves to learn these new tools."
In his commencement address, Colorado Gov. Bill Ritter praised the former military men for accepting new roles as environmental stewards. "When they returned home from duty, these gentlemen were not done serving our country. They volunteered again, this time, to become leaders in protecting the environment," Ritter said.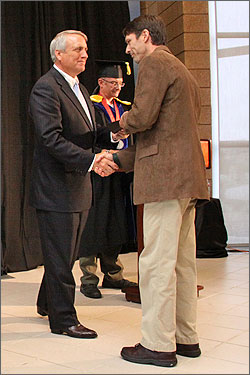 Vets Find Green Opportunities across the U.S.
Graduate Steve Gutierrez served in the Marines from 1983 to 1987 and is looking forward to another chapter in life his after working a variety of jobs, including construction and sales. "I thought that with all of my experience this is an organization I can be a part of," Gutierrez said. "I find that people open up to me and can tell me about the issues they are having with their homes."
Gutierrez is one of two veterans who will be heading to Oklahoma to help families learn about home energy efficiency, specifically weatherization. Gutierrez and his fellow classmates are graduates of HEAT — the Home Energy Auditor Training program. HEAT provides the vets with training in energy surveying, auditing, energy conservation and weatherization. The work includes time in classroom as well as the field and lasts about the same time as basic training — only this program is a green "boot camp" where students deploy to work as energy auditors and new home energy rating professionals.
The new grads will soon spread out across the country. Four are planning to work in New Orleans, three will help launch Veterans Green Corps doing forest stewardship work in the Southwest, and four will establish new VGJ programs in green buildings, energy efficiency and working with homeless veterans to replant urban forests. Graduate Joe Stepzinski, who served nine years in the Navy and two years in the Army, is heading to Georgia where he will work on decommissioning projects at the U.S. Department of Energy's Savannah River Nuclear Site. "What I am now doing is environmental stewardship," Stepzinski said. "Thanks to this program, I was able to get a great job — this concept needs to be expanded and more people need to be involved."
NREL and Vets Green Jobs to Create Clean Energy Training Center
Plans to expand the program are on the horizon. At the graduation ceremony, Gov. Ritter announced that VGJ, in collaboration with NREL Education Programs, will establish Colorado's first National Training and Demonstration Center in Energy Efficiency.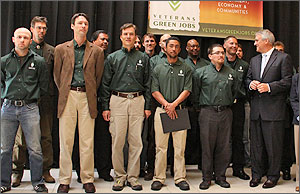 "This initiative will retrofit unused commercial property, for example, a big-box store now standing vacant on acres of empty parking lots," Ritter said. "These gray fields would become green fields of opportunity, retraining not only veterans but other people who might otherwise not have access to training in green jobs."
VGJ, NREL, and other academic partners, are currently looking to identify unoccupied industrial and commercial property that can be recycled into the envisioned training center. One area currently under consideration is a vacant Wal-Mart in Lafayette, Colo. The Wal-Mart Foundation recently awarded nearly $750,000 to Veterans Green Jobs to support the development of four such training sites. The Colorado site is seen as a potential pilot project that can serve as a model for other regional training facilities.
"NREL Education Programs has placed workforce development as a high priority and an important focus throughout our work," NREL Education Programs Manager Cynthia Howell said. "We could not be more pleased to join forces with VGJ in developing energy efficiency training and outreach programs for Colorado and the nation. NREL will extend its reach locally and nationally as veterans and other intern ambassadors apply energy efficiency and conservation technologies promoted and developed here at our Lab."
The training centers, while focusing on immediate workforce development, could also be used as public demonstration and education centers for reuse, energy efficiency and conservation.
"Veterans tell us repeatedly that being able to serve their country through meaningful, restorative work is the most healing thing they could experience post combat," KenCairn said.
Learn more about NREL Education Programs[BROKEN LINK].
— Heather Lammers