NREL, Industry Work to Halve Building Energy Use
June 19, 2009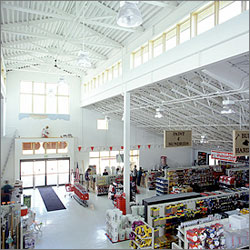 Walk into your favorite retail or office building, and something's at work all around you that you probably take for granted — energy. Energy to run lights for displays, energy to cool the building on a hot summer day, energy to keep your favorite ice cream nice and cold.
Partners from the private sector, the U.S. Department of Energy (DOE), and two national labs, NREL and Pacific Northwest National Laboratory (PNNL) are working together to reduce energy consumption in commercial buildings in the United States. This week, NREL launched a new Web site dedicated to the collaborative research project dubbed "National Accounts."
NREL and PNNL are currently working with 23 National Accounts Companies (NACs), including nine retailers, 13 real estate management companies, and one distribution facility. Through the program, the team will create, test, and validate design concepts that will move the industry towards net-zero energy commercial buildings.
Aiming towards Zero-Energy Buildings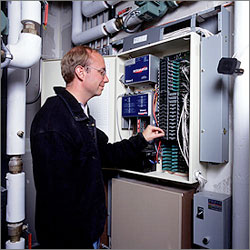 National Accounts is part of DOE's Net-Zero Energy Commercial Building Initiative (CBI), which was mandated by the 2007 Energy Independence and Security Act (EISA). EISA enabled DOE to bring together parties from the private sector, DOE national labs, other federal agencies and nongovernmental organizations to advance research into low- and zero-net-energy buildings. CBI's goal is to develop market-ready, net zero-energy commercial buildings by 2025. A net zero-energy building makes as much energy as it uses over a year.
The CBI program is currently funded as a public/private cost share. DOE is contributing $15 million through the technical expertise of NREL and PNNL. Companies kick in 20 percent of the project value. Construction costs and capital improvement fees to retrofit older buildings are not included in the program.
Currently, retail and office buildings consume 18 percent of the nation's total energy and half of nation's overall building energy (including homes, schools, and other structures). The program partners will work to build new facilities that use 50 percent less energy and retrofit older buildings to use 30 percent less energy.
"This program is unique because it involves the energy end-users," explained NREL Senior Engineer Paul Torcellini. "Using a flipped model, we are engaging energy consumers from a business point of view."
The business motivation for industry participants is often related to their bottom lines. "Some retailers' margins are so small, they can actually make money by saving money with energy efficiency," Torcellini said.
Your Very Own Technical Adviser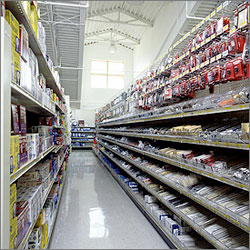 As partners in the program, NREL provides technical and research support to the NACs. "When they come up with questions," said Torcellini, "We do the analysis and say, 'this is what you should do to get the maximum value.'"
Issues like daylighting, refrigeration, and replacing conventional parking lot lights with LEDs are some of the energy design measures the teams are beginning to tackle.
"Another area we are evaluating is outside air," added Torcellini. "How much ventilation do you really need for retail space? If we are over-ventilating, then we have extra air to heat and cool."
Having NREL staffers serve as technical advisers is a great perk for the companies participating in program. In addition, each NAC receives state-of-the-art assistance from NREL that may include:
State-of-the-art energy modeling
Integrated design processes that incorporate energy efficiency and renewable energy technologies
Guidance to help procure materials and equipment
Low-energy building designs that can be replicated across company portfolios
Detailed documentation, including business case studies with information about both process and results
Research quality results
Recognition as leaders in their industry.
The state-of-the-art energy modeling saves building owners time and effort as they develop low-energy buildings. "The modeling allows everyone involved in the project to run through 'what-if' scenarios relatively inexpensively and it's one of the services the teams get from NREL as part of the cost-share." Torcellini said.
Bank of America
Best Buy
CB Richard Ellis
Forest City Enterprises
Hilton Hotels Corporation
Hines
InterContinental Hotels Group
JCPenney
John Deere
Kohl's
Macy's
The Opus Group
PNC Financial Services
ProLogis
Regency Centers
Ryan Companies U.S.
Simon Property Group
SUPERVALU
Target
Tishman Speyer
Toyota
The Westfield Group
Whole Foods Market
NREL also wants to provide data and tools for anyone interested in using these strategies to build or renovate low-energy buildings.
"We are also helping make the business case for incorporating these technologies." Torcellini said. "We'll be preparing case studies and research reports, and we'll be measuring actual performance against energy goals. And, we'll work with NAC members to share non-proprietary research with members of their industry."
Web Site to Share Progress Reports
NREL's newly launched National Accounts Web site helps to "make the case" for more energy efficient buildings. Some NACs will be posting information about their work with National Accounts, including lessons learned, what's working, and the challenges they've encountered as their new construction and/or renovation project progress. They will also share non-proprietary details about how they achieved energy efficiency targets.
"What's exciting about the fruits of this program is that the participating companies will continue to benefit from reduced energy costs long after the construction or retrofitting is complete," Torcellini said. "They'll also have been involved in a program that will help the commercial building industry develop new best practices for low-energy design."
Learn more:
NREL National Accounts
DOE Net-Zero Energy Commercial Building Initiative
— Heather Lammers