Unique Research Tool Aims to Reduce PV Cost
---
Advantages of the Atmospheric Processing Platform
Low cost
High thru-put
Easy prototyping
Compositional control
Efficient use of materials
NREL has installed its first Atmospheric Processing Platform to prototype lower-cost thin film solar cells from inks and other solutions.
Thin film technologies are spurring innovative new solar applications, such as modules that double as roof shingles, and semi-transparent modules that can be integrated into building walls or roofs. It has the potential to dramatically increase the generation of clean electricity.
But to become commercially successful, thin film manufacturing costs must be significantly reduced. The uniquely configured platform enables NREL scientists to work directly with industry partners to test novel designs and manufacturing methods using precise digital printing technologies under controlled conditions.
It allows collaborative research teams to isolate important steps in the thin-film manufacturing process and look for ways to refine or accelerate those steps with the intent of reducing the cost of the finished solar cell.
At 6.2 x 6.2 inches, the thin film PV samples the platform produces are much larger than what's used in typical laboratory experiments, so the results can be more rapidly commercialized.
"There is no other laboratory platform quite like it in the world, and we're already running real samples through some of its chambers," senior scientist Maikel van Hest said. "We should be running samples continuously by the end of the summer."
Less Heat, Less Pressure, Lower Costs
Traditionally, solar cells are made using intensive processes that includes depositing metal contacts and absorber layers. These processes typically require high temperatures and vacuum deposition, which adds expense and contributes to making solar electricity more expensive than electricity from conventional sources.
The new platform consists of several large glove boxes that are connected both by internal portals and a linear transport train that runs beneath the boxes. The system allows researchers to work with samples inside the glove boxes' controlled conditions.
The heart of the platform, van Hest says, is a pair of glove boxes fitted with a variety of solution deposition techniques that can be used for different aspects of thin film manufacturing at ambient pressures. The thin films are made from inks and other solutions made of material precursors and nanoparticles. They can be deposited on common substrates such as glass, plastic and metal and closely examined — one layer at a time.
The solution deposition techniques themselves are commercially available units, but the platform can use them in unconventional ways.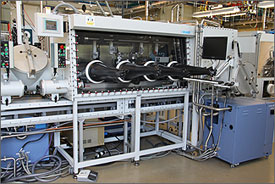 Three Different Nozzles
Ink jet printers can replicate complex and specific images, and offer advantages for precisely adding patterns of metal contacts from solutions such as nickel and silver inks.
Aerosol jets provide a very fine mist to write a specific pattern, working much like a plotter moving back and forth.
Ultrasonic sprayers can be used to deposit homogenous layers of conducting, semiconducting or dielectric materials
All three methods use very small amounts of ink in precise patterns to improve manufacturing efficiencies. Because the solution deposition tools don't make direct contact with the samples like screen printing, losses from breakage and blemishes are reduced, too.
"There are significant cost savings especially as you scale up," van Hest said.
The platform also includes work stations that allow researchers to assess prototype PV cells under the same controlled conditions, including X-ray fluorescence for compositional analysis and X-ray diffraction for structural analysis.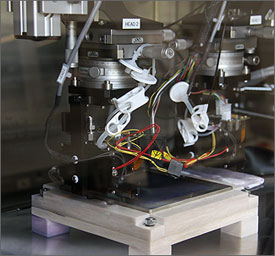 Prototype thin film cells move through the platform in about a minute. At the industrial scale, thin film cells need to be manufactured in a few seconds or less.
"But speed is not our main concern — this isn't a factory," van Hest said. "Doing this in a minute is sufficient to develop new materials, new contacts and new processing approaches. We know these deposition techniques can be sped up to industrial speeds"
"If you can do it faster, it's always better — and it will get faster," he said. "But what this system really lets us do is go back and forth between the glove boxes and develop new concepts and materials."
The Atmospheric Processing Platform is located in the Process and Development Integration Laboratory at NREL's Scientific and Technology Facility.
The PDIL is a unique collaborative facility for scientists and industry to examine pressing questions related to the commercialization of next-generation photovoltaics. The PDIL integrates the most advanced equipment to optimize the productivity of new solar technologies and accelerate their commercialization.
Learn more about NREL's photovoltaic research.
— Joe Verrengia