On the Road with Alternative Fuels
---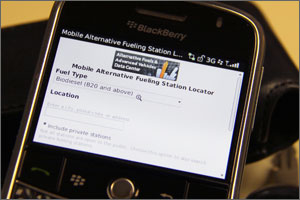 Drivers now can take a popular tool on the road thanks to staff at the National Renewable Energy Laboratory (NREL). The Mobile Alternative Fueling Station Locator (MAFSL) helps on-the-go drivers find the five closest biodiesel, electricity, E85 (ethanol), hydrogen, natural gas, and propane fueling sites using any mobile device with Internet access.
"We heard from our users that it would be nice to have this tool with them on the road," NREL Deployment Application Lead Johanna Levene said. Before launching a mobile version, the Alternative Fueling Station Locator was consistently among the top five applications used on the U.S. Department of Energy's Alternative Fuels and Advanced Vehicles Data Center (AFDC) Web site. The station locator was developed by NREL, which manages the AFDC.
Trip Planning Made Easy
The mobile station locator uses well-known, easy-to-navigate Google Maps to automatically generate maps to fueling sites. The mobile application also lists contact information and business hours for stations. A family road trip in an alternative fuel vehicle used to take a little extra effort and planning. But, the easy to use mapping tool is one of the reasons that Colorado resident Chad Scullion began using the MAFSL when driving his flex-fuel E-85 pickup to visit family in Wyoming. "The mapping feature is great for use on trips and the station information is constantly updated," said Scullion. "It used to be that there were only two stations I could find in Wyoming, now there are five."
Scullion made the switch to an alternative fuel vehicle last summer, buying a flex-fuel E-85 Nissan truck, which is what he takes when he goes fishing in the Colorado high country. "About a month or so after I bought the truck I used the tool to find two stations in the mountains," Scullion said. Scullion is so happy with his alternative fuel vehicle that he is considering converting his wife's Volkswagen Jetta to E-85 as well. "Maybe she'll be a user too."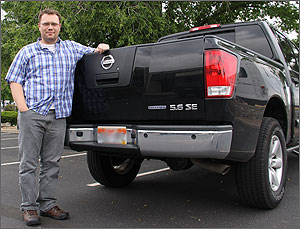 Renewable Energy and Efficiency Education on Wheels (RnE2EW) Coordinator Rick Shin also knows the importance of having a tool to help him find stations to fuel his propane powered 27-foot RnE2EW educational vehicle. "Although propane burns clean, it's something you can't get 24/7," Shin said. "I have to plan trips so that we can get to places to fuel up between 8 a.m. and 5 p.m."
RnE2EW is an educational-outreach vehicle designed to educate students, teachers, and the community in renewable energy and efficiency sciences as well as to showcase DOE/NREL research and technology.
Shin travels the country in the RnE2EW educational vehicle speaking to kindergarten through sixth grade students. He has taken RnE2EW from coast to coast with stops from Washington D.C to San Jose, Calif. Shin noted that in his travels he's only seen a few propane powered vehicles and publically available fueling stations can be hard to find.
"The locator is important because it gives you the name, address and hours of the stations," Shin said. "This information is great to have because we have to call ahead to make sure that someone is really there who can pump the propane. This is especially true on Sundays because certain states will only let trained employees operate the pumps."
Before using the MAFSL, Shin would rely on major truck stops as fueling locations, which had issues of its own. "Other vehicles typically have a 300 mile range so you normally find major truck stops spaced that far apart," Shin said. "RnE2EW has a range of about 250 miles so we've used the locator tool to find other stops along the way, so it's really good to know the locator is out there."
New Features in the Works

Once a tool is placed on the World Wide Web, it's easy for users to come up with suggestions for improvements. That type of user feedback is welcome and is taken into consideration as the developers work on enhancements. "Our users asked that we start including private fueling stations in the database," said Levene. "It's something we didn't think there would be a demand for but have added." Future upgrades to the MAFSL might also include:
Automatic location detection using GPS installed in the device so users don't have to type in where they are.
An application for the popular iPhone.
Creating a similar stand-alone application for truck stop electrification sites.
Another priority for the team is keeping the data used by the MAFSL up to date. Currently E-85 information is updated every other week and all other fuel information is updated monthly. Every year, all of the fueling stations are contacted to make sure their information is correct. And, any information sent to the AFDC Web site by users is updated as well.
"We want this tool to be intuitive and easy to use," said Levene. "We want you to get the information in two to three clicks so people can be on their way."
Learn more about the Alternative Fuels and Advanced Vehicles Data Center and NREL Education Programs[BROKEN LINK].
— Heather Lammers