NREL Summer Labs Season Science Students
---
No more school, no more books… Students across the country routinely spend their summers avoiding anything that smacks of scholarship, but for a dedicated group of college and graduate students at NREL, summer is embraced as a time of new discoveries and learning.
In June, the National Renewable Energy Laboratory (NREL) welcomed participants into its 2009 summer internship programs. "NREL's intern programs represent one of our greatest R&D workforce and deployment tools; these students become ambassadors for NREL's great work," said NREL Education Programs Manager Cynthia Howell said. "We open our labs to bright young minds who look at our research in new ways and bring new ideas to the table."
NREL's 10-week summer program is well known and students clamor to get into it. "Students get to take knowledge from the classroom and apply it in a real-world setting," Howell said. "At the end of each summer, I have numerous students tell me that they've learned more in just over two months with NREL than in their first years of college."
As summer now winds to a close, the 2009 class is presenting research results to the NREL mentors, staff and other interns. Massachusetts Institute for Technology (MIT) undergraduate Jennifer Paek said her experience at NREL researching the use of nickel contacts on thin photovoltaic silicon wafers has helped further her desire to work in renewable energy. "The program at NREL is pretty fantastic. It's not many labs that allow students to work on current problems and then give us the opportunity to fix them."
In fact, the students like the program so much that some are repeat researchers at NREL.
Back for More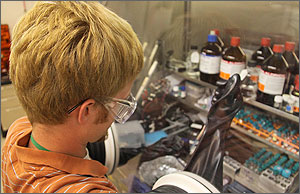 Patrick Brown is a veteran; 2009 marks his second summer working as an intern at NREL. "The summer after my junior year I looked into a number of different programs," Brown said. "NREL turned out to be the best choice."
Brown is a recent graduate of the University of Notre Dame and this fall will begin graduate studies at MIT. Over the last couple of summers at NREL, he's been working with carbon nano-structures and this summer expanded his internship to include applying carbon nano-structures to organic solar cells. Brown said that being a NREL intern is educational, no matter how the research goes. "It's tough to complete your project in 10 weeks or to get as far as you want, but you get to learn from other scientists," Brown said. "My results this year didn't turn out the best, but I still learned a lot about the whole process."
Last year, Brown focused his research on using carbon nano-tubes for hydrogen storage. His work was one of two NREL intern research projects selected through a peer-review process to be presented at the American Association for the Advancement of Science's (AAAS) annual meeting in Chicago. As a result of being selected to present at the AAAS meeting, Brown's research will be published this fall in U.S. Department of Energy's (DOE) Journal of Undergraduate Research.
"This was my first chance to go to a professional conference and present," Brown said. "It was a very good experience and I got to meet other interns from all of the national laboratories."
Brown is certain his time at NREL will boost his academic career. "I hope to be working in the renewable energy field applying nano-technology to solar both in graduate school and as a post doc."
Some Interns Set Up Shop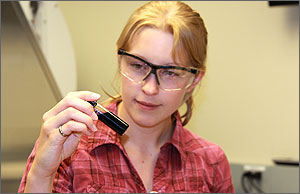 Besides having the opportunity to mentor the brightest students in academia, NREL reaps other rewards from the internship program. "We are seeing more summer interns hired on at NREL," said Howell. "It shows the value of the program and how it gives back to the lab."
That's just what happened for 2008 summer intern Jessica Olstad. Last summer, she was a student intern while attending Colorado School of Mines working toward her degree in Chemical and Biochemical Engineering. It was after a roommate told her about a great experience at NREL that Olstad decided to apply. She spent her summer developing a carbon dioxide absorbent material that cleans a synthesis gas. In fact, her research into using Lithium Zirconate was so successful, she also was selected to present her findings at the AAAS meeting in Chicago. And, like Brown, her final research paper will be published the Journal of Undergraduate Research. But, it turned out that her tenure with NREL was just beginning.
This year when Olstad heard about a job opening at NREL she took notice. "I jumped at the chance to come back," Olstad said. "I really enjoy it here and everyone is great to work with." She was recently hired as a full-time employee at NREL and now splits her time between analyzing biomass catalysts and working in the concentrating solar power program.
"One of my ideal goals was to work in renewable energy and change the world," Olstad said. "I'm glad it's ended up that way."
All Work and No Play?
Although learning and research are key goals for summer interns, getting to know people from all across the country is another bonus to being involved in the program. NREL summer interns network on various social Web sites and according to Brown, have planned group activities that focus on the Colorado outdoors such as camping, hiking and white water rafting. "It's great to get to know people from all over, and I think many of us will stay in touch after working here," Brown said.
This year's interns will be able to leave NREL with more professional contacts than ever. This year's summer class was the largest in NREL's history with 80 undergrads, graduate students, and postdoctoral students. While the summer season marks a peak in internship program participation, a variety of programs run year-round:
"Of course, this program would not be possible without the full support of NREL, DOE's Office of Science and the amazing scientists and staff here at NREL," Howell said.
Learn more about NREL's internship programs.
— Heather Lammers