Conference Tackles Interstate Transmission
---
It sounds like a dreaded word problem on a final exam:
More than 50% of the best class 5 - 7 winds in the Western U.S. occur in southern Wyoming. Southern California's population is expected to grow by 74% by 2030 to 23 million residents, and will need all the low-cost renewable power it can get. How do you build a transmission line to carry that clean electricity across mountain ranges, sensitive wildlife habitat and 1,000 miles of public and private property in as many as five states?
There is no certain answer, says NREL senior energy analyst David Hurlbut, because building new transmission for renewable energy is less of a technical question and more of a policy issue.
Hurlbut and the Laboratory's Strategic Energy Analysis Center recently convened NREL's first conference to address the issue of interstate collaboration on transmission policy. They started with regulators, policymakers and legal analysts from four states likely to be affected — Colorado, Wyoming, Utah and New Mexico.
Proceedings of the Conference on Multistate Decision-making for Renewable Energy and Transmission will be published in the University of Colorado Law Journal. Additional meetings that would focus other groups of neighboring states are being discussed.
"To achieve the large scale potential of renewable energy in the most cost-effective way, we have to solve the transmission issue and aside from the federal government there is no institution with multi-state jurisdiction over transmission," Hurlbut said. "Federal preemption makes states nervous especially in the West, so it's fair to ask what states themselves can do in collaboration with one another.
"There has been a lot of attention paid to the technical aspects of renewable energy. But this is political — deciding where to build a line and how to pay for it."
Transmission's Critical Crossroads
At the NREL conference, participants examined how each of the four states regulates electricity transmission now and how they might cooperatively approach building new lines to carry power from clean, renewable sources.
The nation's transmission system is at a critical crossroads. Rising power demands and transmission bottlenecks make it difficult to keep the power grid operating smoothly.
Renewable energy adds an additional challenge. The nation's windiest and sunniest locations often are located far from major cities. Under some scenarios, this new transmission capacity could include 19,000 miles of new lines at a cost of $60 billion.
The U.S. Department of Energy (DOE) recently identified transmission limitations as a chief roadblock to obtaining 20 percent of our electricity from the wind as detailed in its report "20 Percent Wind Energy by 2030."
In the U.S., each state determines how transmission lines will be sited within its borders. New projects generally must demonstrate they are serving a public need, but how that need is defined varies, as well as how local impacts are evaluated. Issues such as clean energy and climate change are pressing state authorities to broaden how they approach the question of need.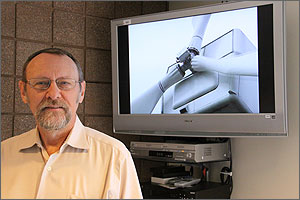 Interstate Compact Offers Historic Model
The NREL conference was an early opportunity for the participating states to explore policy approaches towards new renewable energy transmission.
The most likely framework is an interstate compact, conference speakers said.
Interstate compacts are binding agreements between two or more states in which they accept the jurisdiction of other states over a shared resource, service or facility. Compacts must be approved by the legislatures of the participating states as well as Congress — a process that can take years. Once approved, the states hold the power over the project.
"A congressionally approved compact generally shields the states from certain kinds of federal preemption, which is a major concern in renewable energy projects right now," said Robin Craig, associate dean for environmental programs at the Florida State University College of Law and a featured speaker at the NREL conference.
Prominent examples of interstate facilities run under compacts include the New York-New Jersey Port Authority and the transportation authority serving the District of Columbia and suburbs in northern Virginia and Maryland.
Interstate compacts that manage natural resources across state lines offer specific guidance because they deal with both infrastructure and seasonally variable resources.
For example, the Colorado River Compact has been allocating water since 1922 in seven Western states — many of the same states that have vast potential to produce wind and solar power and where power demand also is dramatically increasing.
Craig said renewable energy states can draw on decades of lessons if the energy resource changes or renewable energy prices shift dramatically.
"The beauty of interstate compacts is that they have no set substantive requirements — states are free to negotiate the contents of the compact as they think will work best," Craig said.
If It Walks Like a Duck
If states don't want to form a interstate compact, others said they must be careful not to create a transmission agreement that tries to act like a compact, but sidesteps the approval process. It's that additional legislative scrutiny that reinforces the compact's binding nature and reduces risk.
"When one state agrees it will be bound by the decisions of another state, then they start going down the compact road," said Commissioner James Tarpey, who attended the conference for the Colorado Public Utilities Commission.
The voluntary nature of alternative agreements may generate uneasiness as well, especially considering that transmission lines are expensive and expected to remain in place for decades.
"There needs to be sufficient certainty regarding cost allocation among the states, resulting in recovery of the capital invested and a reasonable profit, over the long term." Tarpey said. "Otherwise, Wall Street may not be willing to invest or will only be willing to do so at a cost commensurate with the perceived risk."
"If you are going to go forward with renewable energy," Tarpey said, "this is an example of the issues you need to start grappling with."
Learn more about NREL's energy analysis capabilities and expertise.
— Joe Verrengia