Generation-Y Start-up Stuns NREL Growth Forum
---
"Ecovative won the NREL Growth Forum!"
Fingers flying on his cell phone, Ecovative Design co-founder Eben Bayer was tweeting news of his start-up's stunning victory at NREL's 22nd Clean Energy Growth Forum even as potential investors were circling him at the awards banquet and slipping business cards under his dessert plate.
Bayer and Ecovative co-founder Gavin McIntyre make organic, compostable insulation and shipping packaging made from fungal mycelium — billions of threadlike mushroom roots — and agricultural wastes such as rice hulls and cotton gin trash. Their bio-manufacturing process uses about 10 times less energy per unit of material than the manufacture of synthetic foams using fossil fuels.
And unlike other green packaging, their product can be custom-molded while also offering thermal protection.
"Winning the NREL growth forum is very important validation of our product and our company," said the 24-year old Bayer, whose Generation-Y business was incubated while he and McIntire were students at Rensselaer Polytechnic Institute in upstate New York. "It changes how we are perceived by investors and the clean energy industry."
Forum Raises $2.5 Billion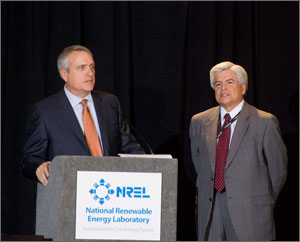 NREL's 2009 Clean Energy Industry Growth Forum attracted nearly 600 investors, entrepreneurs, scientists and policymakers. Since 2003, more than $2.5 billion has been raised by companies presenting at the Forum.
This year's three-day conference highlighted clean energy industry technology and business developments. The forum featured new programs such as seminars on partnering with the Laboratory in research and commercialization agreements, as well as a "speed dating" format that helped entrepreneurs briefly meet with many potential investors.
In opening remarks, NREL Director Dan Arvizu directly challenged forum participants to compete differently in the clean energy marketplace.
China, India, Brazil and other nations already are embracing existing renewable energy technologies both as a source of carbon-free power and economic growth, while the U.S. has slipped behind many nations in clean energy generation and manufacturing.
Jobs and growth must come from the next generation of clean energy technologies that NREL is helping to both develop and commercialize, Director Arvizu said.
"China is particularly alarming," he told the forum. "Of the top 10 photovoltaic companies in the world, five are in China. They are manufacturing technologies that were developed here in very high volumes."
"We need to approach energy differently and the key will be innovation. This forum brings together the clean energy innovators, investors and policymakers needed to bring about transformational change."
Hundreds of Applicants, Three Winners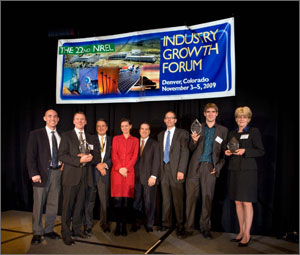 At the forum, 34 companies were selected from 285 applicants to present their business plans to panels of judges. Three firms won 2009 Clean Energy Venture Awards sponsored by NREL and Deutsche Bank Climate Change Advisors.
Cash prizes include $10,000 for Best Venture and $5,000 each for the two Outstanding Ventures. NREL will provide the winners with in-kind commercialization support matching the cash award to help increase their chances of commercial success.
Ecovative Design of Green Island, NY, took the top prize as the Best Venture.
Exro Technologies of West Vancouver, B.C., Canada, won an Outstanding Venture award for its unique electrical generator capable of delivering double-digit increases to the annual kilowatt hours produced out of a wind turbine, or tidal and current turbines, without increasing capital costs. Exro has raised $2.5 million and is seeking another $10 million in outside financing.
Evolutionary Genomics of Lafayette, Colo., also won an Outstanding Venture award for developing and successfully patenting a cost-effective technology to identify key genes that control fundamental biofuel plant and algae traits. Evolutionary Genomics was recognized at last year's forum. The firm has raised $7.7 million and is seeing another $3 million in Series B financing.
Promising Innovations, Difficult Economy
Presentations of promising clean energy technologies were balanced by sobering comments by some of clean energy's most prominent investors.
The global recession has reduced large institutional investors in the sector from 16 in 2007 to just six today. Private investors told the forum they are seeking deeper and more detailed information from start-ups because their portfolios have shrunk and their margin for investment error has been erased. Even solar projects in the desert southwest are having difficulty finding financing right now, they said.
Yet demand for renewable energy technologies remains high, with backlogs for wind turbines, solar panels and related equipment running as high as two years in some cases.
And, two-thirds of the 50 U.S. states have adopted renewable energy portfolio standards and other policies to establish clean energy markets over the next two decades.
"Just as the renewable energy industry was growing for the first time, we fell off a cliff," said Jeffery Leonard, CEO of the Global Environmental Fund. "But the key government mandates will change markets. There is a revolution going on."
The recession's hangover could be felt during the company presentations, as panels of judges sharply questioned entrepreneurs about their revenue projections, potential competitors and manufacturing risks. Companies that came to the forum less prepared may have left disappointed. But even award winners such as Ecovative's Bayer said the judges' cross-examination "really bored into the details" of his company.
"They all were sitting there very straight-faced and I definitely didn't feel as if I was nailing it," said Bayer. So far, his company has received $1.15 million in grants and awards. He is seeing $3.65 million in early stage financing to build a scalable manufacturing plant closer to agricultural feedstock sources.
"One of the judges was incredibly knowledgeable about Styrofoam manufacturing," Bayer said, with a weary shake of his head. "Our technology is disruptive and we have to prove that our product is 1,000 percent better."
For a list of participating companies and sponsors, visit NREL's Clean Energy Industry Growth Forum.
— Joe Verrengia