NREL Works with Truckers to Reduce Fuel Use
---
Being "green" can have positive impacts on your pocket book, and the National Renewable Energy Laboratory (NREL) is working with one industry to find ways to shave $3 billion a year in fuel costs.
Like many, the trucking industry has been hit with increased costs from rising fuel prices and higher maintenance. Excessive idling of trucks has been identified as a source of wasted fuel, and an unnecessary expenditure. Surveys estimate that sleeper trucks idle an average of more than 1,400 hours annually consuming more than 800 million gallons of fuel at a cost to the industry of approximately $3 billion per year for long-haul trucks.
However, truckers have good reasons for idling their trucks — driver comfort. "Truckers typically idle trucks while at mandated rest period to get either air conditioning or heat," NREL Senior Project Leader Ken Proc said. "NREL is looking for ways to reduce the thermal load in trucks, possibly enabling a battery or other energy storage solution to be used for comfort control rather than running the truck engine the whole time. Reducing the amount of truck engine idling can significantly reduce fuel consumption, save money, and also reduce tailpipe emissions."
This summer, NREL researchers began two new cooperative research and development agreements (CRADAs), with truck manufacturers Kenworth (a division of PACCAR) and Volvo Trucks North America. These teams will work with researchers in NREL's Center for Transportation Technologies and Systems (CTTS) to find ways improve thermal efficiency in truck sleeper cabins as part of the "CoolCab task."
For CoolCab, reducing the heating or cooling load is the first step in improving a long-haul truck cab's efficiency to reduce overall fuel consumption. A secondary objective of the program is to decrease heating and cooling loads while a truck is on the road. This load reduction also might help improve fuel economy. Long term goals for the CRADA include working with industry to design a newer, more efficient truck cab with energy saving heating and cooling systems that keep the cab comfortable without the need for engine idling.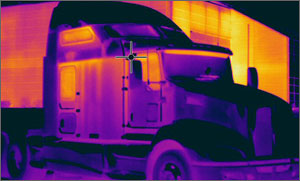 Enlarge image
According to Proc, some thermal storage solutions store cooling energy while driving down the road, basically by making ice. When resting, the system discharges that frosted air into the cabin. But NREL researchers identified a need for more options.
"Since starting the initial evaluation into existing idle reduction technologies, we found some pretty good heating solutions
," Proc said. "But, on the cooling side, the solutions just weren't getting it done. And, we launched CoolCab because we saw a need to improve this."
First, a Little "Soak"ing
"We began our CoolCab testing with solar soaks to quantify the amount of heat the truck cabs absorb during the day from the sun," Proc said. The bulk of data being collected by NREL is temperature measurements. Numerous sensors measure the outside ambient temperature compared to the temperature in the truck cab. The cabs are also heated while temperatures are monitored to determine an "R" value of thermal resistance for the cab. NREL infrared testing also is used to identify potential areas to reduce heating and cooling loads with improved insulation. The infrared cameras showed the greatest heat loss around windows, seams, and other areas within the cab where insulation is lacking.
CoolCalc Creates a New Model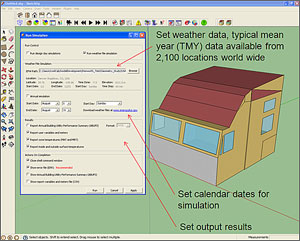 Enlarge image
All of the data collected from the trucks will be used to validate CoolCalc, a new computer modeling program in development at NREL. CoolCalc works with the user-friendly SketchUp program, a 3D modeling program available from Google. Recently, NREL developed a program called Open Studio to help building designers create energy efficient buildings. Working off the same EnergyPlus data files, CoolCalc will help researchers simulate energy use in long-haul truck cabs.
"NREL researchers will be using our new CoolCalc tool to model, test, and analyze truck cabin heating and cooling loads," Proc said. Team members will be able to input key information like the size and shape of the truck and climate conditions. The program will estimate the existing thermal loads as well as provide estimates for reducing the thermal loads. NREL will then work with its industry partners to test the CoolCalc results on vehicles in production.
Although seeing changes in commercial long-haul truck cabs will take years, there will be initial results such as insulation and the use of window screening that truckers will be able to implement immediately and help take a load off their costs.
"Independent owner/operators can be early adopters of some of our findings because it can directly affect their bottom line as well as their comfort level," Proc said. "And, many fleet owners have a corporate desire to be green and reduce their carbon footprint."
Learn more about the Center for Transportation Technologies and Systems and watch a video about advanced vehicle and fuels technology.
— Heather Lammers