NREL to Work with Labs in China, Brazil and Germany
---
NREL is extending its global reach with new research collaborations on three continents to jointly advance renewable power and fuel technologies and expand clean energy industries worldwide.
NREL Director Dan Arvizu said expanding the lab's international profile is vital if renewable energy technologies are to reach their commercial potential and help to slow the effects of carbon-based emissions on planet's climate.
"We need to lead globally," Arvizu told the Phase II Renewable Energy Forum in Washington, D.C. "I can't over-emphasize it. It is incredible to see the appetite for connection to U.S. innovation, the U.S. market and our leadership. I believe they will be very responsive to a much closer relationship going forward."
Photovoltaics in China
On Nov. 11, Arvizu signed a memorandum of understanding with
the Institute of Electrical Engineering of the Chinese Academy of Sciences to expand collaboration in photovoltaics research.
A key element of the agreement is for the labs to jointly develop a PV component and battery testing center, probably in Beijing, as well as extensive data sharing and scientist exchanges.
The MOU expands collaboration between the world's two largest economies and energy consumers. Over the past decade, NREL has developed strong partnerships with technical institutions in China on biofuels, buildings, solar, and wind technologies. NREL also will be supporting a new eco-city partnership between Denver and the city of Chongqing to test and demonstrate electric vehicle deployment.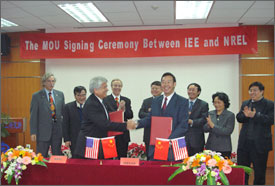 Much of China's growth is fueled by its huge coal reserves and, increasingly, by imported oil. But in 2007 alone, China invested $10.8 billion in renewable energy programs amid increasing concerns over air pollution and rising carbon dioxide levels linked to global warming, By 2020, it expects renewables to meet 15 percent of its accelerating energy needs. While much of its renewable energy portfolio is devoted to hydropower, wind energy and PV production are expanding rapidly, too.
NREL's new agreement with IEE and its broad portfolio of China activities support two energy-related action plans that the U.S. Department of Energy has developed with China for the next 10 years under the Strategic Economic Dialogue — one on Clean, Efficient and Secure Electricity Production and Transmission and the other on Clean and Efficient Transportation.
Brazilian Biofuels
On November 20, NREL and Petróleo Brasileiro S.A. (Petrobras) signed an agreement that could accelerate the development and international commercialization of second-generation biofuels from non-edible plant material and other sources. The two-year deal was struck at the International Biofuels Conference in Sao Paulo, Brazil.
Brazil is the world's largest producer of biofuels – largely sugar-cane-based ethanol.
"By bringing Brazilian expertise together with some of the leading U.S. biofuels researchers at NREL, we will increase our knowledge and be able to more quickly commercialize renewable biofuels in the global marketplace," Arvizu said.
The collaboration will focus on improving analysis and quality control of cellulosic ethanol conversion; developing diesel and jet fuels using petroleum substitutes from biomass sources, improving analytical modeling to forecast biofuels' sustainability and environmental outcomes; and sharing data on evaluating intermediate fuel blends.
This MOU is part of a larger program of collaboration between DOE and Brazil on biofuels, which includes NREL-led work with Brazil on life cycle assessment of greenhouse gas emissions and sustainability impacts of biofuels production.

Concentrating Solar Power and Energy Analysis in Germany
On Nov. 25, NREL signed an agreement with the German Aerospace Center to collaborate on advancing concentrating solar power systems, solar resource assessment and other energy analysis topics.
The Cologne-based lab network has expanded its portfolio beyond space technologies to include a broad range of sustainable energy projects for both transportation systems and power supply, including concentrating solar power, or CSP. Germany leads the world in installed solar capacity despite its northern location.
Utilities in the U.S. and Europe are looking to CSP to provide considerably more renewable electricity in the next 15 years, But to make CSP more profitable and reliable, the lifetime of advanced optical materials used in mirrors and absorbers must be extended and their costs reduced, while also improving the efficiencies of thermal storage and heat transfer fluids.
The two labs will pursue improved CSP test procedures and standards, cost and performance analytical tools, and solar resource assessment and forecasting.
NREL can offer access to the Solar Technology Acceleration Center, a new public/private facility near Denver International Airport where industry will test, validate, and demonstrate near-market solar technologies.
At its Cologne headquarters, the German lab operates a 25 kW solar furnace and a high power radiation source (20 kW), as well as a CSP facility in Spain and other solar test facilities.
Learn more about NREL's research programs.