Wishing for a Renewable Future
---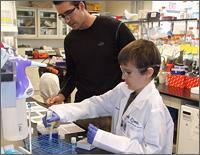 David Godfrey arrived on NREL's doorstep hoping to meet some scientists and glimpse the future of renewable energy.
Instead, the San Jose, Calif., teenager found himself shaking a wind turbine blade, zipping around a high-performance race track in advanced vehicles and drilling into the molecular structure of promising biofuels organisms with a scanning electron microscope.
David, 14, is battling T-cell acute lymphoblastic leukemia, a higher risk form of childhood leukemia. With help from the Make-A-Wish Foundation, which grants the wishes of children with life-threatening medical conditions, he has been visiting labs and green industry ventures.
During his Nov. 21 NREL tour, David's extensive knowledge of renewable energy technologies and his quiet passion for protecting the planet struck an obvious chord with the lab's scientists and engineers. Enthusiasm for his visit grew quickly and, by lunchtime, David had been joined by two dozen of the lab's top administrators and researchers.
Their conversation over Asian stir-fry and cookies eventually centered on carbon nanotubes — cylinders with walls that are only as wide as a single carbon atom — as a method of electricity transmission because of their outstanding conducting properties and potential to be fabricated in long ultra-efficient cables.
David's New Title
NREL Director Dan Arvizu named David an honorary research fellow and supplied him "with all the tools to be an ambassador for the lab" — a lab coat, business cards, and Arvizu's own PowerPoint presentation on climate change and renewable energy.
"We are impressed by your talent," Arvizu said, "but also by your enthusiasm and incredible attention to the mission of our laboratory."
David's day-long tour ended at the National Wind Technology Center as a chilly pink twilight lengthened over the spinning white turbines.
He tried to settle on his favorite part of the lab. Driving in the Neighborhood Electric GEM car generated his biggest smile of the day. But conducting a trio of experiments in the Genetic Engineering Laboratory and Algae Growth Facility was doing real bench work.
Or, maybe it was handling the latest in thin-film photovoltaics, such as the power-generating camouflage fabric being tested in Iraq with the Department of Defense.
David leaned against his mother and closed his eyes, ready for the flight home.
"Everything," he said "was so cool."
Learn more about self-guided tours, resources, and events at the NREL Visitors Center.