Growth Forum Attracts 500 Clean Energy Backers
---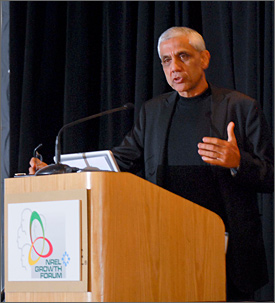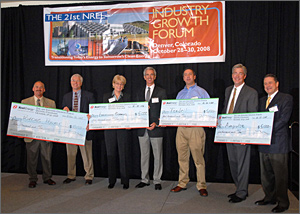 More than 500 renewable energy entrepreneurs and financiers at NREL's 21st Industry Growth Forum ticked off the same uncertainties staring down any entrepreneur today — tight credit, a tumultuous market and the prospect of sweeping political change following the Nov. 4 election.
What they discovered is that despite current market conditions, the prospect of long-term national support for renewable energy and energy efficiency R&D and the recognition of how "green collar" jobs can drive economic recovery is generating an enthusiasm for clean energy's prospects that most industries would envy.
"It became clear that if you have a good business plan, you can find investment," said Richard Bolin, NREL Commercialization Manager and co-chair of the forum. "It may take longer than you want. But it is there."
The annual investment event attracted more than 500 investors, entrepreneurs, scientists, and policymakers to Denver, Oct. 28-30.
Expert panels of investors offered advice to 35 entrepreneurs chosen to present their business plans. The forum also afforded participants with a unique opportunity to network and showcase their ideas. The approach pays off: More than $1.7 billion has been raised by companies presenting at the forum since 2004.
The mix of companies typically reflects the interest of the investors and dictates of the market. Previous forums focused heavily on wind energy and photovoltaics start ups. This year's program reflected the breadth of the energy market and included entrepreneurs pursuing biofuels, energy storage and energy efficiency. Not only are these inventors trying to improve the engineering aspects of the refining process, transportation and energy usage, but increasingly they are finding promise in identifying and improving energy resources.
"Five years ago, we never would have seen companies like Evolutionary Genomics or Edenspace or Agrivida," Bolin said. "There is a mindset change. People are looking at the feedstocks themselves and how to genetically alter them to process in a biorefinery to produce chemicals and fuels."
Bolin also offered a Boulder, Colo., firm — Intrago Inc. — as an example of a company using existing energy-efficiency technologies in a novel way. Intrago is seeking to build a network of electric vehicles for commuters to check out from docking stations at transit stops.
"They provide clean transportation in that first mile and last mile between the mass transit station and home or office," Bolin said. "You make a reservation on your BlackBerry and check out an electric bicycle or car using a digital key."
Four companies received the forum's 2008 Best Venture Awards sponsored by Xcel Energy Foundation.
The Best Early Venture of the Year Award ($10,000) — Porous Power Technologies, LLC, Lafayette, Colo. Porous Power Technologies is commercializing highly-efficient separator membranes that can dramatically improve the performance and reduce the cost of lithium-ion batteries.

The Best Early Venture of the Year — second place ($5,000) — Evolutionary Genomics Inc. of Lafayette, Colo. The company uses a genomic approach already familiar to the biomedical industry to identify commercially valuable genes that could boost the oil content and other characteristics among plant and algae sources used in biofuels.

The Best Late Stage Investment of the Year Award ($5,000) — Tendril Inc. of Boulder, Colo. Tendril developed a software and hardware system that allows utilities and their residential customers to manage their consumption of energy.

The Best Early Seed Investment of the Year Award ($5,000) — Ampulse Corp., Littleton, Colo. Ampulse seeks to replace silicon wafers with its thin silicon photovoltaic cell that is deposited on a uniquely-textured metal substrate. The firm is using manufacturing techniques and materials based on research at NREL and Oak Ridge National Laboratory.
Next year's Industry Growth Forum will again be in Denver to help establish Colorado as a major hub for the clean energy industry. Given the strong interest from both start-up companies and the investment community, Bolin said the conference could grow in terms of the number of presentations and attendees as a reflection of the growing range of renewable energy technologies and entrepreneurs.
NREL is already preparing for its next clean energy investment event, NREL Tech-Days, which will be held in the first quarter of 2009. NREL Tech-Days is designed to provide investors, businesses and top policymakers with technical insight and new perspectives on the current and near term issues driving renewable energy and energy efficiency R&D. Tech-Days gives the investment and business communities opportunities to delve deeper into NREL's technology arena, NREL's capabilities, and how to work effectively with a national laboratory.
Learn more at the Industry Growth Forum Web site.
21st NREL Industry Growth Forum Contacts
Marty Murphy, Co-chair
303-275-3050
Rich Bolin, Co-chair
303-275-3028
Corporate Participants and Sponsors
Company presenters: Agrivida, Enerpulse, Inc., Marquiss Wind Power, Ampulse, Porous Power Technologies, LLC, Cobalt Biofuels, Terrabon, C2 Biofuels, Inc., Climax Global Energy, Inc., Joule Labs, Infotility, Coulomb Technologies, K2 Energy Solutions, Inc., Evolutionary Genomics, Solix Biofuels, ZeroPoint Clean Tech, Inc., Tendril, Aldis,Inc., Nila, Inc., Edenspace Systems Corporation, TransIonics Corporation, Hyperion Power Generation, Inc., Intrago Corporation, Blue Sun Energy, Inc., MicroLink Devices, MegaWatt Storage Farms, Inc., Tellurian Biodiesel, Inc., Optony, Inc., LiquidPiston, Inc., Solar Red, Photon Synergy, QM Power, Inc., Ahura Energy, Inc., Deeya Energy, Electron Vault, Inc.,
NREL 21st Industry Growth Forum sponsors: Access Venture Partners, Altira Group, Andrews Kurth, LLC, Applied Ventures, APS, Battelle Ventures, Battery Ventures, BP Ventures, Braemar Energy Ventures, Brownstein Hyatt Farber & Schreck, California Energy Commission, ClearCreek Partners, CMEA Ventures, Cooley Godward Kronish, LLP, Cowen, Deloitte, Denver Office of Economic Development, DTE Group, Fairfield & Woods, Flagship Ventures, Gaits, Inc, GE Energy Financial Services, Goodwin Proctor LLP, Keating Investments, KPMG, Liqcrytech, LLC, McNamee Lawrence & Co, Millbank, Mohr Davidow Ventures, NASDAQ, NGEN, NGP Energy Technology, Nth Power, Office Economic Development and International Trade, Pearl St. Liquidity Advisors, Piper Jafrey, Rockport, Sevin Rosen, Stoel Rives, Wilson Sonsini Goodrich & Rosati, XCEL, and Yellowstone Ventures