Revolutionary Solar Collaboration Awards First Grants
---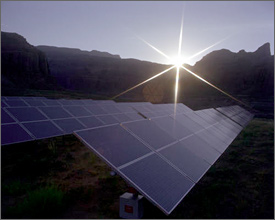 The Center for Revolutionary Solar Photoconversion (CRSP) is launching 12 novel solar research projects—including six with NREL researchers.
The projects total more than $1.1 million in the center's inaugural round of research and development funding.
CRSP is the newest research center of the Colorado Renewable Energy Collaboratory, a research partnership between NREL and the state's premier research universities. The center is dedicated to the basic and applied research necessary to create revolutionary new ways to directly convert the sun's energy to clean, low-cost electricity and fuels—a research area called Solar Photoconversion.
The center also supports education and training opportunities to develop the workforce to support the new energy economy.
Leading Edge Research Points to Solar Future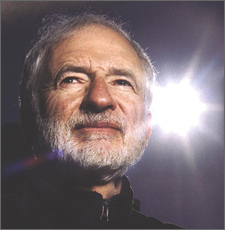 The center's inaugural projects were selected from a total of 31 applications, said NREL Senior Research Fellow Arthur J. Nozik, who serves as scientific director of CRSP.
"These projects represent the leading edge of research into both new ways to generate electricity and liquid and gaseous fuels directly from the sun and improving our approaches toward these goals," Nozik said.
"Exploring the fundamental nature and performance of advanced photoconversion materials and experimenting with new approaches are essential if we are to greatly increase the efficiency and lower the cost of solar photon conversion and decrease our reliance on fossil fuels," he said.
Public-Private Partnership Funds Projects
The 12 projects will be funded for up to two years with contributions from CRSP's corporate members and matching funds from the state of Colorado. Nine projects begin this fall and three will begin in January. Eight of the 12 projects will receive $100,000, while the rest will receive between $75,000 and $99,818 for a total of $1,168,711.
The four Collaboratory institutions are:
Colorado School of Mines (CSM),
University of Colorado at Boulder (CU),
Colorado State University (CSU), and
NREL.
The University of Wyoming also is participating in one project.
The 12 projects are funded under the center's shared research program, in which CRSP corporate members participate in a review panel that selects pre-competitive shared research projects. Corporate members receive non-exclusive licenses to any resulting intellectual property. The program is designed to leverage this intellectual property to develop large scale proprietary research for CRSP member companies, and help the technologies efficiently enter the marketplace for commercial use.
Fourteen companies now belong to CRSP: Applied Materials, Inc., Ascent Solar Technologies, DuPont, Evident Technologies, General Motors, Konarka, Lockheed Martin, Motech Industries, QuantumSphere, Sharp, Solasta, Sub-One Technology, SunEdison and Toyota.
The 12 selected solar projects are:
Integrated Electrical and Optical Characterization of Silicon Thin Films — NREL and CSM, $99,818;
Redox-Tunable Polymers for OPV active layers — NREL and CSU, $100,000;
Group IV Nanowire Photovoltaics — CSM, $100,000;
InVitro Evolution of RNA-Inorganic Catalysts for the Conversion of CO2 to Alcohols — CU, $100,000;
Optimizing Cu2ZnSnS4-based Photovoltaic Devices for Thin Films — CSU and Wyoming, $75,000;
Group IV Quantum Dots for 3rd Generation Photovoltaics — NREL and CU, $95,000.
Probing Critical Interfaces in 2nd and 3rd Generation Photovolaics with Nonlinear Optics — NREL and CU, $100,000;
Spatially-resolved Spectroscopic Studies of Small Ordered Crystals of Semiconductor Nanocrystals — NREL and CSU, $100,000;
Nanoscale Engineering of Functional Metal Oxides for Photocatalysts and Photovoltaics — CSM, $98,893;
Plasma Processing for Improved Understanding and Control of Film Properties and Interfaces with Organic/Polymeric/Hybrid Solar Cells — CSU, $100,000;
Fundamental Studies of Polyoxometallage-Based Nano-Materials for Photoelectrochemical Water Splitting — NREL and CSM, $100,000.
Development of an Economical Catalyst for Water Oxidation (solar fuels) — CU, $100,000.
Learn more about the Colorado Renewable Energy Collaboratory.