A Banner Year for Recognition, NREL Reaps 25 Awards
---
NREL director Dan Arvizu has been elected to the Hispanic Engineer National Achievement Awards Conference Hall of Fame.
His induction caps a record year of accomplishment in which laboratory researchers and their projects received more than two dozen international and national prizes from the U.S. Department of Energy, professional organizations and leading publications.
Arvizu was inducted as the Hall of Fame's only new member in 2008 at the HENAAC annual banquet in Houston on October 11th. It was established in 1998 to recognize world class achievements by Hispanic engineers and scientists, and inspire future generations of Hispanic students.
"At NREL, I get to work at the nexus of three things which have driven my professional career — science and technology, education, and energy," Arvizu said. "All of them are needed to meet the challenges of the future."
'Some of the Most Successful Scientists and Engineers'
HENAAC's Hall of Fame now includes 27 members, including Nobel laureate Dr. Mario Molina, an atmospheric chemist who co-identified the link between chlorofluorcarbons and the ozone hole, and the late Roberto Goizueta, CEO of Coca Cola. Several NASA astronauts and officials also have been inducted, including Dr. Franklin R. Chang-Diaz, the first Hispanic astronaut and an expert in applied plasma physics.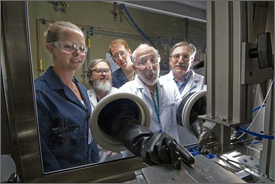 In accepting his award, Arvizu said he was honored to be included among "some of the most successful scientists and engineers in the nation."
He hopes such recognition will spark interest among Hispanic students in science education and technology careers. Arvizu cited his sixth-grade science teacher and high school band director among his mentors, but especially noted the important role his parents played in his success.
"Even though they were part of immigrant families, they encouraged me to get an education and taught me the value of hard work and persistence," Arvizi said.
National and International Honors
In addition to Arvizu's induction, NREL senior scientist Miguel Contreras received HENAAC's Outstanding Technical Achievement award. Contreras leads NREL's groundbreaking work in developing copper-indium-gallium-diselenide (CIGS) thin-film solar cells. This technology now is being commercially produced worldwide.
On October 16 in Chicago, research fellow David Ginley and principal scientist Mark Wanlass will receive a pair of coveted R&D 100 Awards for their revolutionary photovoltaic breakthroughs. NREL also won an R&D Laboratory of the Year award for the design of its Science & Technology Facility.
In May, Research Fellow Arthur J. Nozik received a 2008 Eni Award, a new international honor sponsored by Italy's largest energy company.
"The stature and quantity of awards received this year underscores NREL's role as a world leader in renewable energy and energy efficiency technologies," said Janice Rooney, who manages NREL's awards program.
Access a list of all 25 NREL awards.