VIBE Showcases Clean Energy Decision Tools
---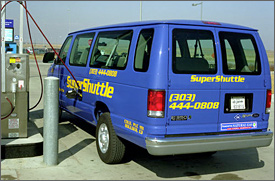 VIBE Features
Alternative Fueling Station Locator – Search by fuel type and location to get station details and driving directions.
State-based information – Dynamic data on state fueling stations, incentives/laws, Clean Cities contacts, and more.
Incentives and Laws – By state, regulation type, fuel technology type.
Data Analysis and Trends – Charts, graphs, GIS maps showing industry status.
Alternative Fuels – Biodiesel, ethanol, electricity, hydrogen, natural gas, propane, ultra-low sulphur diesel.
Advanced Vehicles – Hybrid electrics, plug-in hybrids, electrics, fuel cell, flexible fueled, natural gas and advanced diesels.
State Assessment for Biomass Resources – Graphically shows potential resources, production and uses.
Alternative Fuel and Advanced Vehicle Search – Search for vehicles by technology or fuel type, class, or manufacturer to get specifications and links to dealers.
Geographical Information – Layered maps to assist in evaluating local, regional, and national transportation and energy-related information.
Deciding which new vehicle or fuel technology fits your needs is growing increasingly complicated. Gasoline, diesel or flex? E-85? B-20? CNG?
Now multiply that decision by 500 – or 5,000 – if you manage a large fleet of delivery trucks.
To reduce commercial risk and understand industry trends surrounding sustainable energy, NREL is creating the VIBE – Virtual Information Bridge to Energy Efficiency and Renewable Energy.
VIBE will be an information hub that gathers and displays data and trends to help consumers and industry managers make clean energy decisions. The tools and data that will form the first version of VIBE are already available today through the Alternative Fuels and Advanced Vehicles Data Center (AFDC). The AFDC, which is produced by NREL for DOE's Clean Cities Program, is a widely used Web resource for information on advanced transportation options. The Clean Cities program offers numerous interactive Web tools, vehicles/fuels data sets, and technical information.
The AFDC tools are just the beginning of the VIBE interface. Today, VIBE is operating in a prototype phase in a special room that uses multiple screens to display a wide range of vehicle and fuel information, including filling station locations, vehicle specifications, federal and state policies, and other data. Eventually it will be expanded to incorporate all clean energy topics and laboratory research.
VIBE users will be able to access the screens in the command center, or online.
"It won't just be room or a website," says Debbie Brodt-Giles, VIBE's senior project leader in the Center for Transportation Technologies and Systems. "It will be a data-rich portal that will allow our customers to create their own dashboards with the information they're looking for."
"It will be graphically intensive and informative. And because it is driven by databases in the AFDC and elsewhere, it will automatically update with the latest information."
Driving Information to the User
So what if you had fleet operating across the Midwest and Mid-Atlantic states and wanted to reduce fuel use? How many E-85, B-20 and compressed natural gas stations are there from, say, Milwaukee to Pennsylvania?
In the VIBE room, with a wave of her wireless wand, Brodt-Giles assembles the data and moves it from wall to wall, among six giant flat screen monitors and even a smart "white board."
Within seconds, it's apparent that alternative fuels are readily available for fleet managers. But, discrepancies persist between various cities and fuel types.
For example, Dayton, Ohio has 61 ethanol and 16 biodiesel locations within 100 miles, but only three compressed natural gas (CNG) stations in the same radius. So at this fleet location, it might make sense to purchase flexible fuel vehicles or buy B-20 for diesel vehicles.
This same fleet may want to purchase CNG vehicles for use in a different city, like Indianapolis where there are more than 30 CNG stations within 200 miles.
Additionally, current fuel prices, state and federal incentives and other data can be added to the analysis. In all, information from dozens of government and commercial sources will become available to give users the clean energy answers they need.
Operating by December
VIBE was launched in April 2008 with seed money from DOE. Now that the room is complete, work is underway to develop the VIBE Web application, which will provide central access to tools and data from a variety of sources. The VIBE dashboard should be operating in the next few months. By then the portal will have its own URL for offsite access.
Even as a prototype, the command center in Building 16 has become a popular stop on lab tours for visiting officials and industry decision-makers.
Brodt-Giles said she has received enthusiastic comments from some members of Congress, who would like to see a version of the VIBE dashboard become available to elected officials and key staffers.
Look for the first VIBE dashboard to be complete by this December. Early beta testers will get the opportunity to help improve the functionality, expand the data sets, and determine new tools that should be next on the development priority list.
To view some of the tools already available, go to the AFDC Web site. And for more information about VIBE, contact Debbie Brodt-Giles at (303) 275-4440.