Islands Initiative to Put Clean Energy in Paradise
---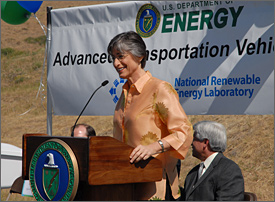 Hawaii Clean Energy Initiative Goals
A look at efforts to be pursued under the Hawaii Clean Energy Initiative, a partnership between the state and the U.S. Department of Energy:
Design cost-effective approaches for 100 percent use of renewable energy on smaller islands.


Design systems to improve stability of electrical grids operating with variable generating sources, such as wind power plants on the Big Island and Maui.


Integrate renewable energy, including solar, wind, energy storage and advanced vehicle technologies, into existing systems to meet the islands' energy needs.


Minimize energy use while maximizing energy efficiency and renewable energy technologies at new large military housing developments.


Expand Hawaii's capability to use locally grown crops as byproducts for producing fuel and electricity.


Develop comprehensive energy regulatory and policy frameworks to promote clean energy technology use.
Source: Office of the Governor
The U.S. Department of Energy has established a global initiative with island nations to develop clean energy programs and meet aggressive renewable energy targets within a generation.
Outgoing Assistant Secretary Andy Karsner and New Zealand's ambassador to the U.S., Roy Ferguson, signed terms associated with the International Partnership for Energy Development in Island Nations (EDIN) in Nassau, Bahamas.
Accompanied by NREL director Dan Arvizu, they were attending the Business Roundtable Caribbean Renewable Energy Conference hosted by the U.S. Embassy in Nassau. This July 24th event assembled island stakeholders in discussions on how to expand sustainable energy, particularly biomass energy from agriculture. View Dan Arvizu's presentation from the conference.
On August 27, Iceland joined as the third nation member when Ossur Skarphedinsson, Minster of Industry, Energy, and Tourism signed the agreement.
The EDIN will assist island nations to develop clean energy technologies, policies, and financing mechanisms. EDIN's founding members plan an organizational kickoff meeting in late September in New Zealand.
"For New Zealand to reach our ambitious renewable energy targets we are clearly going to require new policies and technology to help the uptake of clean energy technology," Ambassador Ferguson said.
Hawaii Agreement a Model for International Efforts
The EDIN is similar to the partnership that DOE established in January with the state of Hawaii. Under the Hawaii Clean Energy Initiative, the state aims to have 70% of its energy needs supplied by clean energy resources, including renewables and efficiency, by 2030—reducing crude oil consumption by up to 72%. Hawaii Gov. Linda Lingle attended the Nassau meeting, and then flew to Colorado to tour NREL with Assistant Secretary Karsner and Director Arvizu.
At NREL, Lingle joined 45 Hawaii decision-makers, including state legislators, public utilities commissioners, utility executives, senior administrators and business developers. They spent three days in educational seminars, lab tours and other activities to learn more from the lab about renewable energy opportunities, including solar, wind, biofuels, ocean power, efficient building design and advanced vehicles. They also discussed market analyses and assessments specific to Hawaii.
Energy Imports and High Rates Squeeze the State
Hawaii currently relies on imported oil for 93% of its energy needs. Among the clean renewable sources Hawaii is considering are solar energy, wind power, and bioenergy from local agriculture, as well as the potential of geothermal and ocean wave energy.
"With utility rates as high as 49 cents a kilowatt-hour, Hawaii's islands need to move toward a comprehensive energy strategy that lowers and stabilizes their utility rates," said Mary Werner, NREL's executive manager of integrated deployment.
DOE and Hawaii have established working groups to address electric system design, electric generation, end-use efficiency, advanced vehicles and local production of alternative fuels. Additionally, several partner projects have begun to address grid stability, renewable integration, renewable energy financing, maximizing energy efficiency on military bases and the special energy needs of smaller islands.
The initiative is expected to last several years.
Both a Security and Environmental Issue
"Hawaii imports virtually all of its energy now, so it is especially vulnerable," Gov. Lingle said, citing major tanker ports on the islands, in remarks during her NREL visit.
"As an island state with abundant renewable energy sources, Hawaii is proud to support this partnership and work with the Department of Energy and other participant nations to increase our energy independence and expand our renewable energy expertise," Lingle said.
Learn more about NREL work in technologies that could make a difference for Hawaii and other island communities.