NREL Research Review Touts Tech Transfer Efforts
---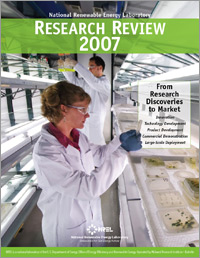 Start-up companies are building a booming industry for thin-film solar cells based on NREL technologies, while architects in the storm-ravaged cities of New Orleans and Greensburg, Kan., are incorporating the best ideas in energy efficiency and renewable energy as those cities rebuild.
Those are just two examples of how NREL has achieved large-scale impacts by commercializing its innovations and by helping organizations make the best use of technologies that can meet global energy challenges.
The recently published NREL Research Review 2007 examines how NREL researchers bring their innovations to market through a five stage commercialization process. Articles address lab achievements in each of the five stages.
Initial Steps: From Innovation to a Working Product
So what innovative ideas are cooking at NREL? One of the hottest current scientific trends is nanotechnology, the use of structures on the scale of a billionth of a meter, or nanometer. Nanotechnology offers the possibility of accomplishing feats that were difficult or impossible before, and NREL researchers are doing their best to devise ways to take advantage of the latest technological advances.
The Research Review looks at three potential applications of nanotechnology:
Silicon "quantum dots," which are nanoscale dots of material that could yield more efficient solar cells
Nanoscale layers of silver that could boost the efficiency of organic solar cells, which are made of plastic, and
"Biohybrids," combinations of carbon nanotubes with hydrogen-producing bacteria that could be used for hydrogen production or in fuel cells.
The issue also captures a technology in the throes of commercialization. What started as a side effort by three NREL researchers is now the centerpiece of a start-up company that is rushing towards a commercial product. The NREL-born concept to avoid the degradation of lithium metal anodes is now in the hands of Planar Energy Devices, Inc., which is building high-capacity, long-lasting lithium batteries.
The Research Review also examines recent efforts relating to biofuels:
NREL's role in a new Department of Energy Bioenergy Science Center
The laboratory's agreement with Chevron Corporation to develop algae-based fuels, and
NREL's development of a pretreatment step for cellulosic biomass that will free up more carbohydrates for conversion into ethanol.
In addition, the issue checks in on NREL's Wind2H2 facility, which is testing the best ways to combine wind and solar power with hydrogen production, an approach that could encourage the large-scale deployment of these technologies.
Taking Products Out to the World: Large-Scale Commercialization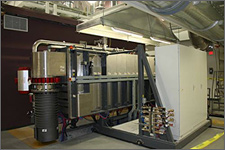 So what do K-12 schools, the U.S. Army Corps of Engineers, Wal-Mart, and the storm-damaged cities of Greensburg and New Orleans have in common? They are all drawing on NREL's technical advice to make the best use of energy efficiency and renewable energy in their buildings.
While NREL's efforts in buildings are often high-visibility projects, NREL has played a more behind-the-scenes role in another burgeoning industry, namely, that of thin-film solar cells. Once overshadowed by crystalline silicon solar cells, thin-film solar modules are now playing a major role in building the solar electric world of the future.
NREL has worked with three major thin-film solar companies – United Solar Ovonic, First Solar, Inc., and Global Solar Energy – since their early days as start-up companies. These three companies built on their early partnership with NREL to create a manufacturing juggernaut that produced roughly 250 megawatts of solar cells in 2007, and will soon greatly expand its capacity to produce more than 1,000 megawatts of solar cells per year.
The issue includes a perspective piece from NREL Director Dan Arvizu and a look at new programs and initiatives to spur commercialization efforts at the laboratory.
Access the NREL Research Review online.
To request a hardcopy of the review, contact NREL Document Distribution at 303-275-4363.