What Renewable Energy Is Doing for Colorado and the Planet
---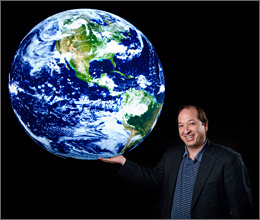 Science on a Sphere Facts and Figures
Six feet in diameter
Weighs about 45 pounds, made of carbon fiber
Suspended from the ceiling by thin cables. Does not spin; the planet's rotation is simulated.
Operated by a master display computer that operates another four computers and four video projectors.
Data is pulled from the hard drive, manipulated, re-projected and synchronized back onto the sphere.
Data sets are organized through playlists like on an MP3 player.
High definition video and high resolution still images can be added to the display using Picture-in-Picture technology like on your television.
Sphere programs can be automated or manually operated by a host using a remote control.
The programming is synchronized with a wall-mounted flat screen monitor, four wall-mounted speakers and a wireless microphone.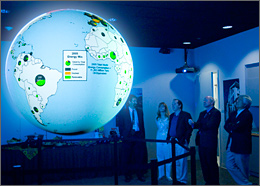 A picture may be worth a thousand words, but a spinning Earth wrapped in solar radiation that can drive global weather from drought to hurricanes is an eye-popping learning experience. At its Visitors Center, NREL recently unveiled one of the world's newest – and coolest – science communications tools – Science on a Sphere (SOS®).
It looks like the Earth is hanging from the ceiling, but SOS is actually a room-sized, global display system that uses computers and video projectors to display planetary data and other animations onto a sphere-shaped screen. It was invented by Dr. Alexander "Sandy" MacDonald, the director of the NOAA Earth System Research Laboratory in Boulder, CO as a way for scientists to explore environmental data using new visualization techniques. But MacDonald quickly understood its potential for educating the public on large-scale earth sciences events and issues.
The initial systems were installed two years ago for public programs at a few prominent U.S. science museums. NREL is the first Department of Energy national laboratory to use the system. The lab is part of a growing international SOS community, which now includes the Smithsonian Institution in Washington, D.C. and the NASA Goddard Space Flight Center in Greenbelt, MD, as well as science museums in Singapore, South Korea and Taiwan.
Seeing Earth as an Energy Planet
For its NREL debut, the laboratory produced a fast-moving animated sphere program called Energy Planet that examines both the world's growing energy problem and the leading role that NREL and renewable energy technologies play in its solution. Energy Planet was made in collaboration with independent science media director Michael Starobin, who developed Footprints, a popular sphere program about space exploration, for NASA. Energy Planet is designed to be an overview program for lab visitors and tour groups, but it also will be distributed to other sphere intuitions. The 5-minute program will later be lengthened to include more data animations and a longer storyline.
Earth as a PlayStation
About half a dozen other unique animations about renewable energy resources and other energy-related topics have been created for the sphere by NREL scientists. They include renewable resources, energy consumption, the energy mix, worldwide oil flow, and electrification and wealth. SOS also showcases about 200 NOAA data sets, including climate change, hurricanes and other storms, El Nino/La Nina, earthquakes and tsunamis.
"In a lot of ways, scientists are creating their own PlayStation® game," says NREL's Joe Verrengia, who along with a team of analysts skilled in mapping and manipulation of scientific data sets, will manage content creation for SOS. "With a remote control we can play out our own vision of Earth's energy future."
Exhibit Shows Renewable Energy's Impact on Colorado
This month, NREL and the State of Colorado unveiled "Colorado's New Energy Economy," a new permanent exhibit at the Colorado Convention Center.
Thousands of convention goers over the next few years will get the chance to see how the renewable energy industry is creating jobs as well as clean energy choices in NREL's home state. Colorado Governor Bill Ritter's New Energy Economy Initiative has resulted in a number of positive economic benefits such as the attraction of new industry to the state. Some of those new energy businesses are highlighted in a 30 ft. long education panel in the exhibit.
The lab's research in solar, biomass and wind is prominently featured along with maps showing Colorado's – and the nation's – renewable energy resource wealth. Visitors can touch a trio of solar panels, see samples of biofuels materials and view a tall slice of a 30-meter wind blade.
Visitor Information
NREL's Visitors Center is located at 15013 Denver West Parkway, Golden, Colorado 80404. For more information and visiting hours call 303-384-6565.
The Colorado Convention Center is at 700 14th Street, Denver, Colorado 80202. The NREL exhibit is located in the convention center's center concourse near the Wells Fargo Theater and the Korbel Ballroom.