Laboratory to Take Advanced Vehicles for a Spin
---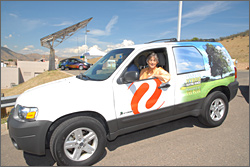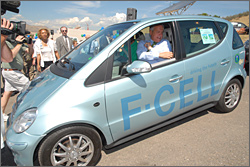 Ladies and gentlemen...Start your hydrogen fuel cells...and your batteries...and your biodiesels...and your hybrids.
The U.S. Department of Energy and NREL hosted a rally of 18 advanced vehicles from eight manufacturers on July 25. The cars and trucks offered an impressive preview of "Test Fleet NREL" — a variety of vehicles that will be cruising around the national laboratory's campus in the coming months and serve as an on-the-road test bed.
They also raised public awareness about the advanced vehicle technologies that are commercially available now or in development.
DOE Assistant Secretary Alexander Karsner said NREL, as the nation's premier laboratory for renewable energy and energy efficiency research, is the ideal place to evaluate the vehicles. Researchers and regulators not only need to validate how electric, hydrogen and alternatively fueled vehicles will perform in everyday use on America's streets, but also determine their wider impact on communities' infrastructure.
Vehicle Research Enters a New Era
"This is a new era of our vehicle technology program," Karsner said in remarks at the rally. "What happens when you plug in vehicles in a community of this size? We have a wide variety of vehicles here that will show us."
The fleet of advanced vehicles was assembled near NREL's Thermal Test Facility. Assistant Secretary Karsner was joined by Colorado Gov. Bill Ritter, Hawaii Gov. Linda Lingle, James L. Connaughton, chairman of the White House Council on Environmental Quality and NREL Director Dan Arvizu for an up-close look at the cars and trucks that were on display. It was the most diverse fleet of alternative vehicles assembled at the laboratory in its three-decade history.
Arvizu invited them to test-drive many of the cars, which included vehicles fueled by electricity, hydrogen, ethanol, and biodiesel.
Many of the vehicles featured promising technologies designed to increase efficiency without sacrificing safety or comfort. Some are commercially available now, but most are prototypes.
"These are the cars our children and grandchildren will drive," Gov. Ritter said. "Let's look at this as an opportunity to build our economy."
Over the next year, NREL will receive advanced vehicles, including some similar to those in the rally. Researchers will collect data on the vehicles' performance and assess the potential of the technologies. The vehicles in the fleet will be rotated regularly to ensure that both current and coming technologies are represented.
Advanced Vehicles at the NREL Rally
Compressed Natural Gas/Gasoline-fueled Ford F250 pickup truck
Compressed Natural Gas-fueled Honda Civic
Hydrogen Fuel Cell-powered Mercedes A-Class
Hydrogen Fuel Cell-powered Ford Focus
Hydrogen Fuel Cell-powered Hyundai Tucson
Hybrid Electric Toyota Highlander
Neighborhood Electric GEM car
Plug-in Hybrid Electric Ford Escape
Compressed Natural Gas-fueled GM van
E-85 Ethanol fueled Corvette dragster
All-electric Phoenix Motorcar
Hybrid Electric Denver RTD Bus
Hybrid Electric GM Tahoe
Hydrogen Internal Combustion Engine-powered Chevrolet Silverado
Plug-in Hybrid Electric Toyota Prius
Biodiesel powered Mercedes C-Class
Lightweight gasoline-powered SMART car
E-85 Ethanol-fueled Chevrolet Impala Flex Fuel Vehicle
Learn more about NREL's Advanced Vehicles & Fuels Research.