NREL Director Adds Voice to Global Energy Conversation
---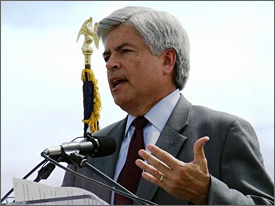 Energy's impact on the Earth is far reaching. It fuels the global economy, drives geopolitical behavior, and influences individual wealth and societal comforts. It changes the environment. Energy is one of the foremost issues of the 21st Century, and the global conversation about where we get it and how we use it has escalated. NREL Director Dr. Dan Arvizu is a new voice in that conversation.
As a member of several diverse organizations that advise both U.S. and international governments on clean energy, he helps shape world thinking about energy. In the past few months, Arvizu has been invited to sit on the World Economic Forum's Global Agenda Council on Alternative Energies; the X-PRIZE Energy and Environment Advisory Council; Singapore's Clean Energy International Advisory Panel; and the Harvard Kennedy School's Energy Research, Development and Deployment Policy Project Advisory Committee.
Their goals range from the noble — shaping entrepreneurship in the global public interest and stimulating radical breakthroughs for the benefit of humanity — to the practical, such as providing thoughtful advice on energy and economic issues to U.S. and international governments.
"People and governments are now listening when we talk about renewable energy," Arvizu said. "The international community recognizes the need to integrate renewable energy technologies into the energy mix, and they know that NREL has the people and knowledge to lead the way."
World Economic Forum Global Agenda Council on Alternative Energies
The famed World Economic Forum — whose annual meeting in Davos, Switzerland, is an exclusive gathering of international government and industry leaders — is an independent international organization committed "to improving the state of the world by engaging leaders in partnerships to shape global, regional and industry agendas." Through a structure of Global Agenda Councils, the Forum addresses issues such as HIV/AIDs treatment, water supply, fostering dialogue between Islam and the West, terrorism and corporate citizenship. And this year: alternative energies.
As one of a select few invited to participate on the Alternative Energies Council, Arvizu joins for one year the world's top authorities to exchange ideas and propose strategies and solutions that can impact world energy issues. The council also will advise the Forum and other interested parties such as governments and international organizations, and be part of the annual Summit on the Global Agenda in November.
X-PRIZE Energy and Environment Advisory Council
The X-PRIZE Foundation is best known for offering $10 million awards to teams that achieve remarkable technological innovations to solve some of the world's greatest challenges. X-PRIZE competitions "capture the imagination of the public and speed radical breakthroughs that can ultimately change the way we see ourselves and how we live on this planet."
In 2008, the foundation is considering a $100 million suite of energy prizes to catalyze a new era of clean, renewable cost-effective energy with minimal impact on the climate and environment.
Dan Arvizu is among the 23 experts on the Energy and Environment Advisory Council who will suggest what the prizes will be, screen concepts, review rules and recommend ways to link the prizes into a powerful, synergistic sequence. He joins Vinod Khosla, Khosla Ventures; U.S. Senator Maria Cantwell; Bill Gross, Chairman and CEO of Idealab; and Vijay Vaitheeswaran, energy correspondent for The Economist, among others.
Singapore's Clean Energy International Advisory Panel
In its quest to become a global hub for business and investment, Singapore has adopted a clean and green focus to attract international companies to locate facilities there. Not only have they built their own solar energy research institution, they are implementing policies favorable to the clean energy industry and developing a distinctive Cleantech Park.
Arvizu is one of seven members of the International Advisory Panel who will make recommendations on work set by the Solar Energy Research Institute of Singapore, provide advice about building R&D capabilities and review the country's clean energy development plans. Other panelists are the former Chairman of Shell Transport and Trading Lord Ronald Oxburgh (United Kingdom); Applied Materials Vice President Dr. Winfried Hoffmann (Germany); Erik Thorsen, CEO of Renewable Energy Corp. (Norway); and Nicholas Parker, Chairman of Cleantech Group USA (Canada).
Harvard Energy Research, Development and Deployment Policy Project Advisory Committee
Closer to home, Arvizu has accepted a three-year appointment to the Harvard Kennedy School's Energy Research, Development and Deployment Policy Project Advisory Committee — a project that will provide the next U.S. administration with a comprehensive set of recommendations for investing the federal energy technology innovation budget. The goal is to produce a critical analysis of the annual energy research, development and deployment budget and produce reports on activity in the private sector.
The 16 members meet July 15 to begin discussing progress of the project and drive the development of recommendations. Members are respected thought leaders from institutions such as Princeton; Harvard; Massachusetts Institute of Technology, the University of California, Berkeley; Stanford, GE Energy, and Chevron.
To keep up with Dan Arvizu's many activities, visit the NREL Director's Web page.