NREL Expands Solar Testing Facility to Support Industry Growth
---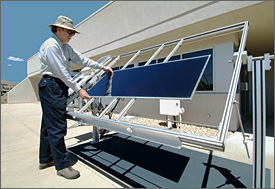 NREL's Outdoor Test Facility (OTF) is being expanded to house a new solar simulator and additional environmental chambers used for accelerated exposure testing of solar modules. The facility will allow NREL to test larger solar modules from Solar America Initiative partners — and complete more tests — to support solar industry growth.
"Photovoltaic manufacturers have been developing and deploying modules that are significantly larger than what was considered the norm just a few years ago," said Pete Sheldon, manager of NREL's PV Measurements and Characterizations group. "This trend has been driven, in part, by a desire to meet the anticipated needs of an expanded building integrated photovoltaics market."
Despite its name, not all solar module testing is conducted outside at the Outdoor Test Facility. Some tests are done inside using a wide variety of equipment, tools, and techniques to test and analyze modules and systems under standard simulated conditions, and diverse environmental and stress conditions. Tests include environmental testing, indoor accelerated testing, failure analysis, and cell and module characterization.
Increased Demand Calls for Larger Solar Simulator, More Space
Before expanding its testing facility, NREL was receiving solar modules from industry to test that were significantly larger than could be accommodated on the old SPIRE 240A solar simulator, which has a test bed of 2 ft x 4 ft. The new solar simulator, a SPIRE 4600, will allow NREL to test modules up to 4½ by 6½ feet, or 266% larger, and increase the number of modules being tested to keep up with industry demand. The OTF expansion included adding 1780 square feet of additional space and another 1650 square feet of reconfigured space.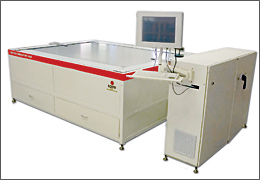 "The OTF expansion allows us to consolidate our indoor module measurement activities and provides space for a recently purchased SPIRE 4600 solar simulator capable of measuring modules up to 4½ by 6½ feet in dimension. This new capability will significantly enhance our ability to support a rapidly growing U.S. PV industry and DOE Solar America Initiative," said Sheldon.
OTF researchers evaluate prototype, pre-commercial, and commercial solar electric modules in the OTF and work with industry to develop uniform and consensus standards and codes for testing PV devices. Researchers also calibrate primary reference cells for in-house use and for use by other national laboratories.
ISO Accredited Calibration Laboratory
NREL is an ISO 17025 accredited PV calibration laboratory and one of three labs in the world (and the only one in the U.S.) that is ISO accredited for both primary and secondary cell calibrations and secondary module calibrations. The solar industry relies on NREL to maintain an independent and reliable measurement capability for both solar cells and modules.
For more information on NREL's solar research and facilities, visit: