NREL's Prius Hits 100 Miles per Gallon
June 20, 2008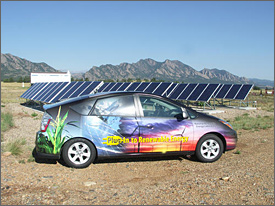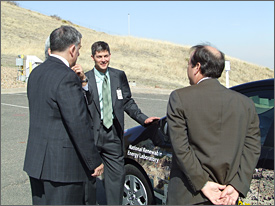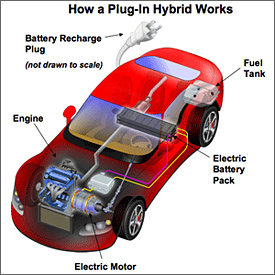 A hybrid passenger car modified by NREL researchers is cruising at 100 miles per gallon (mpg) and generating international notice as fuel prices soar to record levels.
The experimental plug-in version of a 2006 Toyota Prius sedan runs the initial 60 miles mostly on battery, with the remainder achieved under engine power.
The sedan's performance more than doubles the fuel economy of a standard Prius, which is rated at 48/45 mpg. And, it's a five-fold improvement over the 20 mpg average that passenger cars and light trucks in the U.S. achieved in 2007.
How the Plug-In Hyrbid Works
The standard Prius runs on electricity at low speeds, then the batteries and the gasoline engine share the work. The batteries recharge automatically as the car operates.
NREL researchers added several features to the plug in Prius to break the 100-mpg barrier:
A plug to recharge its batteries directly from the utility grid using a standard 110-volt electrical outlet,


A larger lithium-ion battery that allows the car to operate on electricity for longer trips at speeds up to 35 mph, and


A rooftop solar panel that charges the battery while the car is driving or parked outdoors, adding five miles to the vehicle's range.
"The stored power in the battery does a great job of displacing petroleum," said Tony Markel, a senior engineer with the Vehicle Systems Analysis Group. "Most people's daily commute is about 30 miles, so this car would run virtually on battery for their entire drive."
What the Plug-In Hybrid Costs
The NREL Prius is a unique research prototype, and is not available to the public. It cost about $70,000 — the cost of the standard Prius plus $42,500 for the modifications.
The improved fuel economy would save more than $500 per year over the standard Prius, and potentially reduces the vehicle's greenhouse gas emissions to less than two tons per year.
Markel said Detroit automakers and Xcel Energy, Colorado's biggest utility are interested in how NREL's plug-in hybrid could be produced affordably.
Research results have been included in a couple of papers published by NREL staff. Markel said that his team will be testing a different battery pack in the car soon, and that the Prius will be used to help explore options for recharging with renewable electricity, such as solar and wind.
Other Hybrid Vehicle Studies at NREL
Markel's results are consistent with a 2007 computer modeling study by Xcel and NREL that showed how plug-in hybrid vehicles would cut CO2 emissions in half and save owners $450 apiece in annual fuel costs, without requiring a significant utility expansion.
NREL also is collecting and analyzing vehicle performance data from 50 UPS hybrid diesel step delivery vans powered by an Eaton Corp. electric hybrid propulsion system. The 12-month study in Dallas and Phoenix is scheduled to end in August.
Learn more about NREL research in Plug-In Hybrid Electric Vehicles.
Learn about the basics of Plug-In Hybrid Electric Vehicles.