NREL Targets Data Centers for Energy Savings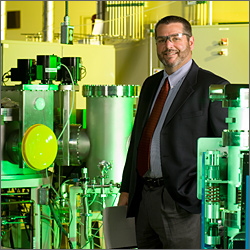 With worldwide recognition for its commitment to green building construction, NREL has a new energy savings target in its sights — data centers.
Walk into a computer room and you can feel the energy consumption. Racks of servers radiate heat, while icy air blows through the room to cool them down. As the lab's appetite for computational power expands and the cost of computers falls, the density of computers is increasing and so are energy demand and costs.
Green IT Adds up to Millions in Savings
In fact, powering and cooling information technology (IT) equipment over its lifetime now typically costs more than the equipment purchase.
"We'll have to change how we manage IT," Chuck Powers, manager of NREL's IT Infrastructure and Operations Group, said.
The federal government ranked sixth among the top 10 data center energy consumers in the United States, according to a recent analysis. Greening IT would save up to $510 million in total federal electricity costs by 2011 and reduce the government's annual carbon dioxide emissions by 1.5 million metric tons, to 4.7 million, according to the EPA.
More than Numbers, Efficiency is NREL's Mission
But for NREL, greening IT is more than a numbers exercise. It's an important way to fulfill its mission to as a global leader in developing energy efficiency technologies and practices.
To get there, Powers says, "We will implement every best practice in existing operations and in our new buildings, and leverage NREL innovation."
"It's going to take a series of measures to achieve our objective, from the best use of daylighting to cooling equipment rather than an entire room."
Green IT measures will designed into the Research Support Facility, scheduled to open in 2010, and the Energy Systems Integration Facility planned for 2011. Both will house new data centers.
"We want to explore the possibility of reusing the heat coming from the data center to warm the building," Powers said.
Other NREL-wide green IT measures include:
Recycling electronics
Consolidating servers from 250 to fewer than 50 without reducing computer power
Leveraging Colorado's climate to cool the data centers
Using more laptop docking stations with fewer peripherals and updated energy management systems
Buying Energy Star-rated equipment, including copiers and scanners, and
Following federal data center energy-efficiency benchmarks and certifications.
To learn more about NREL's efforts to operate the lab sustainably, visit the Sustainable NREL Web site.