Dr. Arthur Nozik Wins Prestigious Science Prize
May 30, 2008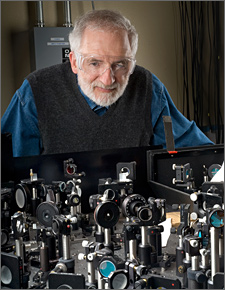 NREL's senior research fellow Dr. Arthur Nozik has been awarded an international Eni Award, touted as the Nobel Prize of energy research.
Dr. Nozik's award cited his revolutionary solar research, including the exploration of future generation concepts for lower cost and more efficient solar conversion.
"We're incredibly proud of Dr. Nozik for his great accomplishments representing NREL with his pioneering work," lauded NREL Director Dan Arvizu. "It speaks volumes for his long-term commitment to mankind and the energy and environmental challenges we face as a nation and world."
Quantum Exploration
Solar conversion technologies play an important role in meeting future energy demands.
In 2000, Dr. Nozik's research team identified that semiconductor nanocrystals called quantum dots could increase the efficiency of solar cells, through a process now termed "multiple exciton generation," or "MEG."
When today's solar cells absorb a photon of sunlight, the energy gets converted to at most one electron, and the rest is lost as heat.
Those efficiencies could be substantially improved with the MEG process. Quantum dots are only about a single nanometer (a billionth of a meter) in size, but they operate in a much larger portion of the light spectrum than conventional photovoltaic cells. Using the MEG process, quantum dots can produce several electrons from one high-energy photon of sunlight.
The MEG process raises the theoretical attainable power conversion efficiency of a solar cell from 33.7% to 44.4%. MEG also has been well-documented experimentally in quantum dots of several different semiconductor materials, including silicon.
Beyond potential use for photovoltaic cells, similar quantum dot technology may someday be used in photoelectrochemical cells, which could become a clean and renewable way to produce hydrogen directly from water and sunlight.
The NREL Research Team
Nozik's NREL team includes Randy Ellingson, Matt Beard, Joseph Luther, Qing Song, Justin Johnson, Matt Law, Jim Murphy, Mark Hanna, Kelly Knutsen and Pingrong Yu and theorist collaborators Sasha Efros and Andrew Shabaev at the Naval Research Laboratory.
About the Eni Award
The prize is awarded annually by Eni, a Rome-based energy giant. Eni has operations in 70 countries that include oil and gas production as well as electrical power generation. Eni has embarked on a broad initiative to develop solar and other renewable energy technologies, including collaborations with U.S. universities and labs.
Eni awards three prizes annually for science and technology, research and environment and early career accomplishments.
Dr. Nozik's research was selected from among 167 nominations in the science and technology category. He shares the award and a $312,757 prize with Stefan W. Glunz of the Fraunhofer Institute in Germany.
"Many of the winners of the past are known to me," Dr. Nozik said. "They are excellent scientists and it's a privilege to join that group."
Giorgio Napolitano, President of the Italian Republic, presented Nozik with a commemorative gold medal in a May 20 ceremony at the Accademia dei Licei in Rome, Italy.
For more information, see the Eni Award Web site and a video interview with Dr. Nozik.