Wind Energy Could Provide 20 Percent of U.S. Electricity by 2030
May 16, 2008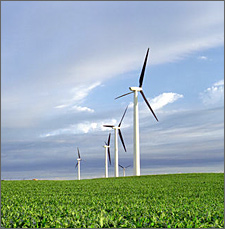 Harnessing the wind that comes sweepin' down the plain could provide 20 percent of America's electricity by 2030, according to a first-of-its-kind report from the U.S. Department of Energy, spearheaded by NREL.
The environmental and economic benefits of boosting wind energy's contribution would be enormous and the costs are modest, the report says.
"First of all it is doable, second of all it's desirable," NREL Director Dan Arvizu said at a May 12 news conference where the report was introduced.
Ambitious, but Achievable
To reach 20 percent wind energy, the report concludes, will require enhanced and new transmission infrastructure, streamlined siting and permitting, improved wind turbine and system reliability and increased manufacturing capacity. Annual installations of wind turbines would have to more than triple, from about 2,000 turbines in 2006 to almost 7,000 in 2017.
That's certainly ambitious, but the 20 Percent Wind Energy by 2030 report is encouraging, pointing out that the costs of integrating intermittent wind power into the electricity grid are relatively small, about a half a cent per kilowatt hour.
"The 20 percent wind scenario would only cost 2 percent more than the cost of the baseline scenario without wind," Federal Energy Regulatory Commissioner Suedeen Kelly said. "At 50 cents per month for the average ratepayer, that is a small price to pay for the climate, water, natural gas and energy security benefits it would buy — and it does not even count the stability provided to consumers by eliminating fuel price risk."
The analysis also concludes that there are enough raw materials, such as copper and fiberglass, to reach the 20 percent level.
Air, Water, Economy All Would Benefit
Environmental and economic benefits of achieving a 20 percent wind contribution to U.S. electricity include:
Reducing carbon dioxide emissions from electricity generation by 25 percent in 2030;
Cutting natural gas use by 11 percent;
Using 4 trillion fewer gallons of water for electrical generation;
Avoiding 7.6 cumulative gigatons of CO2 by 2030 and saving 825 million metric tons every year thereafter.
Increasing annual revenues to local communities to more than $1.5 billion by 2030; and
Supporting about 500,000 jobs in the U.S., with an average of more than 150,000 workers directly employed in the wind industry.
A Thorough Look at Wind Energy
The 20 Percent Wind Energy by 2030 report "is a thorough look at America's wind resource, its industrial capabilities, and future energy prices and confirms the viability and commercial maturity of wind as a major contributor to America's energy needs, now and in the future," DOE Assistant Secretary of Energy Efficiency and Renewable Energy Andy Karsner said in a news release.
In addition to NREL, Lawrence Berkeley National Laboratory and Sandia National Laboratory contributed to the report. DOE also drew on the expertise of the American Wind Energy Association and more than 50 other energy organizations and corporations, representing a broad cross section of industry and government stakeholders.
To download the report in PDF format, visit:
For more information about wind energy research, visit: