NREL Helps Greensburg Rebuild Green
May 2, 2008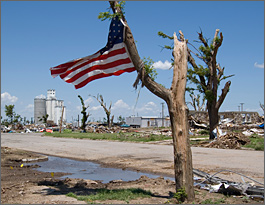 A year ago, one of the strongest tornados on record destroyed 90 percent of Greensburg, a small rural community of 1,500 in southwestern Kansas. Twelve people lost their lives in that terrible storm on May 4, 2007, and more than 1,000 residents were left without homes. The storm dealt a devastating blow to the community. Out of that disaster, the town's leaders and citizens created a new vision of a "green" Greensburg. NREL and the U.S. Department of Energy (DOE) have been there for Greensburg from the beginning.
Just days after that fateful night, an NREL researcher first met the courageous residents of Greensburg, when Mary Werner, NREL technology manager, joined Steve Chalk and Lisa Barnett of DOE in visiting the devastated area.
"We drove into town and were speechless at the sight," Werner recalls. "We were told to meet the city officials at the 'big white tent,' but we soon saw that the tent was the only thing standing in downtown."
The survival of the rural community was very much in question then, but the residents quickly rallied and now Greensburg is making a comeback.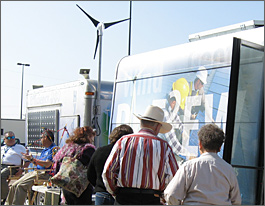 NREL Team Goes to Work
With DOE support, NREL formed a team that includes staff and subcontractors with expertise in many technical areas including buildings, wind energy, solar energy, alternative transportation, and analysis.
Assistance to Greensburg includes:
Designing strategies for energy efficient commercial, city and county buildings, schools and homes
Evaluating options for renewable generation and fuels
Developing sustainable community strategies and
Leading the development of a wind energy system for the municipal utility.
Already, the team has provided expertise through a wide range of activities—from identifying big picture efficiency and renewable opportunities to guiding on-the-ground rebuilding efforts and offering energy efficiency training and other support to builders.
NREL has been involved with local and state officials, as well as officials from the U.S. Department of Agriculture, the Federal Energy Management Agency and other federal agencies in providing resources for energy efficient rebuilding. The mayor of Greensburg, its city council, and the Kansas governor's office all have pledged to rebuild Greensburg as a green city. A non-profit organization, Greensburg GreenTown is helping coordinate these activities with the community. The goal is not only to put up highly efficient buildings, but to construct a new renewable power generation facility and to establish green industry to bring investment and employment to the community.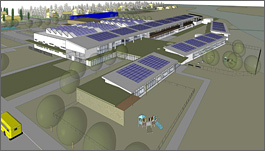 Steps to a Green Recovery
Earlier this year, NREL assisted the city in writing an ordinance that requires all public buildings in Greensburg to be constructed to meet Leadership in Energy and Environmental Design (LEED) Platinum ratings from the U.S. Green Buildings Council. LEED Platinum is the U.S. Green Building Council's highest rating for green buildings. NREL also has helped the city draft ordinances and agreements to encourage residents and businesses to install wind turbines and solar panels. Planning for this comprehensive level of leadership in energy efficiency and renewable energy in public and private buildings is something no other American town has ever tried.
Many private projects in town are now reaching for LEED levels on their own; as part of the town's Green Initiative, 30 or more commercial and public buildings in Greensburg already have committed to some level of LEED certification. "A 32-unit townhome project for low-income seniors is going to be LEED Gold certified and very cost effective," said Lynn Billman, NREL project lead.
It is expected to be the first LEED-certified affordable housing project in the state. "Gold certification with attention to energy features means these townhomes will save 40 percent of the energy cost compared to building just to code," Billman said.
Today, with NREL's help, Greensburg is well on its way to recovery, with many public and private projects in all phases of planning and construction, including the school, hospital, municipal buildings, commercial buildings, and single- and multi-family residences. Through bravery, resilience, and a bold vision, Greensburg is becoming a model for green communities to come.
For more information on Greensburg, visit these Web pages:
For more about buildings research, visit:
— David Hicks