NREL's WinDS Model Reveals Renewable Energy Potential
January 1, 2008
What started out as a spreadsheet on one NREL analyst's laptop has become one of the most credible models for projecting wind power capacities and energy deliveries for the future, and it has a name to match: the Wind Deployment System, or WinDS.
NREL's strategic energy analysis capability is one of the laboratory's core competencies and a must-have element of every technology development process. But because analyses are often only as good as the tools the analysts have to work with, key models need to be designed to produce reliable analyses that support NREL's research.
An analysis model starts with a software capability programmed to make use of various inputs to produce a variety of outputs. Although many good energy models exist, customized models are often required to meet individual researchers' needs. NREL discovered such a need while preparing to expand research in wind resources and to examine how to increase the amount of installed wind power capacity in the United States.
Applying the Technology
The WinDS concept became reality in 2001 when NREL's Wind and Hydropower Technologies Program requested an analysis of the feasibility of low-speed wind turbines in the United States by evaluating capacity and transmission requirements.
Walter Short, a group manager in NREL's Strategic Energy Analysis and Applications Center (SEAAC), started with a simple spreadsheet model that drew on the geographic information systems (GIS) expertise of NREL scientist Donna Heimiller.
Short then took the spreadsheet and spent countless hours, along with an intern from the Colorado School of Mines, to develop the first version of WinDS. The model was able to find the optimal value for wind power capacity based on the wind resource, the available transmission lines, and the electrical load requirements. Short was soon joined in the effort by NREL analyst Nate Blair, who provided his insights based on other analysis tools, while Heimiller helped beef up the geographic aspects of the model.
The result was a new model unique in its ability to "regionalize." WinDS divides the United States into 358 small regions, which helps analysts get a better picture of the actual transmission distances and the impact of spreading wind installations throughout the country rather than confining them to one area. WinDS provides a detailed analysis that goes far beyond more simplistic models, which consider only a few U.S. regions.
"The modeling capability provided by WinDS is unique in the field," says Bobi Garrett, NREL Associate Director for Strategic Development and Analysis. "The major national models cannot deal with the wide variation in regional energy resources, demand, policy, or physical infrastructure."
In developing WinDS, NREL sought input from wind industry professionals and researchers. Short took a direct approach, determining what characteristics would be important to capture—such as transmission access and wind resource variability.
Taking all these things into consideration, he applied them to all 358 regions designated in the model. The model estimates the market potential of wind energy in the United States for the next 20 to 50 years under different technology development and policy scenarios, and it has already yielded important insights. See the Addressing Specific Markets and Issues section of the "WinDS of Change" story.
After further testing and expansion, Short began demonstrating WinDS for other labs. As word got out, nonprofit groups and industry representatives alike became interested in applying the WinDS model to their analysis work. To read more about how the American Wind Energy Association, Bureau of Land Management, and other groups are using WinDS, access the full story in the Research Review.
Map of Projected Wind Power Capacity by State in 2030
Chart of Projected Wind Power Capacity by Wind Class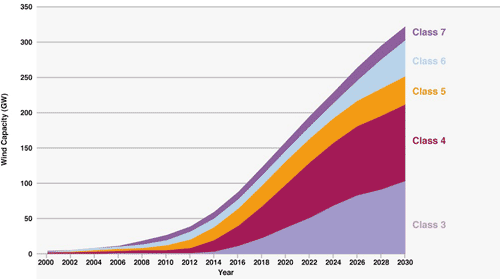 WinDS of the Future — Modeling the Wind, and More
Success increases demand, and many people are hoping that WinDS will be able to do even more modeling in the near future. NREL analysts are already working to apply WinDS' unique system to models for other technologies, such as concentrating solar power and hydrogen.
The Hydrogen Deployment System, or HyDS, model looks at U.S. market expansion of hydrogen production from wind energy and other sources over the next 50 years. WinDS can also measure the interaction between electric and transportation technologies, such as analyzing the benefits of plug-in hybrid-electric vehicles.
Although WinDS currently focuses on the electricity sector, future goals include looking at the effects of climate change, carbon taxes, reduced energy demand, less use of coal, and overall price.
NREL also hopes to use the model to analyze additional policy impacts. To meet that goal, WinDS also must be equipped to look at climate change, a full renewable portfolio standard, and the synergies among renewables.
SEAAC analysts also see a future for WinDS that includes further representation of renewable technologies (biomass, geothermal, and offshore wave power), and nonrenewable resources (e.g, coal and natural gas). Energy storage is also important, and HyDS could be used to model the potential to store energy in the form of hydrogen.
As this capability continues to grow, so does the Laboratory's reputation. "What started out as a single model for a single technology has grown into a suite of leading-edge models," Garrett says. "WinDS has taken NREL from a position of little recognition for its modeling ability to broad acknowledgment for a credible capability."
For a detailed model description and background on the data used in the analyses, access the WinDS site[BROKEN LINK].
To read more about other NREL research highlights, access the Research Review page.
— Michelle Kubik