NREL's 20th Industry Growth Forum Finances a Path to a Clean Energy Future
---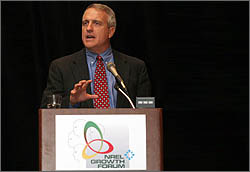 "When people look back at the 21st Century's greatest inventions, renewable energy technologies will be on that list," said John Denniston, a partner with Kleiner Perkins Caufield & Byers, at NREL's 20th Industry Growth Forum. The Forum brought together start-up companies and investors to transfer clean energy technologies into the marketplace.
More than 430 participants attended NREL's 20th Industry Growth Forum, the premiere forum on clean energy investment, on November 6-8, 2007, in Denver, Colorado. Attendees included investors and start-ups representing renewable technologies from photovoltaics (PV) and wind to biofuels and geothermal. In addition to helping start-up companies, venture capitalists, and investors network, the Forum helped all participants develop a better understanding of the expanding energy market and what businesses must do to succeed.
The Industry Growth Forum featured 31 clean energy companies presenting their business plans and strategies for technologies such as fuel cells, hydrogen, power quality, wind energy, PV, and energy storage technologies. These companies were competitively selected by a committee of clean energy investors. Companies who have attended past forums have raised more than $560M in financing from the private sector.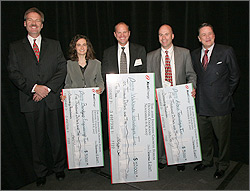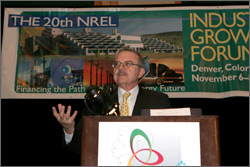 One of the presenters—Wakonda Technologies, Inc.—received the Clean Energy Entrepreneur of the Year Award. Riley Hill of Xcel Energy presented a check for $10,000 to Wakonda President Les Fritzemeier. Wakonda's PV cell technology would produce more power per unit area at a lower cost than other state-of-the-art commercial cells. And their cost-effective products would enable the processing of these high-efficiency PV cells.
Outstanding Presentation Awards worth $5,000 each went to Albeo Technologies, Inc. and Bandgap Engineering, Inc. Bandgap Engineering of Westwood, Massachusetts, is working to produce radically more efficient solar cells with maximum efficiencies above 50%. Solar cell efficiency is the percentage of sunlight striking the cell that is converted to electricity. Albeo Technologies of Boulder, Colorado, develops and markets intelligent solid-state lighting systems that can substantially reduce energy consumption.
The Industry Growth Forum also featured NREL's Technology Day. The sessions informed and engaged government officials and corporate and private sector investors about the lab's cutting-edge research and development, and technical expertise. NREL's wind, solar, and biomass programs were covered as well as strategic energy analysis.
John Denniston, a partner with Kleiner Perkins Caufield & Byers, followed NREL's Technology Day with an enthusiastic keynote address about building a clean energy technology cluster. He congratulated NREL on the work it has done.
Also, Paul Dickerson, chief operating officer of the U.S. Department of Energy Office of Energy Efficiency and Renewable Energy (EERE), addressed participants at the Forum about federal perspectives concerning the clean energy industry. A transcript of his speech is available on the EERE News Web site.
Because it was held in Denver, the Industry Growth Forum included discussions on Colorado's renewable energy economy.
"Colorado is open for business for our energy economy," said Colorado Governor Bill Ritter when he addressed Forum attendees.
Denver Mayor John Hickenlooper also spoke at the Forum. "Renewable energy is about economic development. It's about the environment. And it's about energy security," Hickenlooper said. "The question is how do we drive our economy with less energy as our population grows?"
See the NREL news release for more information about the 20th Forum's awards.
To learn more about working with NREL, visit our Technology Transfer Web site.
— Jennifer Josey and Theresa von Kuegelgen