NREL's Biomass Research Fuels National Energy Dialogue
---
In his 2007 State of the Union Address, President George W. Bush championed energy alternatives. Among his emphases was the potential of biomass — plant materials — to fulfill a greater share of our nation's transportation fuel needs. The research and analysis provided by NREL and the National Bioenergy Center not only support the President's vision, but have helped to inform it.
In the past year, the NREL Biomass Program and the National Bioenergy Center have delivered congressional testimony describing the potential of biomass, specifically ethanol, to meet the future demands of the transportation fuel market; produced a key ethanol market and technology assessment; and continued to maintain existing and establish new partnerships with industry.
NREL Research Critical to Technology Improvements
Renewable alternatives to imported oil are a national energy priority, and NREL is a leading player in the development of technology for producing fuel ethanol from cellulosic biomass — the fibrous bulk of plant material.
NREL's computational modeling of the function of cellobiohydrolase enzymes revealed unanticipated changes in shape as the enzymes act on biomass. Understanding these changes could be critical to future technology improvement because these enzymes play a key role in breaking cellulose down to sugar to allow fermentation to ethanol.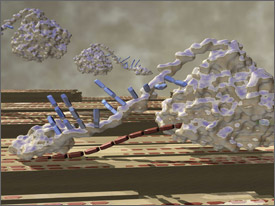 Congressional Testimony
On January 10, 2007, Dr. Michael Pacheco, Director of the National Bioenergy Center at NREL, delivered invited testimony to the U.S. Senate Committee on Agriculture. Pacheco's testimony established that biomass is the only renewable option for producing liquid transportation fuels. The United States has the ability to yield more than a billion tons of biomass annually for energy needs without negatively affecting our needs for food or fiber.
Pacheco went on to explain that we need to move beyond corn grain as the primary biomass resource. "One of the most abundant potential resources we have is corn stover, the non-food parts of the corn plant, including the stalks, leaves, and husks." He added that forest thinnings, hardy grasses like switch grass, and fast growing trees, are also good sources of biomass.
The National Bioenergy Center (NBC) and the DOE Biomass Program are focused on perfecting new technologies that convert the cellulosic material of the plant into fuel. The research is set on making cellulosic ethanol as cheap as corn ethanol within the next five years. Longer term, DOE and NBC are working to make cellulosic ethanol cost competitive with gasoline produced from petroleum by 2030.
The "30x30" Goal
The year 2030 is also the target in an ongoing multi-lab ethanol market and technology assessment. Headed by Dr. Tom Foust, Biomass Technology Manager at NREL, a team including Argonne National Laboratory, Oak Ridge National Laboratory, Pacific Northwest National Laboratory, and Idaho National Laboratory, is exploring the market drivers and technology requirements to supply 30% of 2004 motor gasoline demand with ethanol by the year 2030 (known as the 30x30 goal).
To date, the assessment has determined that meeting the 30x30 goal, which translates to producing 60 billion gallons of ethanol/year, is achievable with ethanol produced from both starch and cellulosic feedstocks and with a sustained, integrated effort by government, academia, and the private sector to build the needed infrastructure to transport, store, and deliver alcohol fuels to end users.
Partnering with Industry
Work with the private sector is critical to NBC's research on biofuels. NREL and NBC are partnering with dozens of companies in the forestry, agriculture, ethanol, biodiesel, biotech, chemicals, and petroleum industries to ensure the United States stays in the forefront when it comes to biofuels R&D.
In fact, NREL's work and partnership with Genencor and Novozymes on lowering the cost of enzymes was the recipient of an R&D 100 Award in 2004 — an award that recognizes the nation's top 100 technology innovations each year. NREL has also been actively partnering with Abengoa Bioenergy, Broin and Associates, Archer Daniels Midland, and DuPont as they each race toward the successful development of cellulosic ethanol biorefineries.
More recently, NREL has begun responding to the requests of several major oil companies for support in exploring which biofuel technologies best suit their long-term plans. For example, on October 4, 2006, NREL signed a five-year agreement with Chevron Technology Ventures LLC (CTV), a subsidiary of Chevron Corporation, to research and develop new production technologies for biofuels. Researchers from CTV and NREL will collaborate on projects to develop the next generation of process technologies that will convert cellulosic biomass into ethanol and renewable diesel.
NREL is also partnering with UOP (a major technology supplier in the conventional fuels industry) and Pacific Northwest National Laboratory on the development of technology to permit the production of biofuels in existing U.S. petroleum refineries.
"These partnerships go a long way toward ensuring that NREL's research is relevant and focused and market-driven," says Pacheco. "The technology doesn't do anyone any good if it sits on the shelf in some laboratory."
For more information on NREL's research in cellulosic ethanol, see our video, "Converting Biomass to Liquid Fuel."
For more information on alternative transportation fuels, see the Department of Energy's Alternative Fuels Data Center.
AC_FL_RunContent( 'codebase','http://download.macromedia.com/pub/shockwave/cabs/flash/swflash.cab#version=8,0,0,0','width','327','height','247','src','/learning/media/biomass_video_1','quality','high','pluginspage','http://www.macromedia.com/go/getflashplayer','movie','/learning/media/biomass_video_1' ); //end AC code
— Kristi Theis