President Bush Leads Energy Panel Discussion at NREL
---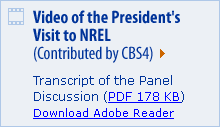 On February 21, 2006, during the second-ever visit to NREL by a United States President, President George W. Bush told employees their work is appreciated and that he is committed to clearing up any discrepancies in funding.
"I recognize that there has been some interesting mixed signals when it comes to funding," President Bush said. "My message to those who work here is we want you to know how important your work is; we appreciate what you're doing, and we expect you to keep doing it, and we want to help you keep doing it."
In his State of the Union speech January 31, President Bush said the country is "addicted to oil" and must wean itself from foreign imports. However, 32 employees were laid off on February 7, because of cuts to NREL's budget for fiscal year 2006. On February 20, the U.S. Department of Energy (DOE) announced that it had transferred $5 million to NREL for the purpose of restoring the jobs that were cut. "Sometimes there are decisions made, but as a result of the appropriations process, the money may not end up where it is supposed to," the President said. "I was talking to Dan [Arvizu] about our mutual desire to clear up any discrepancies in funding, and I think we've cleaned up those discrepancies."
The President was at NREL to lead a panel discussion on his "Advanced Energy Initiative." The Advanced Energy Initiative provides for a 22 percent increase in clean-energy research at DOE. The Initiative will accelerate breakthroughs in two vital areas: how we power our homes and businesses, and how we power our automobiles.
"I know it sounds odd for a Texan to say [we need to end our addiction to oil] but I have spent a lot of time worrying about the national security implications of being addicted to oil," the President said. "And so we're here to discuss ways to achieve this really important national goal."
The panel included seven local energy experts:
Dan Arvizu, NREL Director
Dale Gardner, NREL's Associate Director for System Integration
Lori Vaclavik, Executive Director of Habitat for Humanity of Metro Denver
Bill Frey, Business Director of Biobased Materials for Dupont
(Biomass research at NREL)
Larry Burns, Vice President of Research and Development for General Motors
(Advanced Vehicles and Fuels research at NREL)
Patty Stulp, President of Ethanol Management Company
Patricia Vincent, CEO of Public Service Company of Colorado.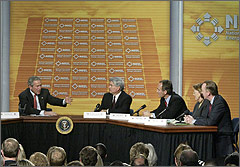 During his opening remarks, President Bush stressed three ways drivers can change the way cars are driven: the use of hybrid vehicles, the use of E85 (85% ethanol and 15% gasoline) and the advancement of hydrogen fuel cells (Hydrogen and Fuel Cell research at NREL). Congress recently increased the tax credit available to those who purchase hybrid vehicles, and President Bush said this will hopefully increase the demand for them.
"The new technological breakthrough, however, is going to be when we develop batteries that are able to enable an automobile to drive the first 40 miles on electricity alone," he said. "If you're living in a big city, that's probably all you're going to need for that day's driving. And then you can get home and plug your car right into the outlet in your house." He cited the need for more research dollars to make the idea of plug-in hybrid vehicles a reality.
"The hybrid vehicles you're buying today are an important part of making sure you save money when it comes to driving. But they're going to change with the right research and development," President Bush said.
The panel also addressed hydrogen fuel cells as a long-term solution to our dependence on oil and the production of automobiles that have zero emissions.
During his talk, Dale Gardner mentioned three major technical challenges in building a hydrogen economy: the production and storage of hydrogen and building a cost effective and durable fuel cell. When asked by the President if driving hydrogen fuel cell vehicles is going to happen in the future, Dale answered with a definite yes.
"It's not going to be something that's going to happen in the next 15 or 20 years, but it's going to be the way our kids and our grandkids view the energy structure of our country. It's very exciting work."
In talking about changing the way we power our homes and businesses, President Bush discussed our use of natural gas for electricity and the need to better use coal, nuclear power, solar and wind energy.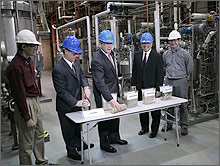 "NREL is doing a lot of important work on solar and wind technology," he said. "The vision for solar is one day each home becomes a little power unit unto itself, that photovoltaic processes will enable you to become a little power generator, and that if you generate more power than you use, you can feed it back into the grid."
The President continued with the possibility of the U.S. generating up to 20 percent of its electricity needs through wind technology, if it is developed further.
"What I'm talking about is a comprehensive strategy," he said. "In other words, we're not relying upon one aspect of renewable energy to help this country become less dependent. We're talking about a variety of fronts."
More than 200 NREL employees and guests attended the hour-long panel discussion in the converted Shipping and Receiving Facility that had been set up as an auditorium. Several of the employees who helped prepare for the President's visit were invited to sit in the front rows. Each of NREL's centers and offices were represented by a portion of staff members.
"I want to thank the staff for hosting us," the President said. "It's a pain to host the President, and you've done a fine job."
Special guests included Colorado Governor Bill Owens, Colorado Lieutenant Governor Jane Norton, Sen. Ken Salazar (D-Colo.), Rep. Mark Udall, (D-Colo.), Rep. Bob Beauprez (R-Colo.), Golden, Colorado Mayor Charles Baroch, and Lakewood, Colorado Mayor Steve Burkholder.
— Kathy O'Dell