New Science and Technology Facility to Combine Energy Efficiency with Research
The future of solar cell, thin film, and nanostructure research will be built on a hill to the east of the National Renewable Energy Laboratory's Solar Energy Research Facility. There, among the native grasses, wildflowers and an occasional rattlesnake, will be a new type of research facility that will support a new way of doing research on several of the technologies highlighted by President George W. Bush in his National Energy Policy, including the development of next-generation energy technologies such as hydrogen and fuel cells.
Construction of the Laboratory's new Science and Technology Facility (S&TF) is expected to begin in the fall and be completed in approximately two years.
"This new facility will support research on thin-film photovoltaics and nanostructures in an environment designed to be a laboratory research facility, first and foremost," said Pete Sheldon, Measurements and Characterization Division manager and the technical project manager for the S&TF.
The S&TF will provide significant advantages for state-of-the-art energy research. Research groups sharing common interests will be co-located in the same building and will have the ability to pursue process integration research that will ultimately reduce the time it takes to move a technology from the lab to the marketplace. NREL is striving to achieve a "Gold" Leadership in Energy and Environmental Design (LEED) rating by incorporating a sustainable design and energy efficient features into the new building.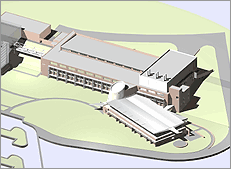 Architectural Features
The 71,000 square foot S&TF is designed as a multi-level facility with the ground level including laboratory space, office space, and a lobby. An elevated bridge will connect the Solar Energy Research Facility (SERF) and the S&TF by linking their service corridors. The second level will house additional general laboratories and a large open process development and integration laboratory. The third level will house the bulk of the S&TF's mechanical support functions including laboratory exhaust fans.
The S&TF includes seven "interaction spaces," providing seating to encourage informal discussions among researchers. Each interaction area will house a white board and local area network computer access as well as breathtaking views.
The exterior of the building will consist of a combination of pre-cast concrete and metal panels that will complement nearby buildings such as the SERF and Field Test Laboratory Building.
An Integrated Approach to Research
The S&TF was designed specifically to reduce barriers and time delays associated with transferring technology from research and development to industry. It is less than two-thirds the total square footage of the SERF, yet has more than 80 percent the useable laboratory space.
"Going into this project, our emphasis was on designing functional and flexible laboratory space," Sheldon said. "While we could always use more office space, we felt the S&TF truly needed to be a state-of-the-art research facility."
The centerpiece of the building will be the Process Development and Integration Laboratory (PDIL) — 10,170 square feet of laboratory space specifically designed to accommodate a new class of thin film photovoltaics (PV) deposition, processing and characterization tools. In the PDIL, these tools can be integrated to prototype processes in a flexible manner.
The PDIL will allow researchers to pass samples between equipment in a controlled way, avoiding contamination from the air. The PDIL also will allow a scientist to integrate control systems and databases in such a way that someone who is growing a sample can see results of a measurement and vice versa.
"Our focus is to put researchers together with no physical separations," said Brent Nelson, who is leading the process integration project. "The PDIL will give us integrated tools, integrated data and the added bonus of people with diverse skills working together."
In addition to the PDIL, the S&TF will include nine advanced material synthesis, characterization and general support laboratories. The general laboratories are designed around a flexible laboratory model that can be combined to form large open laboratories.
Energy Efficient Features
The S&TF was designed with sustainability features that will provide a 40 percent reduction in energy use compared to standard laboratory buildings.
The S&TF's architectural design makes good use of natural light through windows and clerestories. Daylighting in the S&TF will be automated, allowing the building to save energy by dimming or turning off electric lights. The building has an east-west orientation, so that daylighting can provide100 percent of the ambient light requirements in the open office areas, while maximizing daylighting opportunities in the laboratories.
"Our goal was to have 100 percent daylighting in all office spaces," Otto Van Geet, NREL senior project leader, said. "We wanted everyone to have a view."
Another focus is energy recovery for ventilation air in the labs. Energy recovery can substantially reduce the mechanical heating and cooling requirements associated with conditioning ventilation air in most labs. Most commonly, energy is recovered from exhaust air and used to precondition supply air. Because energy recovery systems reduce peak heating and cooling requirements, heating and cooling systems can be smaller. As with the SERF, the S&TF will recover 50 percent of its energy through the use of energy recovery technologies.
Colorado's climate was taken into consideration and the use of evaporative cooling was included in the S&TF's design. Occupants of the first floor offices will be able to control the temperature in each of their work areas thanks to the raised floor air distribution system being used.
History
The Conceptual Design Report (CDR) for the S&TF was originally proposed and submitted for funding in fiscal year 2001 after being validated by the Department of Energy in 1999.
NREL's senior management reviewed the updated CDR in FY01. Director Richard Truly decided to further evaluate the proposed S&TF design, which at the time was a one-story structure, taking Sustainable NREL initiatives into consideration. A design charrette on August 14 and 15, 2001, resulted in a recommendation to design the building as a two-story facility to conserve land.
"The original footprint just did not fit with the Lab's mission," said Deployment Programs Project Leader Nancy Carlisle. "Our buildings are an extension of who we are and we needed to take the sustainable concept into consideration."
NREL's Site Operations Office researched the feasibility and cost of the two-story concept and briefed NREL management on its findings in late November 2001. NREL management directed Site Operations to proceed with the two-story concept and an updated CDR was completed on February 5, 2002.
Following a nation-wide search that included interest from 37 different firms, the SmithGroup was chosen as the Architect-Engineer for the S&TF based on the firm's extensive experience in safety, semiconductor facility design, mechanical design and research laboratory design. The SmithGroup also demonstrated the capability to incorporate "green building" technologies (such as daylighting, energy efficiency, water conservation, recycled materials and LEED™ requirements) into design solutions. The LEED™ Green Building Rating System is a voluntary, consensus-based national standard for developing high-performance, sustainable buildings. Members of the U.S. Green Building Council representing all segments of the building industry developed LEED and continue to contribute to its evolution.
The SmithGroup completed the final design on July 30, 2003, but the FY04 budget did not originally contain the required construction line item funding necessary to start building construction, so the construction start was delayed. However, on Dec. 1, the Laboratory was notified that it would receive $4 million from the Energy and Water Development Appropriations Act of 2004 to be used for construction.
The Request for Proposal (RFP) for construction services was issued on March 1, 2004, and Site Operations expects to select a contractor later this year.
— Sarah Barba